Open Position at TSW: Entry-Level/Junior URBAN DESIGNER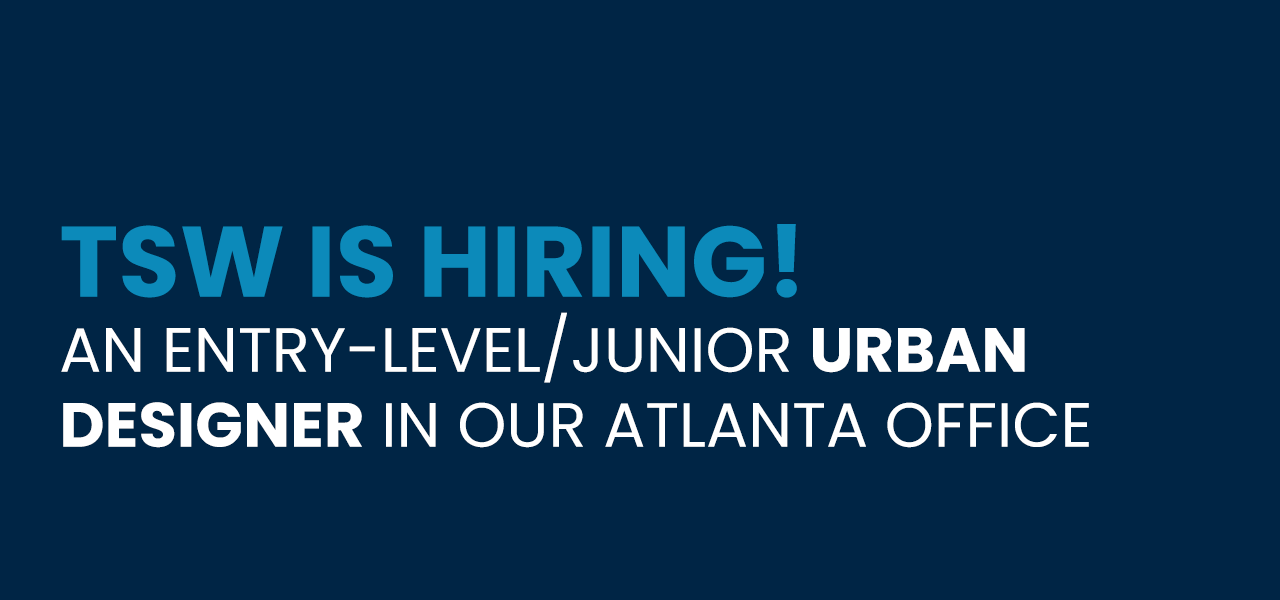 Atlanta-based TSW (www.tsw-design.com), an award-winning planning, architecture, and landscape architecture firm located in Midtown Atlanta, has an opening in our Planning Studio.
We are seeking an entry-level/junior URBAN DESIGNER to work on a range of design projects with a focus on New Urbanism and walkable, creative infill development. The candidate must have an undergraduate degree in Urban Design, Landscape Architecture, Architecture, or a related field; at least two years of relevant experience and/or a master's degree is ideal. Responsibilities will include preparing base maps, producing preliminary designs, assisting senior designers, developing design guidelines, participating in workshops, preparing a variety of 3D visualizations, and project management support.
We hope/expect that the selected candidate will:
Have demonstrated experience in land planning and site design
Communicate ideas and land planning concepts through hand-drawing and sketching
Be excited to work on New Urbanist and infill projects
Have strong skills in producing 3D graphics in SketchUp, Lumion, and Photoshop
Be comfortable working in CAD and familiarity with GIS
Demonstrate graphic layout and graphic design experience, particularly in development of maps and planning documents;
Show initiative and have a proactive approach to work
Enjoy an innovative, creative work environment
Be available to travel throughout the Southeast and attend evening meetings occasionally
Because TSW has a collaborative studio environment, the designer filling this position must be able to work in-person at our Atlanta office. However, we value flexibility and our current policy is that our team members are expected to work at the office at least 3 days/week, with the option to work remotely 2 days/week if tasks can be done independently.
If you are interested in being part of our award-winning practice, please visit our website www.tsw-design.com and go to Opportunities under How To Connect menu and click Join The Team to upload a cover letter, resume, and design portfolio. Applications without a design portfolio will not be evaluated.