Landscape Architecture PM 6+ Years of Experience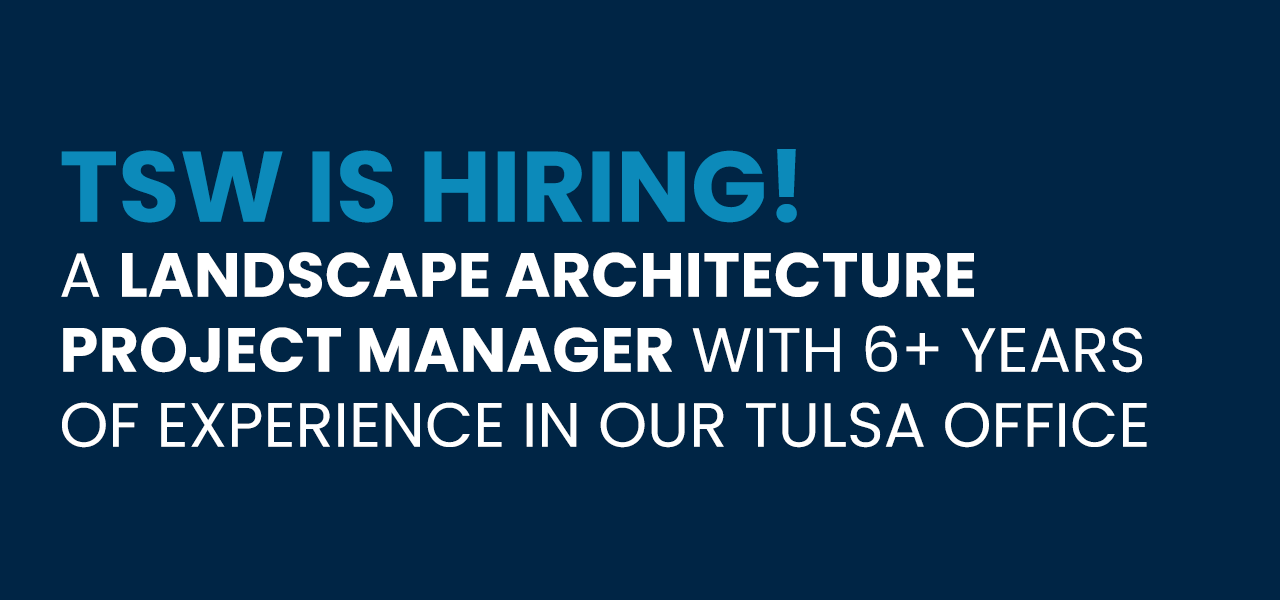 Open Position at TSW: Landscape Architecture PM 6+ Years of Experience
TSW is an award-winning multidisciplinary planning, landscape architecture, and architecture firm based in Atlanta, Georgia with an office in Tulsa, Oklahoma. TSW works throughout the United States on a variety of public and private projects, including urban design, park master planning, park design, mixed use residential developments, and streetscape design. Our ideas are context driven and curated to meet the needs of each client.
TSW is hiring a full-time landscape architect to work in our Tulsa, Oklahoma office. This role will involve private and public sector work based in Oklahoma, as well as some remote work with our Atlanta office on projects throughout the southeastern US. We are seeking a candidate with critical thinking and project management skills who is creative, attentive to detail, and skilled in design and construction document production. Candidates should be motivated to work with a project team to meet project deadlines.
Successful candidates will:
Have the skills necessary to manage local projects and remotely assist our Atlanta team to develop designs from concept through construction documentation.
Have a strong interest in problem solving related to design and the built environment.
Have the skills necessary to assist multiple project managers develop designs from concept through construction documentation on complex, deadline driven projects.
Provide landscape design, graphic, and technical production and have demonstrated experience transitioning designs from hand sketches to CAD drawings.
Have interest and experience preparing landscape construction documents and planting plans including developing and prepare permit drawings and understanding of and desire to work on grading and drainage design.
Assist project managers with construction administration including coordination with contractors, assisting with material selection and responding to questions that arise in the field.
Requirements:
Candidates shall have a minimum of 6 years of professional work experience in Landscape Architecture working as a project manager and preparing landscape construction plans
A Bachelor's Degree in Landscape Architecture
Demonstrated advanced knowledge of AutoCAD and construction document production with working knowledge of Sketchup, Adobe Creative Suite and Microsoft Office.
Excellent verbal, written, and interpersonal skills
Positive attitude and strong goal driven work ethic
Self-initiative to meet client deadlines with the ability to work independently or as part of a team.
Detail-oriented team player with the desire to contribute to a positive work environment.
Interested candidates should email a letter of interest, portfolio, and resume to Katy O'Meilia at komeilia@tsw-design.com or give us a call at 918.236.5468. All inquiries will be kept strictly confidential.
Landscape Architecture PM 6+ Years of Experience