Open Position at TSW: Urban Design Intern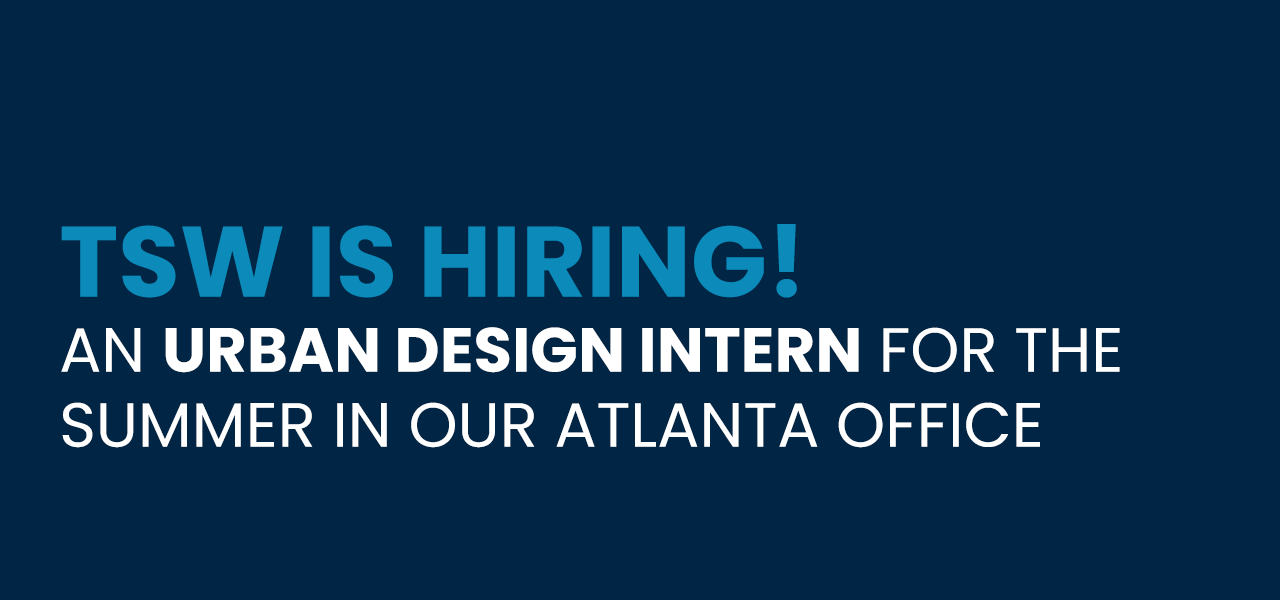 Atlanta-based TSW (www.tsw-design.com), an award-winning planning, architecture, and landscape architecture firm located in Midtown Atlanta, has an internship opening in our Planning Studio.
We are seeking an URBAN DESIGN INTERN to work full-time this summer on a range of policy and urban design projects in a variety of contexts ranging from urban to rural. Responsibilities will include supporting community planning and urban design projects; collaborating with teams of planners, landscape architects, architects and other technical professionals; assisting with the preparation downtown, corridor, comprehensive, and small area studies; conducting public outreach; and producing maps and support graphics. A love of New Urbanism is a strong plus!
The summer intern will work in support of the urban design and community practices by:
Providing hand sketch and computer aided design graphics
Producing maps and conducting analysis in GIS
Conducting research to assist in preparing reports and presentation material
Assisting the team at public workshops and meetings
Desired qualifications:
Demonstration of some experience in urban design, urban planning or related field
Proficient in Microsoft Office Suite
Proven knowledge and/or experience with Adobe Creative Suite (specifically Photoshop, Illustrator, InDesign), GIS, 2D-CAD, 3D rendering capabilities
Strong communication and analytical skills
Detailed oriented with emphasis on quality work product
The selected candidate must have the ability to work in-person at the TSW Atlanta office and attend meetings in a variety of locations in the region, including evening meetings.
If you are interested, please visit our website www.tsw-design.com and go to Opportunities under How To Connect menu and click Join The Team to upload a cover letter, resume, and a design portfolio/graphic sample. All three of these items are required. Materials must be received before 5:00 PM on Friday, March 25th, 2023, to be considered.
Open Position at TSW: Urban Design Intern