Open Position at TSW: Planning PM 8+ Years of Experience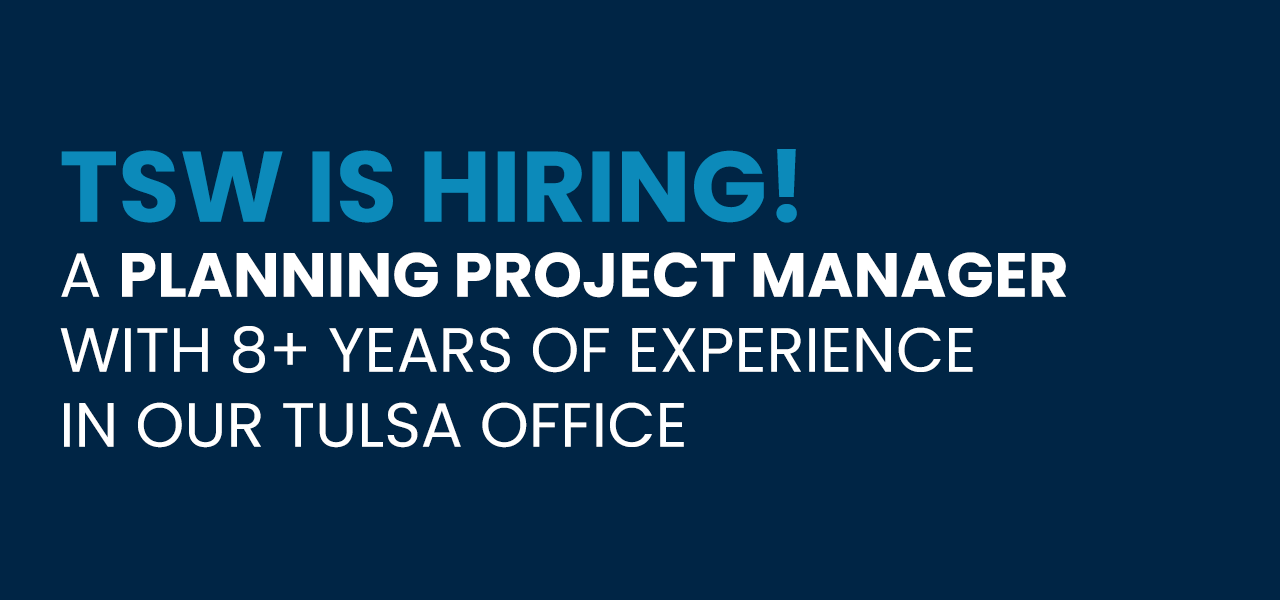 OPEN POSITION at TSW: Planning PM 8+ Years of Experience
TSW is an award-winning full-service planning, landscape architecture, and architecture firm based in Atlanta, Georgia with an office in Tulsa, Oklahoma. TSW works throughout the United States on a variety of projects, including comprehensive plans, downtown master plans, corridor studies, coding and guidelines, mixed-use developments, urban design, streetscape design, and park, trail, and recreation projects. Our multidisciplinary approach goes beyond land use planning and design to incorporate real world knowledge of sustainability, development, and retail economics with an emphasis on built projects. TSW provides a fast-paced, collaborative work environment that fosters mentoring and professional growth.
TSW is seeking a COMMUNITY PLANNER/PROJECT MANAGER to work in our Tulsa, Oklahoma office on a range of policy and design projects in a variety of contexts ranging from urban to rural. The candidate must have at least eight years of relevant experience in planning or a related field. Responsibilities will include managing community planning projects; collaborating with teams of planners, landscape architects, architects and other technical professionals; preparing downtown, corridor, comprehensive, and small area studies; preparing design codes and design standards and guidelines; conducting public outreach; and producing maps and support graphics.
Successful candidates will:
Have knowledge of and passion for community planning, which may include a degree, on-going studies, employment or volunteer experience, or demonstrated interest;
Be experienced in managing multi-disciplinary projects and teams; Write clearly and concisely;
Possess strong critical thinking skills, with the ability to analyze large amounts of information and synthesize key findings clearly.
Enjoy an innovative, fast-paced work environment;
Have a passion for engaging with the public and be able to effectively communicate, including strong public speaking skills;
Have graphic layout and graphic design experience.
All applicants should have intermediate knowledge of software including ArcGIS Pro, MS Office, and Adobe InDesign and Illustrator. Skills in Photoshop, SketchUp, and AutoCAD, are desirable, but not required.
Candidates interested in the Planning PM 8+ Years of Experience position in Tulsa Oklahoma should email a letter of interest, portfolio, and resume to Katy O'Meilia at komeilia@tsw-design.com or give us a call at 918.236.5468. All inquiries will be kept strictly confidential.
Open Position at TSW: Planning PM 8+ Years of Experience