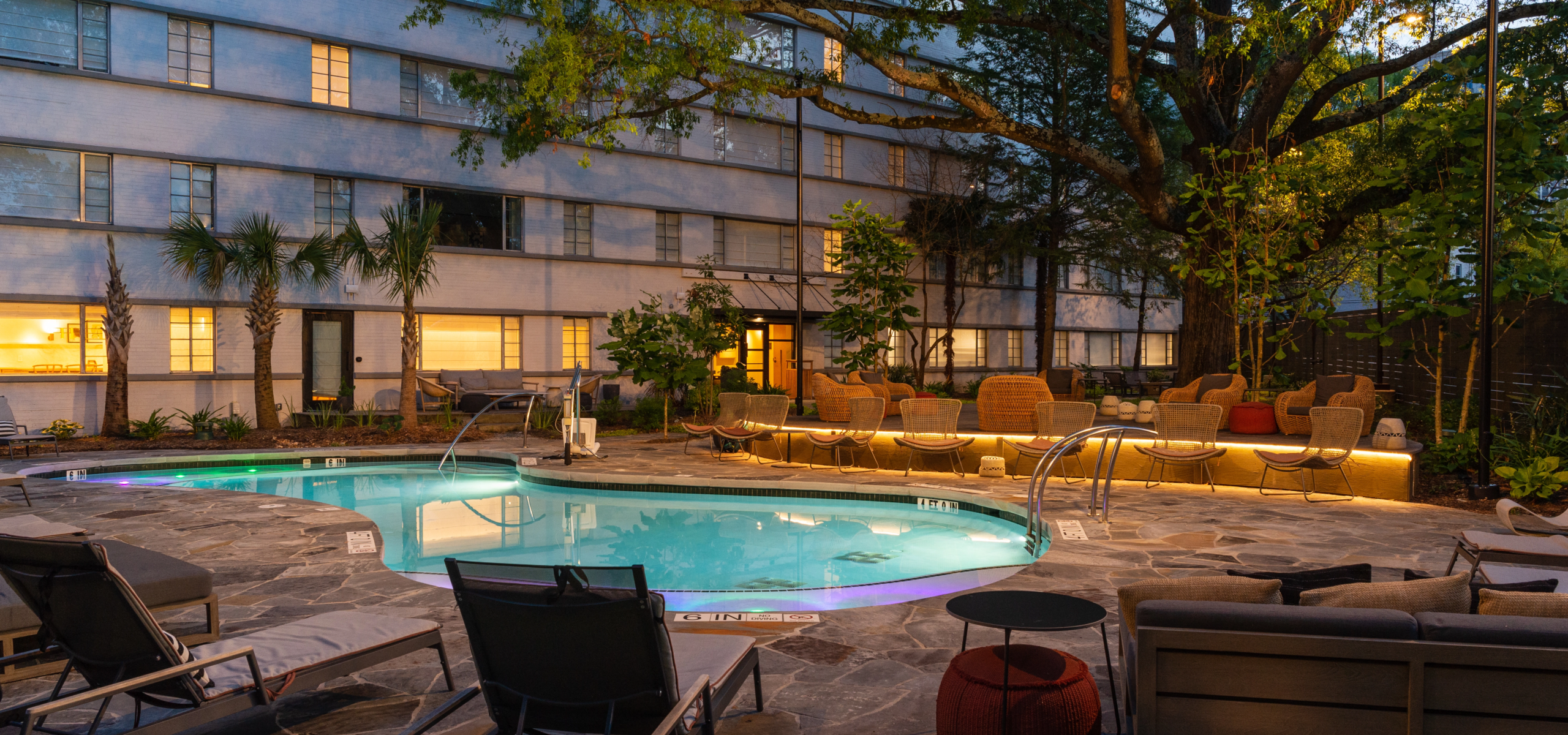 TSW, a landscape architecture studio, is thrilled to be part of a team of architects, designers, and landscape architects that recently received a Atlanta's Kimpton Sylvan Hotel Wins Silver Georgia Design Award for the renovation of the 1950s-era residential building. The team faced a significant challenge in creating a green space surrounding the hotel that would provide a tranquil respite from the bustling neighborhood of Buckhead, despite the fact that the area was mostly shaded by neighboring buildings.
To overcome this challenge, the team at TSW's Landscape Architecture Studio successfully created a lush, multi-purpose greenspace for the hotel guests and visitors to enjoy. The garden features meandering stone paths that wind through the space, a sparkling swimming pool for guests to relax in, seating areas on wooden decking for lounging and entertaining, and shade from mature trees that were protected during the landscaping process. The garden also includes discreetly-placed drains to eliminate stormwater runoff, and scattered palmetto trees that give a tropical vibe, adding to the overall ambiance of the space.
The garden at the Kimpton Sylvan Hotel is a standout feature in an area that is dominated by pavement and towering buildings. The garden not only provides a peaceful retreat for hotel guests but also adds a new and much-needed element of greenery to the neighborhood. The team's hard work and attention to detail were recognized with a Silver Georgia Design Award, and they are proud to have played a part in the transformation of the hotel into a chic and stunning destination.
The team took a holistic approach in the design, carefully considering the needs of the guests, the surrounding area, and the environment. They worked closely with the architects and designers to ensure that the garden complemented the overall design of the hotel, and that it was not only beautiful but also functional. The garden provides guests with a place to relax, unwind, and enjoy nature, while also helping to reduce the urban heat island effect and improve the overall air quality in the area.
Overall, the team at TSW's Landscape Architecture Studio is proud of the work they have done on the Kimpton Sylvan Hotel and the recognition they have received for their efforts. They are excited to continue to push the boundaries of landscape architecture and to create beautiful and functional spaces that enhance the lives of those who use them.  Atlanta's Kimpton Sylvan Hotel Wins Silver Georgia Design Award.