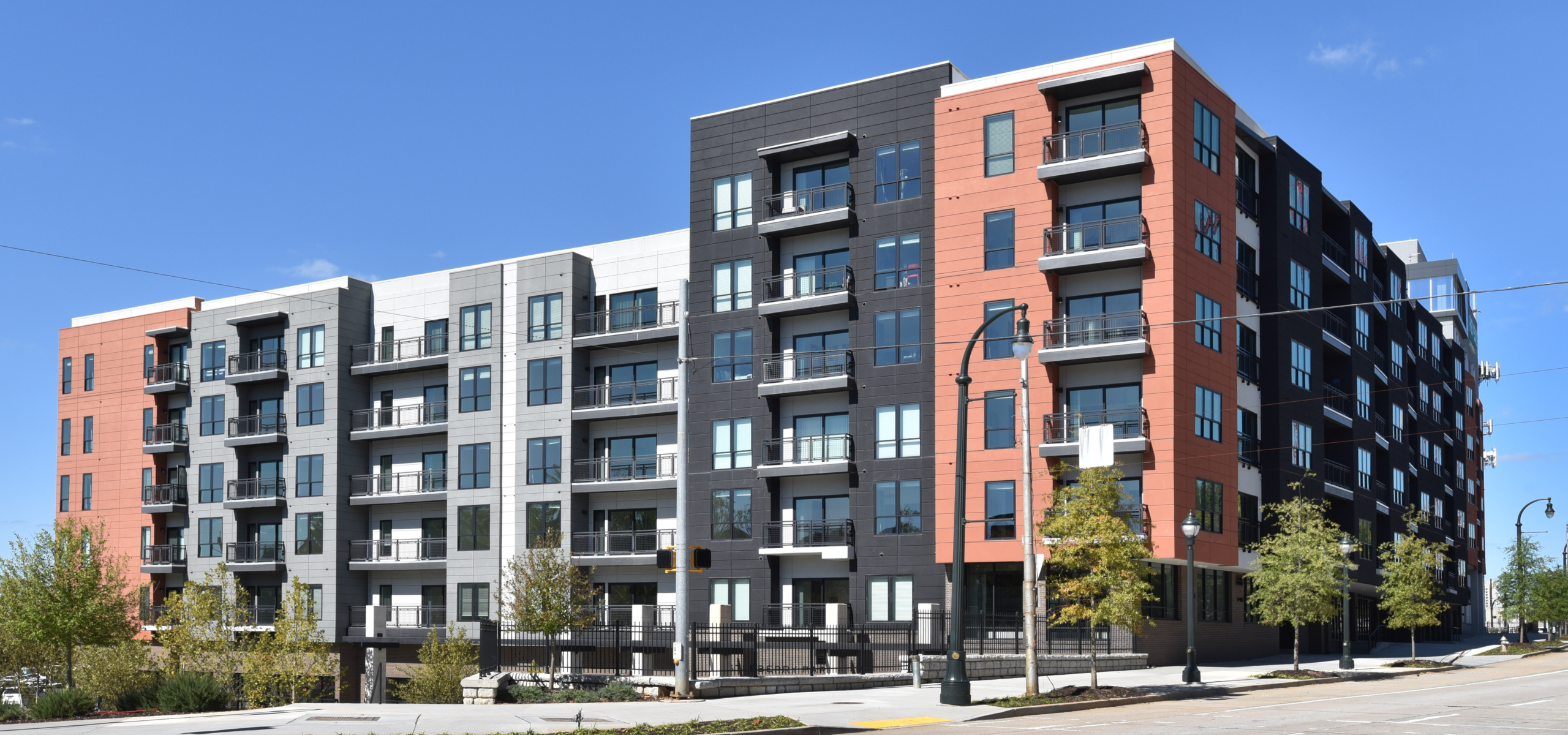 TSW is proud to announce that Castleberry Park has been recognized by the Green Building Initiative (GBI), which has awarded the project Two Green Globes for environmental sustainability. The Green Globes program is a comprehensive, science-based certification system that evaluates environmental impact, health and wellness and resilience of commercial structures. According to the GBI, the Two Globes recognition level is given to projects that demonstrate excellent progress in reducing environmental impacts by applying best practices in energy and environmental efficiency.
TSW's Architecture Studio led the design effort for Castleberry Park, a 311,083-square-foot mixed use project just south of Mercedes-Benz Stadium in Atlanta's Castleberry Hill neighborhood. The completed project includes approximately 129 residential units of varying sizes, with one and two-bedroom apartments and two-story live/work units, as well as 15,800 square feet of commercial space. Amenities include a rooftop deck, a large common lounge, fitness center and dog wash facility. Because the residential component is adjacent to the Stadium and next to the Reverb Hard Rock Atlanta Hotel, the modern façade was designed as a link between the sleek structures and the neighborhood. TSW collaborated with Gensler Atlanta, designers for the Reverb Hotel, on a shared parking garage to serve residents, special event attendees, and hotel guests. In addition to the outdoor rooftop deck, the TSW Landscape Architecture Studio designed an urban park that allows for the 13-foot transition between Centennial Olympic Park Drive and Mitchell Street, with the ability to add a protected bicycle lane in the future.
Castleberry Park is a signature project for the City of Atlanta, and one that involved a number of partners. From the beginning, minimizing the environmental impact through design, energy efficiency and selection of construction materials was a priority, and TSW is proud its efforts have been recognized with the Two Green Globe designation.