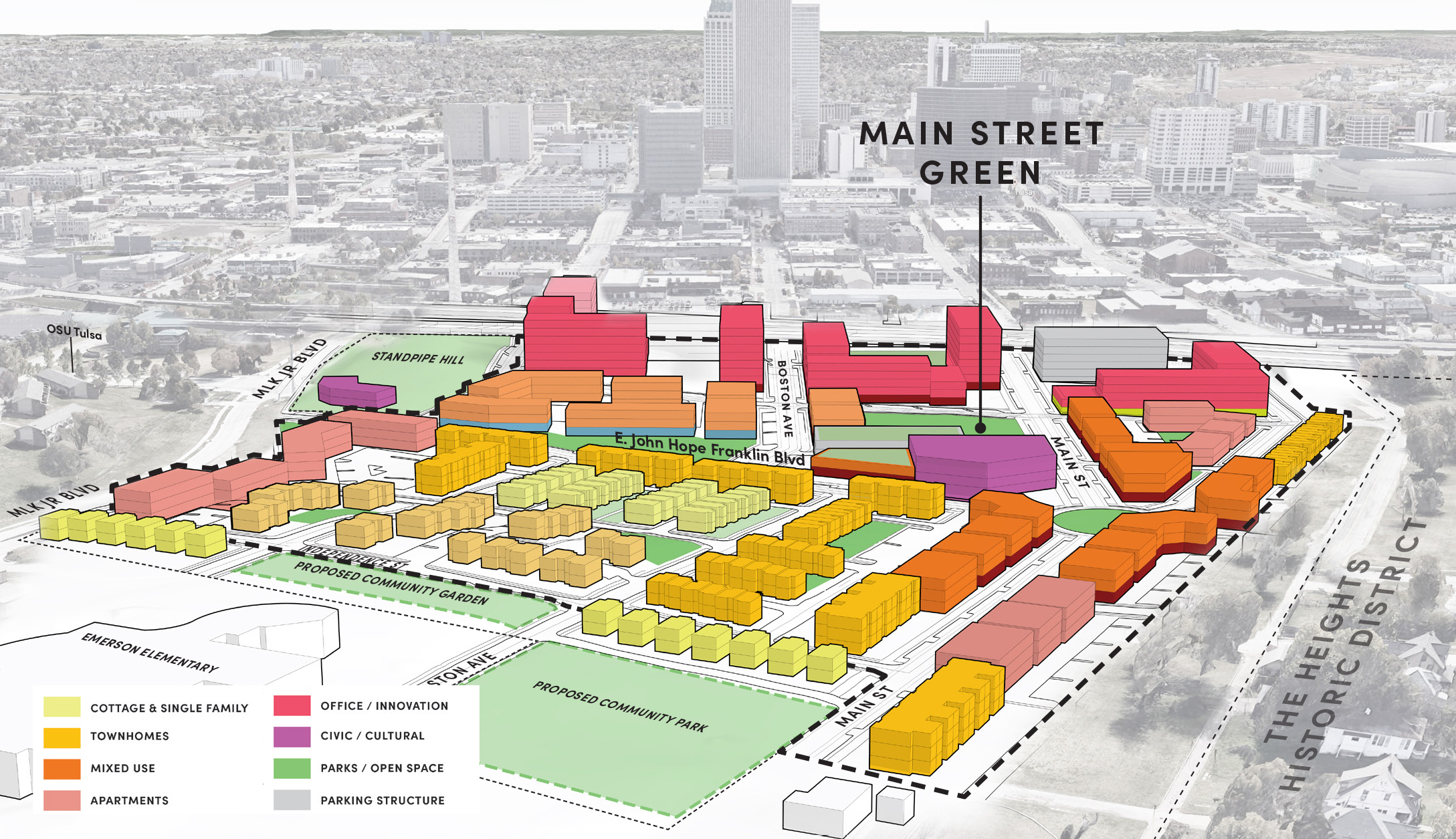 TSW Partner Project, Kirkpatrick Heights/Greenwood Master Plan: Our Legacy Tulsa Receives National Award from APA
A master plan created for the Kirkpatrick Heights/Greenwood areas of Tulsa, Oklahoma, recently won the American Planning Association's Advancing Diversity and Social Change in Honor of Paul Davidoff Award. "Our Legacy, Our Community: A Renewed Vision for North Tulsa" was recognized for its strong community involvement which helped shape the vision and framework for the area's redevelopment. The planning process was led by Philadelphia-based WRT (www.wrtdesign.com), with TSW's Tulsa office serving as the local planning, urban design, and community outreach partner.
The planning process included community meetings, workshops, charrettes and informal conversations, as well as small focus groups and interviews that directly informed the development of the Master Plan. An 11-member Leadership Committee helped guide and shape the entire process from kick-off to implementation with support from the Mayor's office and PartnerTulsa.
In 1921, Tulsa was the site of one of the worst race-based massacres in American history which devastated what had been a thriving Black community in North Tulsa. The award-winning master plan acknowledges and honors this painful history, while focusing on healing through confronting the historical inequities, segregation, race-based violence and disinvestment that resulted from redlining and displacement.
The focus of the plan is the redevelopment of 56-acres of publicly-owned land, with eventual transfer from www.partnertulsa.org to a community-led model, ensuring the social and economic benefits of the area's redevelopment will be experienced by Black Tulsans, descendants of the Race Massacre and future generations.
The plan reconnects the neighborhood through diverse housing options, bicycle and pedestrian trails and commercial spaces for locally-owned businesses to facilitate community wealth-building. Within the mixed-use community, there are public parks, common areas and gathering spaces for recreation, cultural activities and celebrations as well as stormwater management facilities.
"The planning team worked hard to acknowledge the past, make an honest assessment of the present and map out a path to a more equitable future," said Katy O'Meilia, TSW senior associate and director of TSW Tulsa. "This is one of only four national awards given by the APA, and I am so excited to see the Kirkpatrick Heights/Greenwood Master Plan acknowledged on the national stage."
To learn more about the master planning effort, visit www.ourlegacytulsa.org and to check out the other APA Award recipients, visit: www.planning.org/blog/9279648/apa-recognizes-2023-national-planning-award-winners/