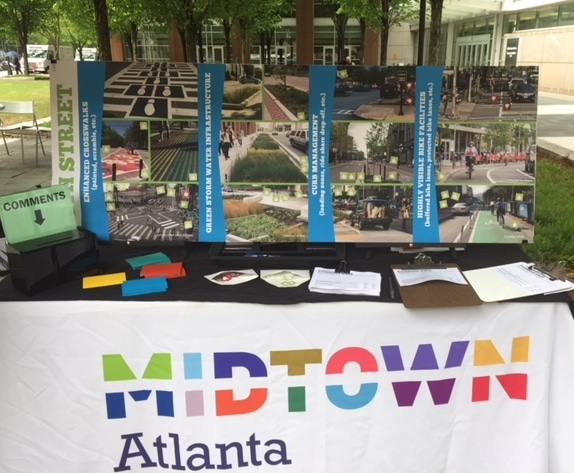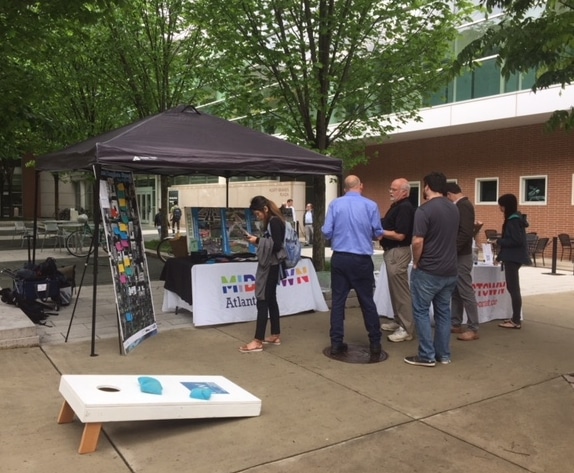 5th Street Complete Street Pop-up Recap -TSW, a planning, architecture, and landscape architecture firm, is working with Midtown Alliance on a project to improve Fifth Street in Midtown Atlanta. This east-west corridor connects residences, businesses, churches, retail, restaurants, and the eastern campus of Georgia Tech. The project, known as "Fifth Street Complete Street," aims to address and improve multi-modal transportation to make the road safer for cars, buses, cyclists, ride-shares, and pedestrians. The City of Atlanta is supporting the project, which will also address public safety, stormwater runoff, lighting, beautification/greening, curb management, sidewalks, and outdoor restaurant seating.
Midtown Alliance and TSW recently sought feedback from passersby at Fifth Street and West Peachtree by presenting them with various designs for bicycle lanes, greenspaces, pedestrian crosswalks, street parking, and more. Participants ranked their preferences and left comments about Fifth Street, including ideas for improvement. The feedback will be used to develop a comprehensive plan.
TSW and Midtown Alliance plan to conduct additional feedback sessions at more Fifth Street "pop-ups" and community meetings before finalizing the plan. The project will help improve Fifth Street as a much-used corridor through Midtown Atlanta, serving and connecting various important locations. It will also make it safer for everyone who uses it, including pedestrians and cyclists.
The "Fifth Street Complete Street" project is a vital initiative for the City of Atlanta, and TSW and Midtown Alliance are working hard to create an effective and efficient plan to achieve the project's objectives. By soliciting feedback from the public and incorporating it into their design plans, they are ensuring that the needs and preferences of everyone who uses Fifth Street are considered. The project will help transform Fifth Street into a modern and safe transportation corridor, improving mobility and accessibility for all. The comprehensive plan will include a variety of initiatives, such as stormwater runoff management, lighting, curb management, sidewalk improvements, and more. The feedback sessions will provide additional opportunities for the public to express their opinions and be part of this transformative project.
For more information and to submit comments, visit www.MidtownAtl.com/5thStreetCompleteStreet.
For more information about TSW's role on 5th Street Complete Street Pop-up Recap click here.