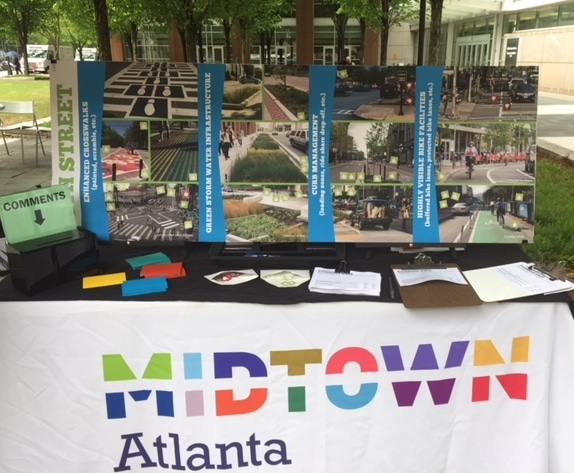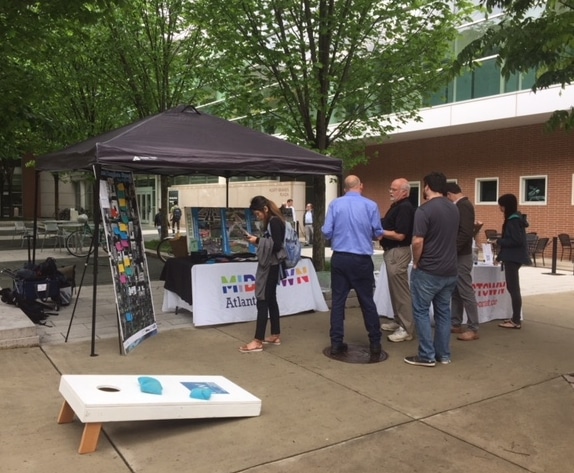 TSW is working with Midtown Alliance on a plan to improve Fifth Street from the Downtown Connector and Georgia Tech campus to its intersection with Myrtle Street. Fifth Street is a much-used east-west corridor through Midtown, serving and connecting residences, businesses, churches, retail, restaurants, and the eastern campus of Georgia Tech. "Fifth Street Complete Street" is a City of Atlanta project being implemented by Midtown Alliance to address and improve multi-modal transportation and make the road safer for cars, buses, cyclists, ride-shares and pedestrians. The project will also address public safety, stormwater runoff, lighting, beautification/greening, curb management (loading and parking), sidewalks, outdoor restaurant seating and more.
Recently, TSW and Midtown Alliance solicited feedback from passers-by at Fifth Street and West Peachtree. Participants were invited to review a number of photos depicting various designs for bicycle lanes, greenspaces, pedestrian crosswalks, street parking, etc. and rank their preferences. They also left positive and negative comments about Fifth Street, along with ideas for improvement.
TSW and Midtown Alliance will conduct additional feedback sessions at more Fifth Street "pop-ups" and community meetings, before creating a comprehensive plan. For more information and to submit comments, visit www.MidtownAtl.com/5thStreetCompleteStreet.