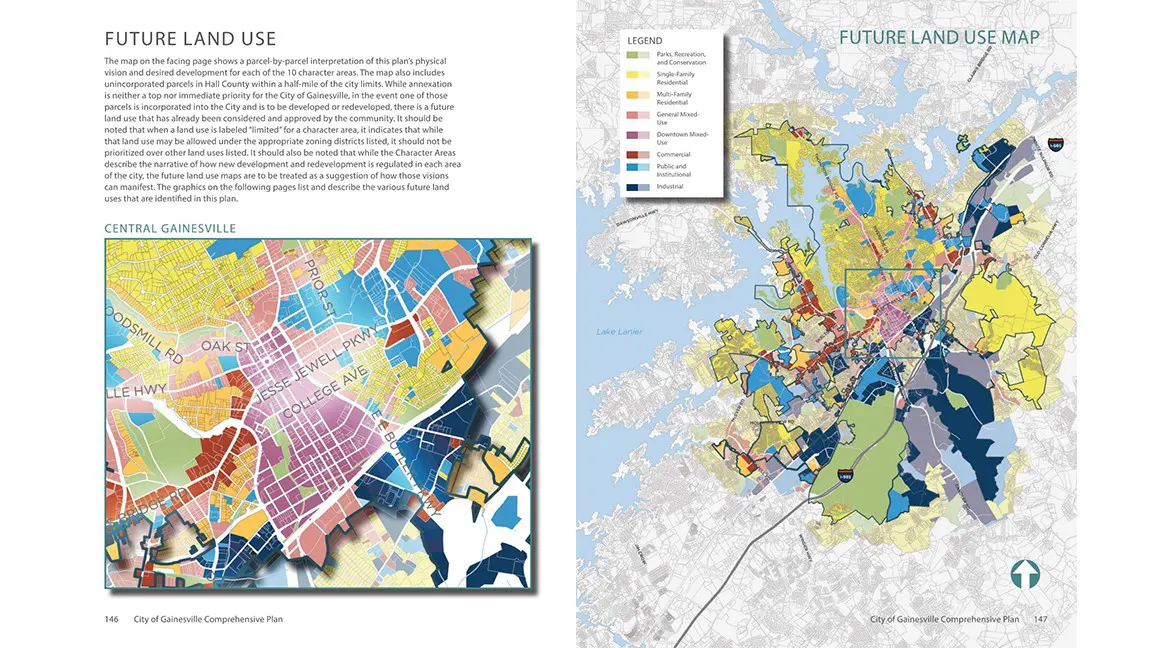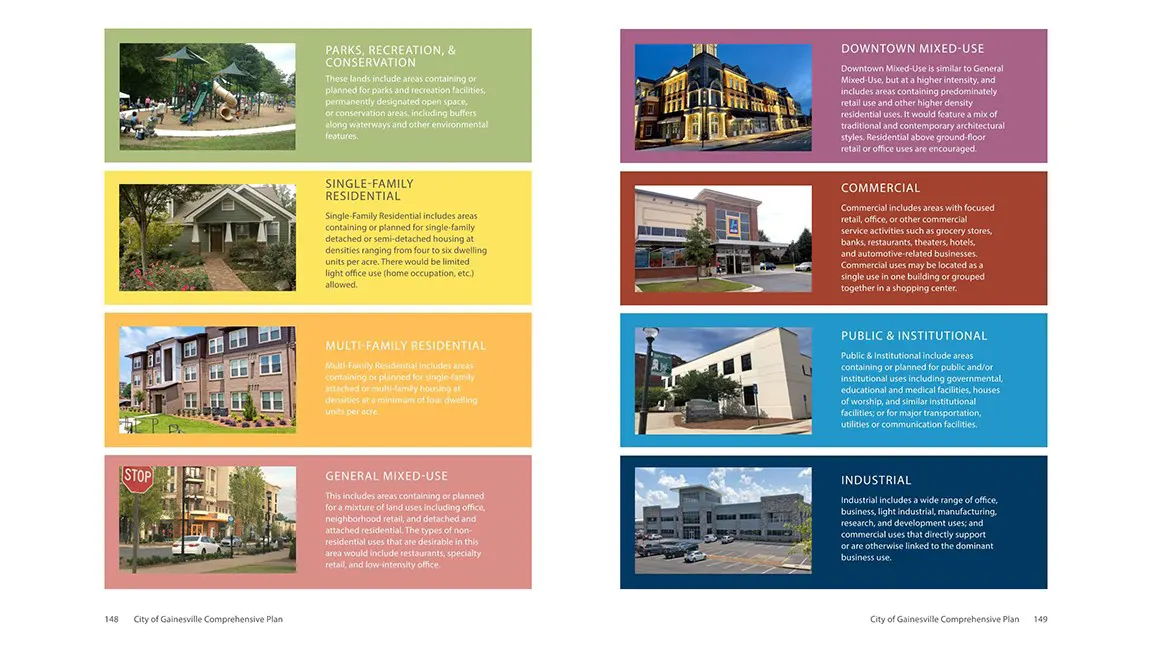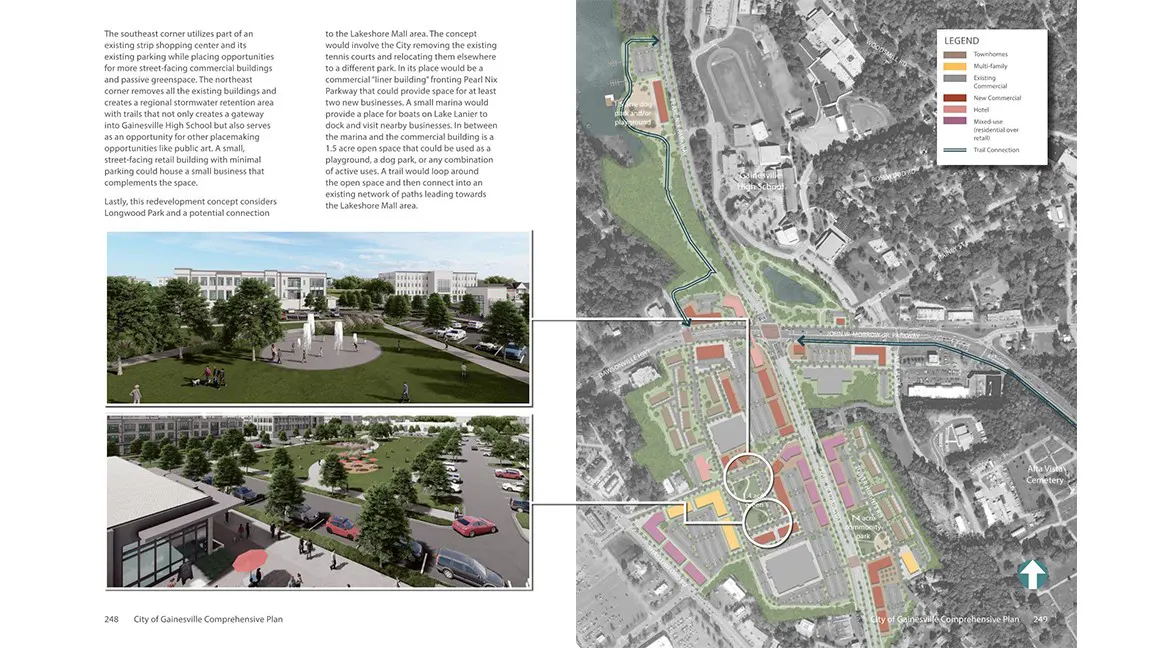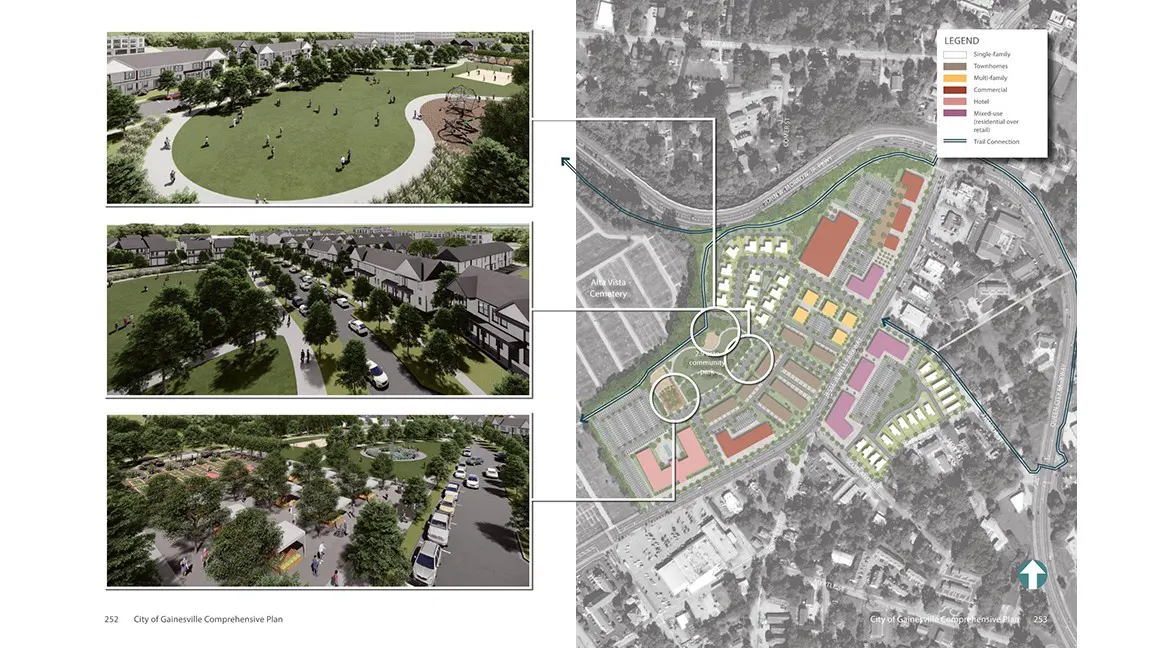 Gainesville Comprehensive Plan
Description:
The City of Gainesville, Georgia has recently undergone an update of its Comprehensive Plan.  TSW led a multidisciplinary team of experts to develop the Comprehensive Plan Update.  Over the last decade, the city of Gainesville has seen steady growth and changing demographics, and it's expected that this will be reflected in new development in the years to come.
To ensure that the Gainesville Comprehensive Plan update met the needs of the community and was reflective of current trends and developments, TSW set out to achieve three main goals. The first goal was to condense and prioritize years' worth of policy recommendations, providing a clear and concise guide for future development decisions. The second goal was to anticipate where development energy was heading, and develop aspirational design ideas that would shape the future of the city. The third goal was to create a graphic, easy-to-read plan document that would be accessible to all members of the community.
The Gainesville Comprehensive Plan includes a number of key elements such as goals, strategies, action items, and other tools that recommend best practices for development decisions. These recommendations address a wide range of factors such as economic development, transportation, housing, and more. The plan made updates to both the Character Area Map by condensing some classifications and making necessary updates to policies and implementation measures. The plan also features proposals for how three key redevelopment areas could be re-imagined as new mixed-use centers that can satisfy demand for more commercial and housing, and how they can be integrated into the Highlands to Islands trail network. Lastly, an implementation plan outlines a list of projects and includes descriptions of funding strategies and the people involved with enacting the plan.
Throughout the development of the Gainesville Comprehensive Plan, the community was given numerous opportunities to provide input and feedback. Virtual meetings, in-person public meetings, online surveys and activities, and even a booth during a yearly festival were all used to gather input from community members. By taking this inclusive approach, TSW and the city of Gainesville were able to develop a comprehensive plan that reflects the needs and desires of the community, and provides a clear roadmap for the city's future development.