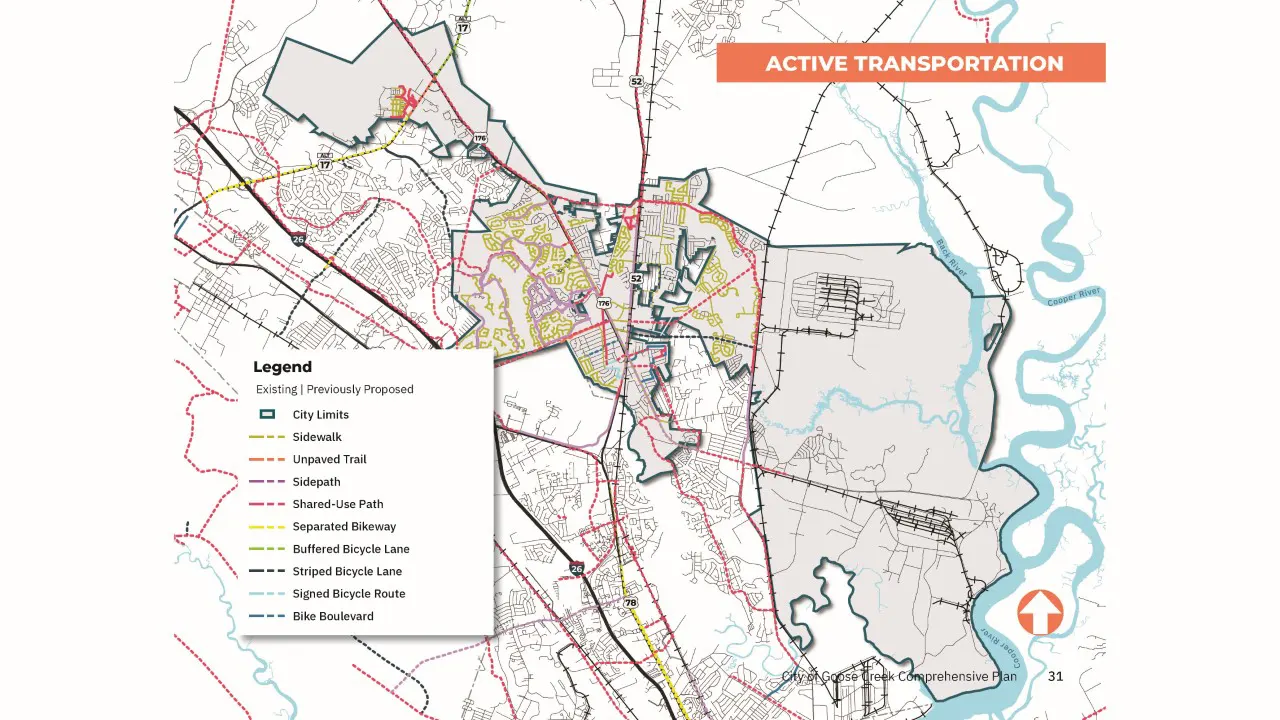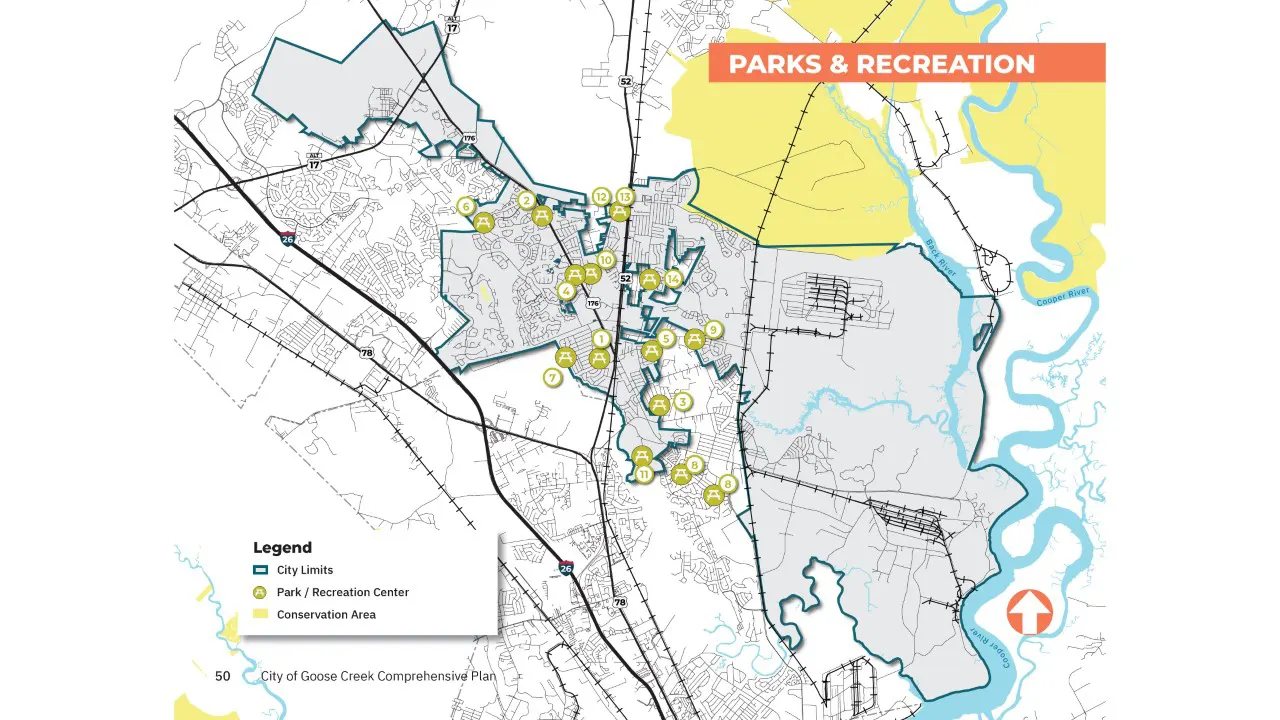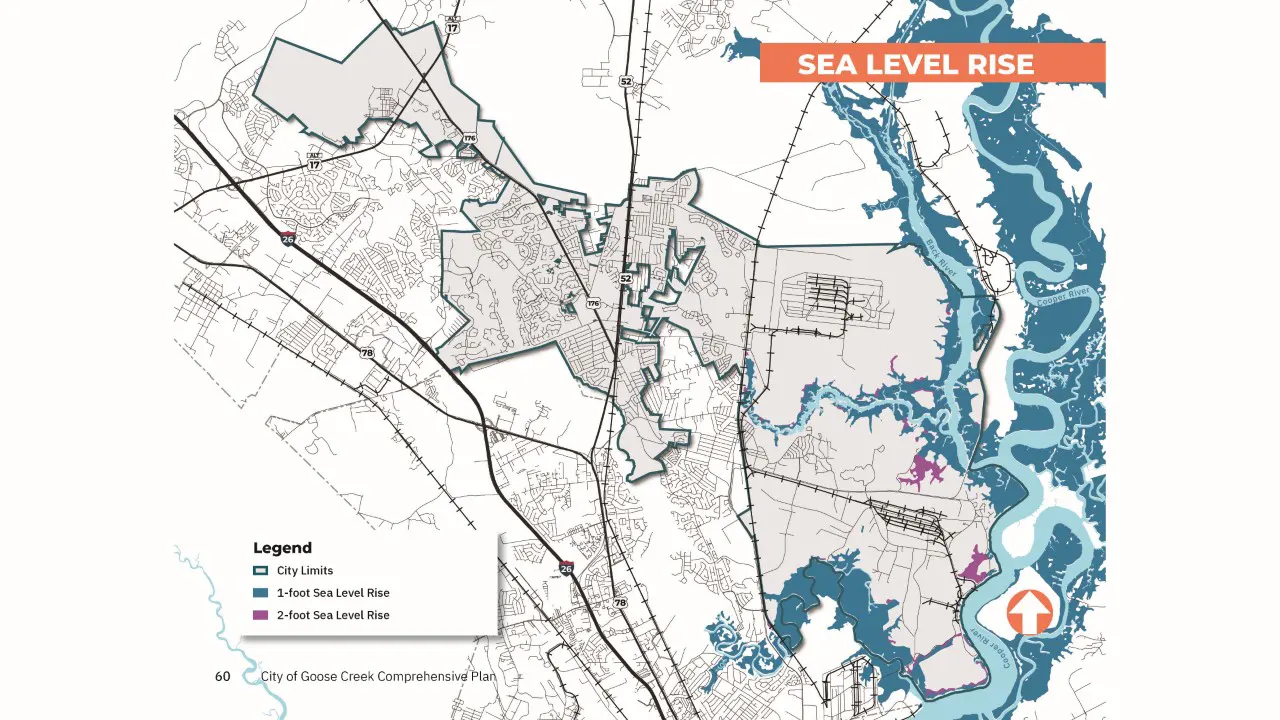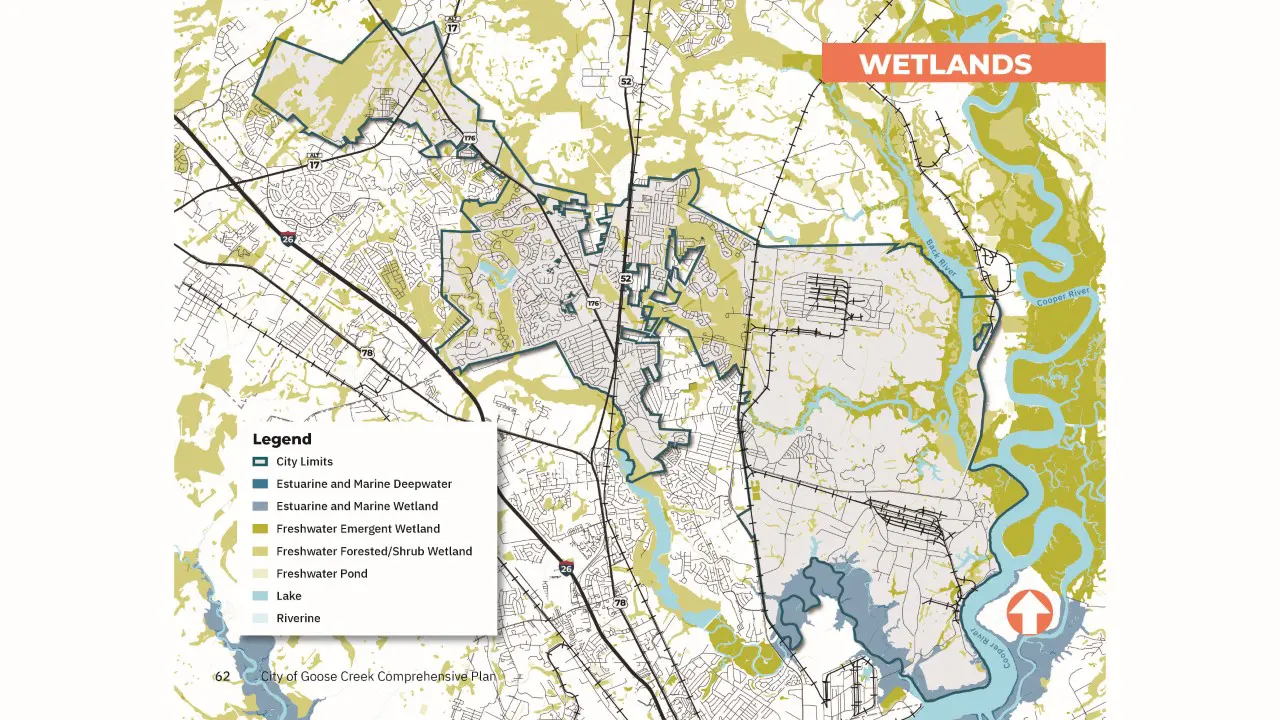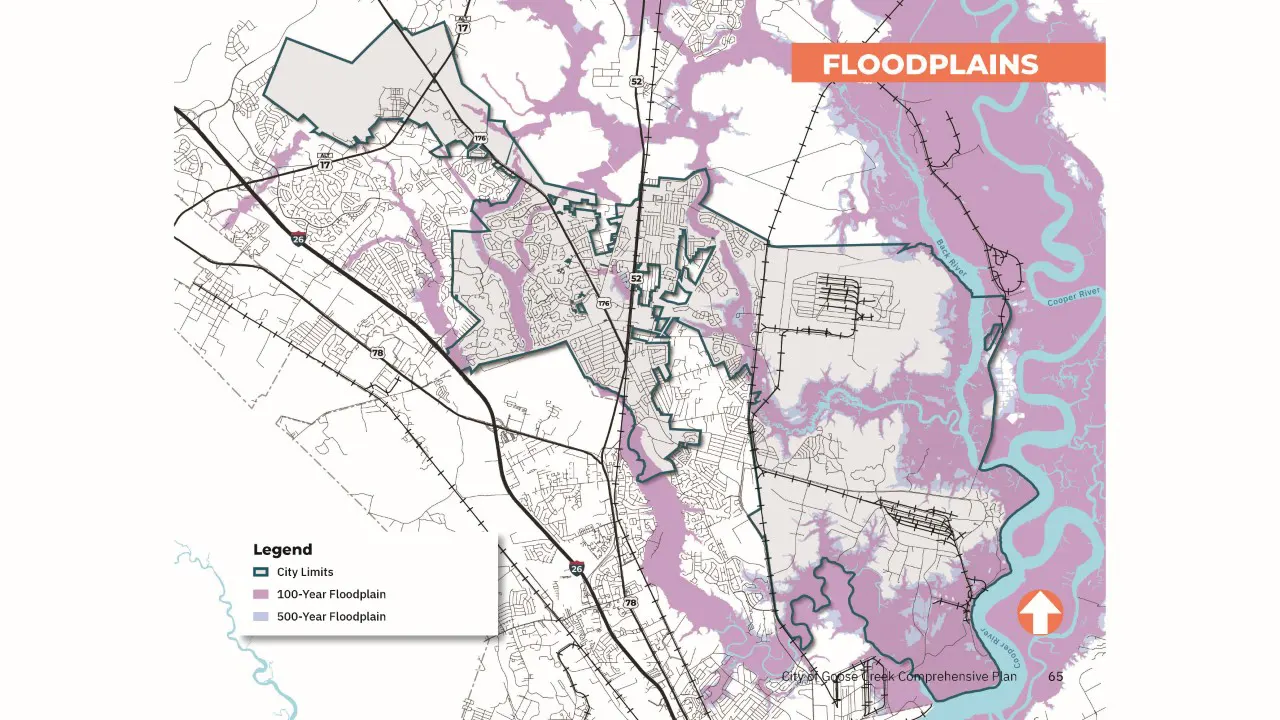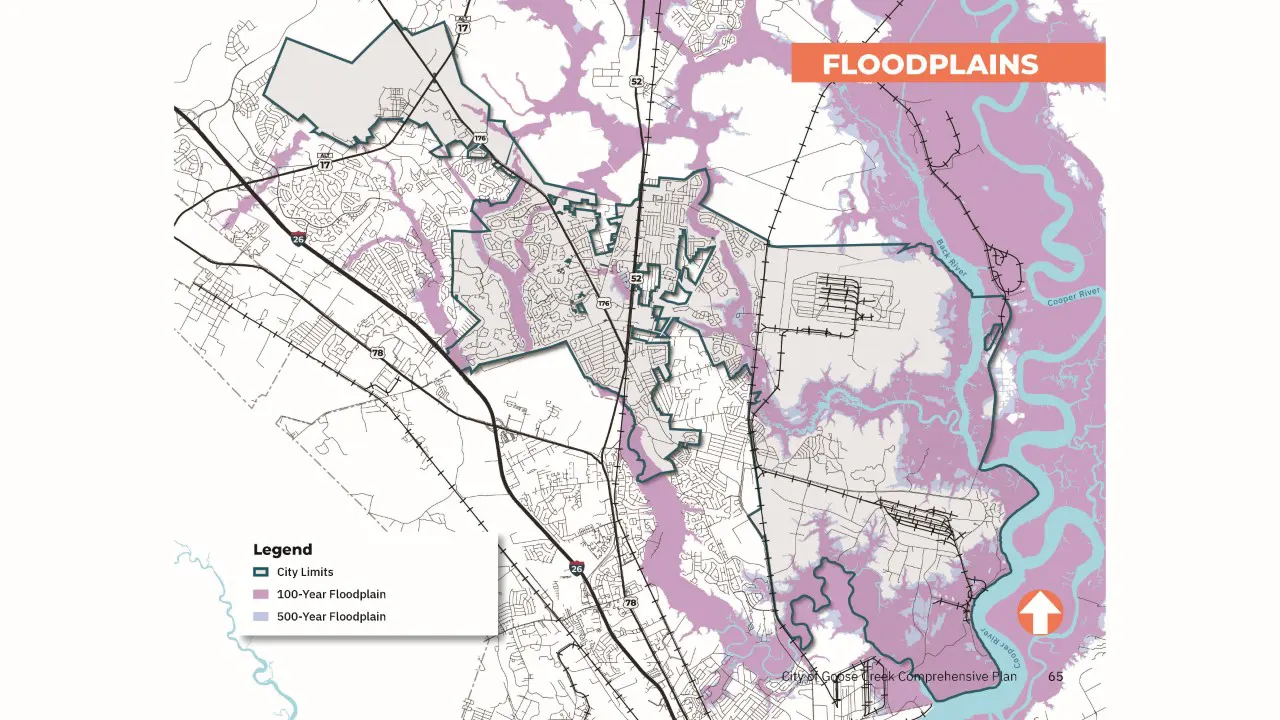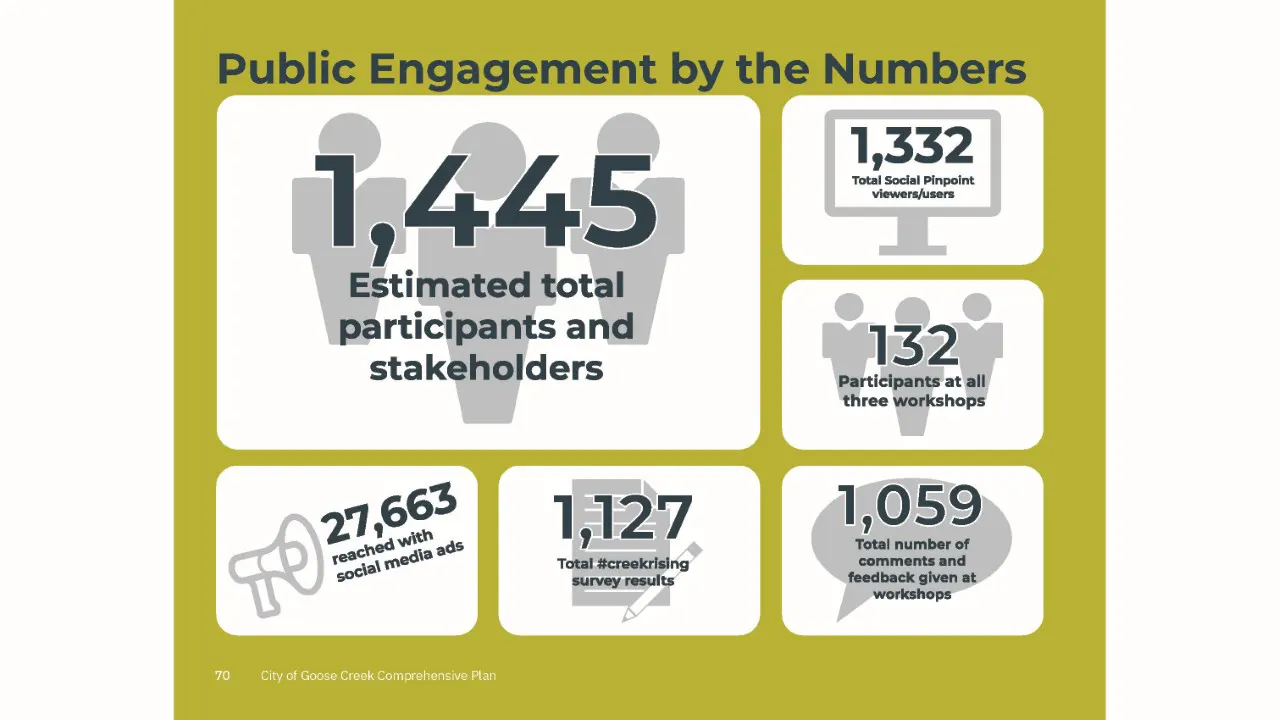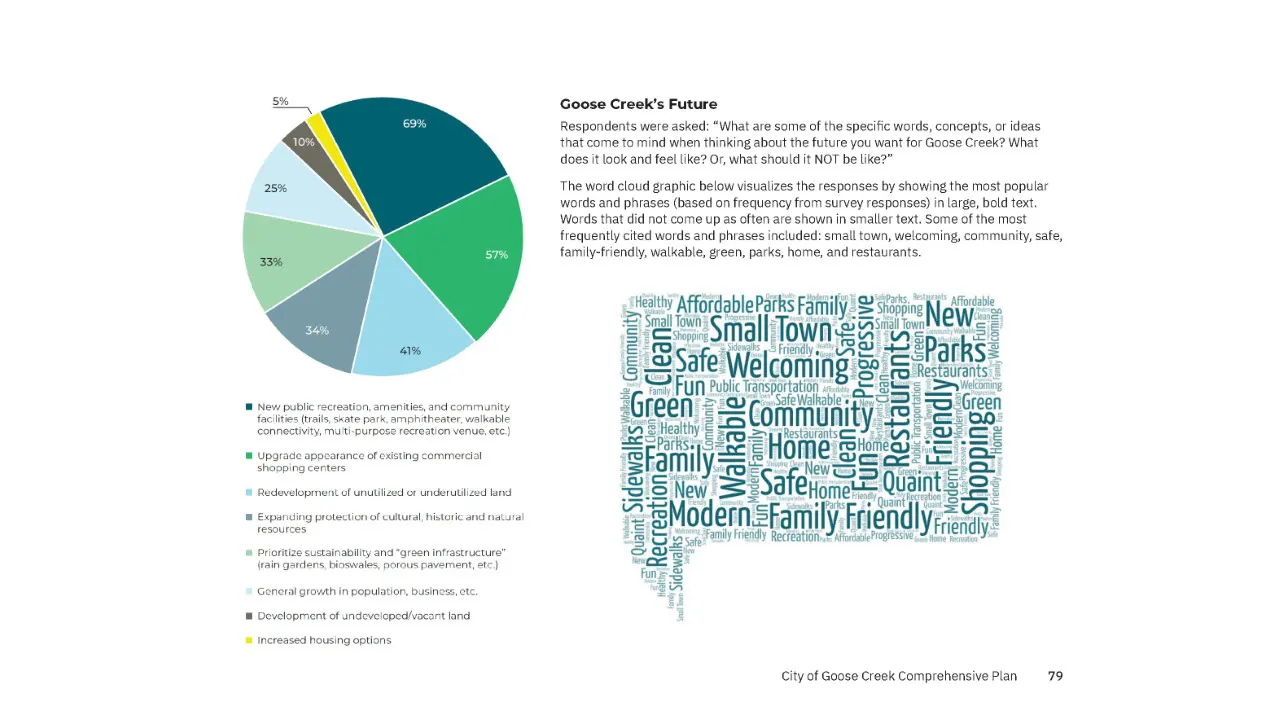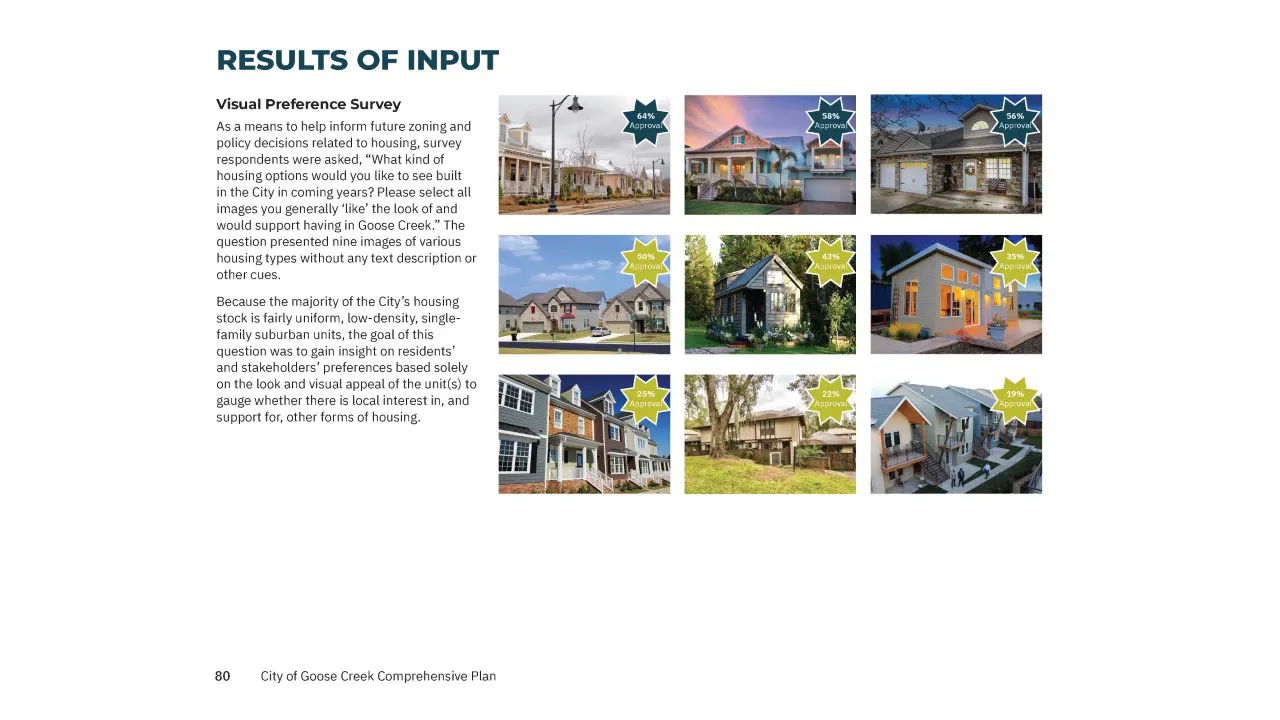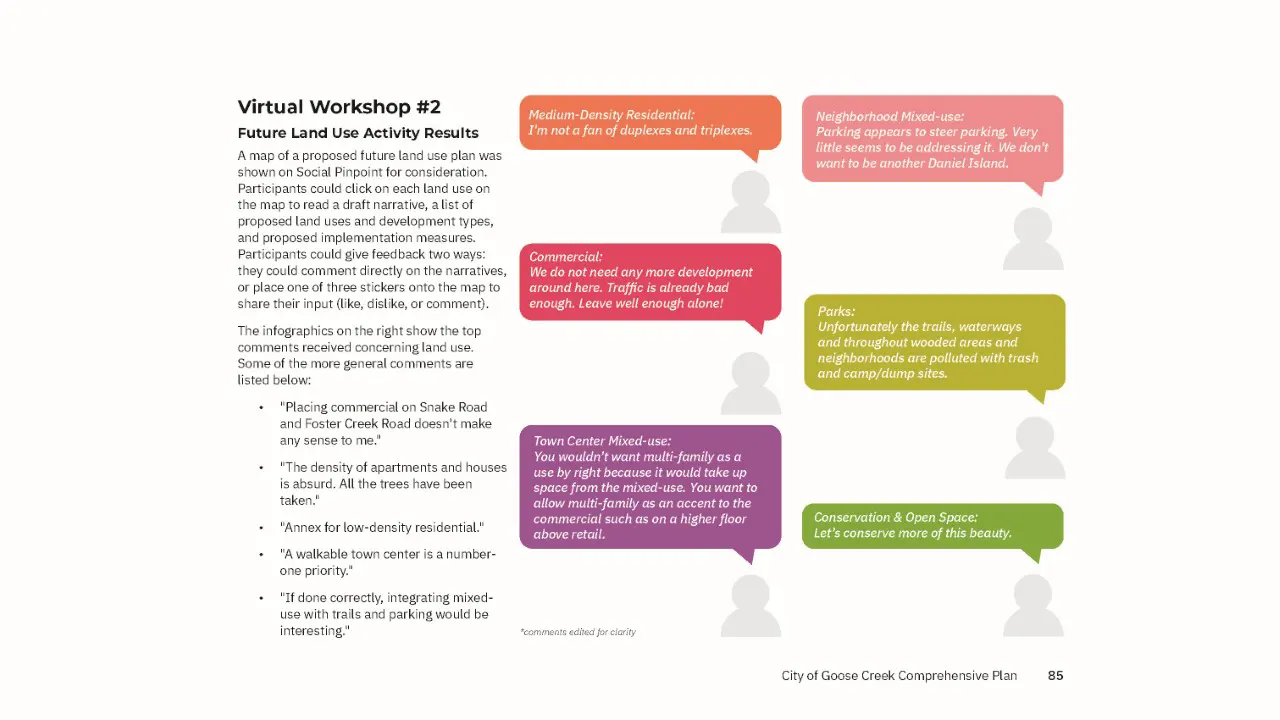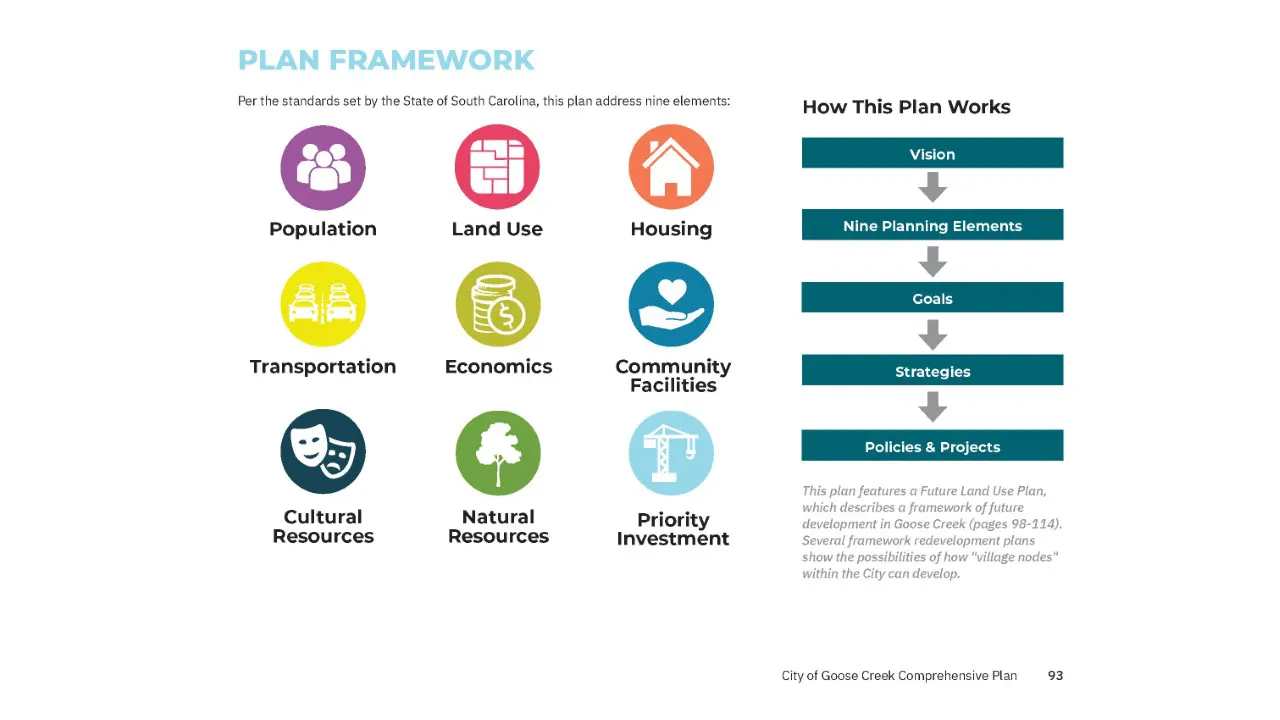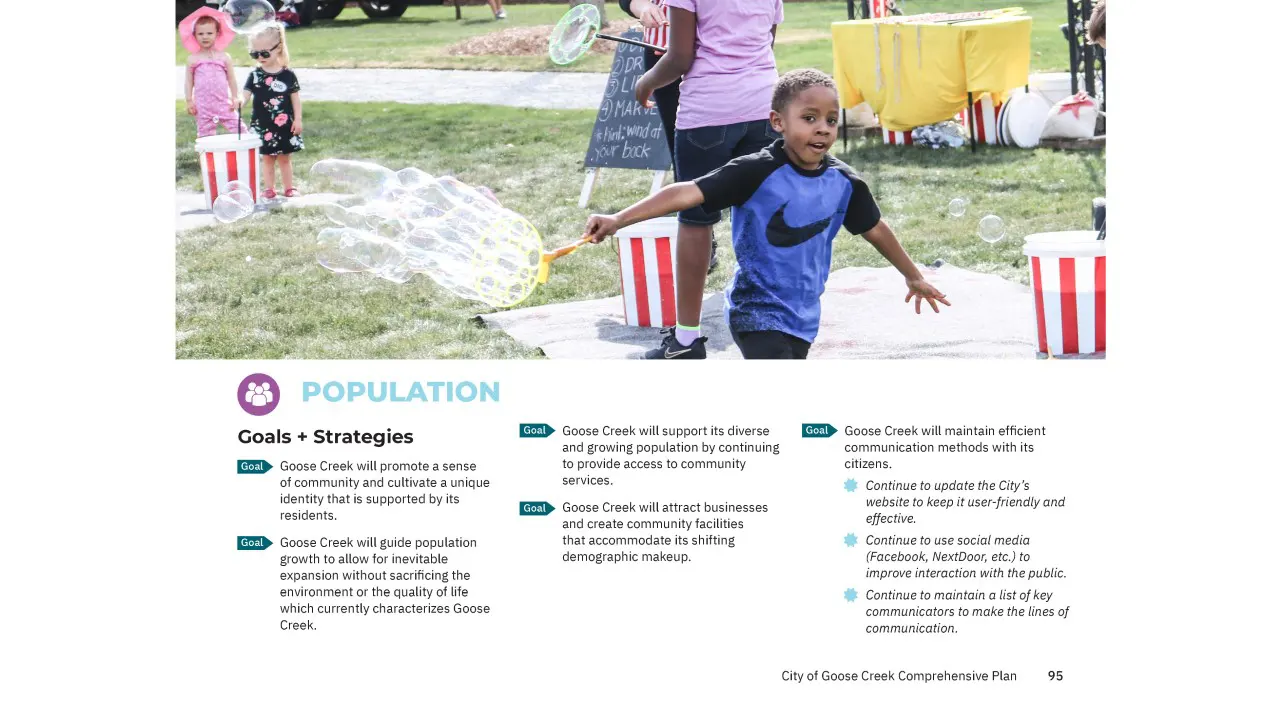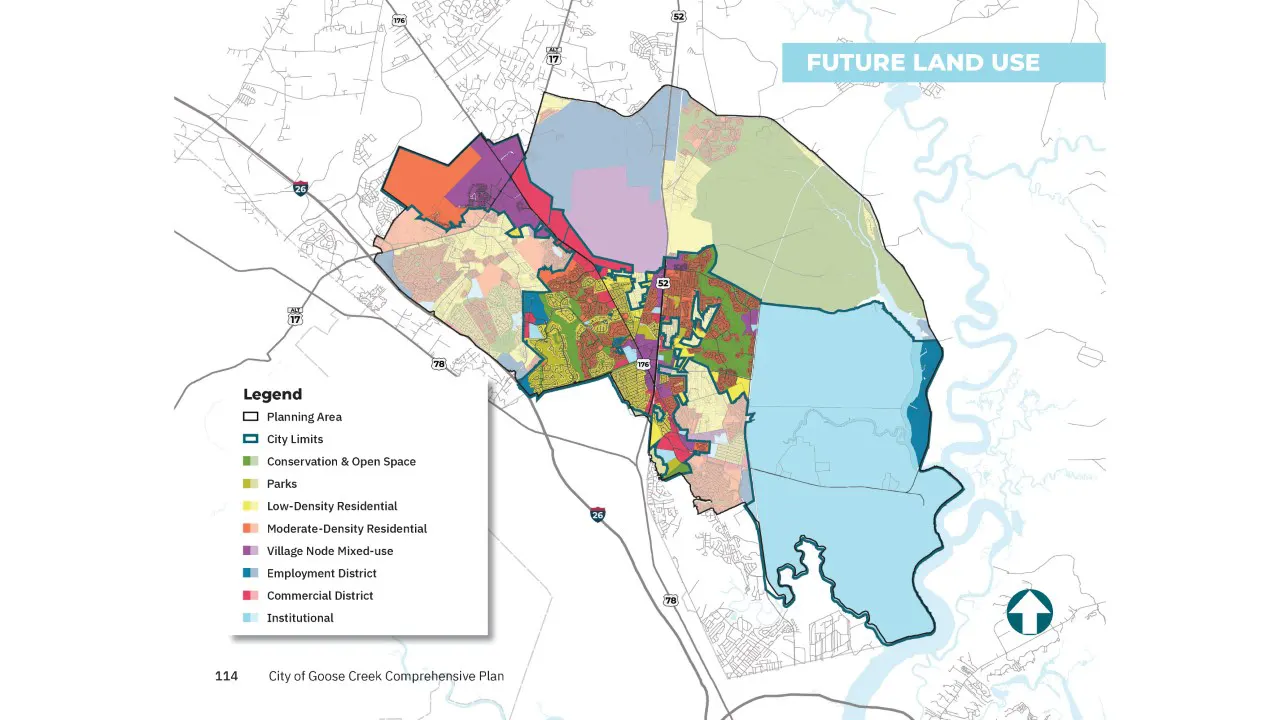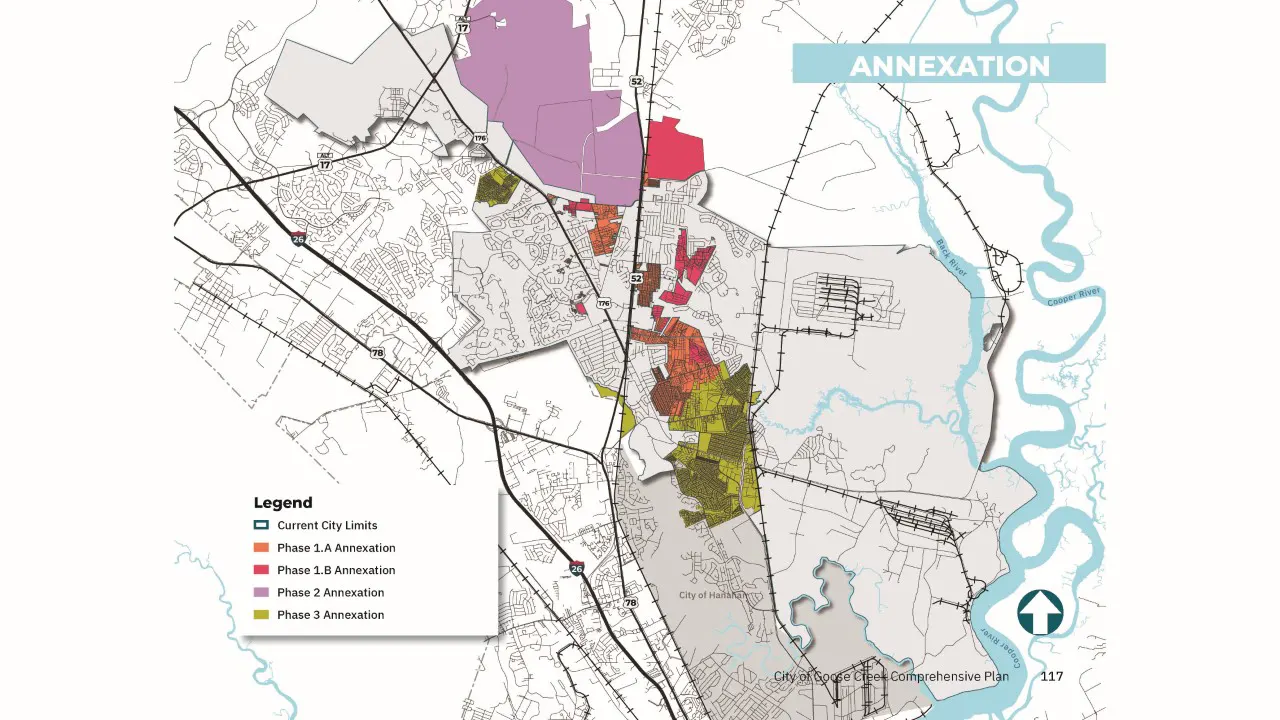 Goose Creek Comprehensive Plan
Description:
TSW led a multidisciplinary team, which included Arnett Muldrow & Associates, to develop the City of Goose Creek 2030 Comprehensive Plan. Goose Creek is a burgeoning suburb of Charleston, South Carolina. The City is currently experiencing rapid growth, much of which is driven by residential planned communities and will continue due to the region's existing and growing military presence, all of which are creating traffic consequences. Berkeley County and SCDOT are primarily responsible for traffic and transportation throughout the City and the City wanted to be able to improve connectivity going east-west. A key provision of this Comprehensive Plan was to balance growth with transportation needs. Another issue was the haphazard condition of current city boundaries and how annexation should play out over the next 10 years.
Due to COVID-19, TSW conducted a combination of virtual and in-person community engagement activities, including stakeholder interviews, public workshops (using Facebook Live Social Pinpoint), and open house. TSW's efforts built of those by the Berkeley-Charleston-Dorchester Council of Governments (BCDCOG) earlier in 2020 which included community surveys and meetings with stakeholders, City Council, and the Planning Commission. Total, this resulted in an estimated 1,400 total participants reached, 1,100 surveys completed, 130 workshop attendees, and 1,000 comments given at both in-person and virtual workshops.
The 2030 Comprehensive Plan provides a foundation for determining effective public policy, master planning, land use decisions and provides an ongoing framework for informed and directed development decisions. The comprehensive plan includes goals, objectives, strategies, graphs and other tools that analyze, assess and recommend best practices for value-based planning decisions that address the economic development, transportation, housing, infrastructure and other improvement needs of Goose Creek. The ultimate responsibility of the plan is to provide a guiding document that reflects and responds to the
priorities, values and requirements of residents and stakeholders while safeguarding the history, sense of place and desires that Goose Creek residents, businesses, and visitors experience throughout the community. The plan shows examples of how three key redevelopment areas could be re-designed to respond to growth pressures and fulfill the need for community nodes, which the City does not have but desires to have. Another major aspect of the plan
is the phased annexation plan which takes into account the City's current annexation plans, service delivery needs, and the local tax digest. The implementation plan proposes over $280 million in projects over the next ten years, most of which are transportation projects to be undertaken by SCDOT and Berkeley County. The remaining projects are aimed at improving economic development and creating the tools needed to kick off redevelopment efforts.