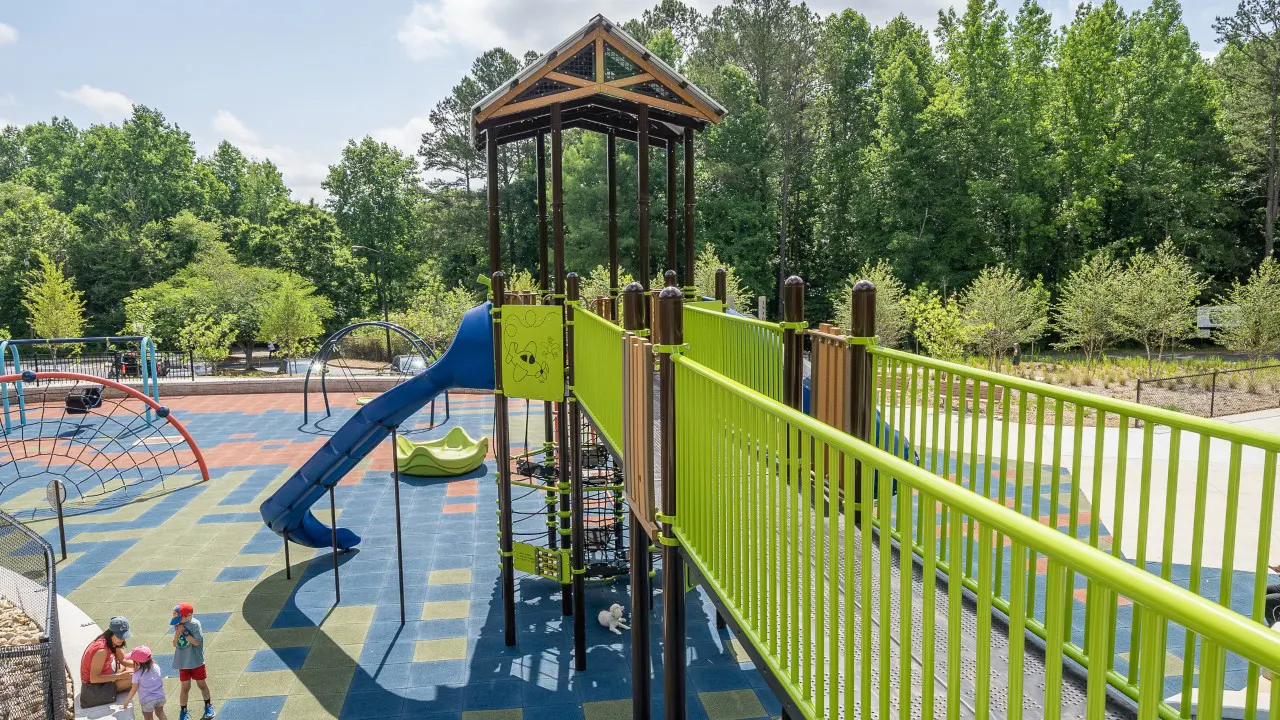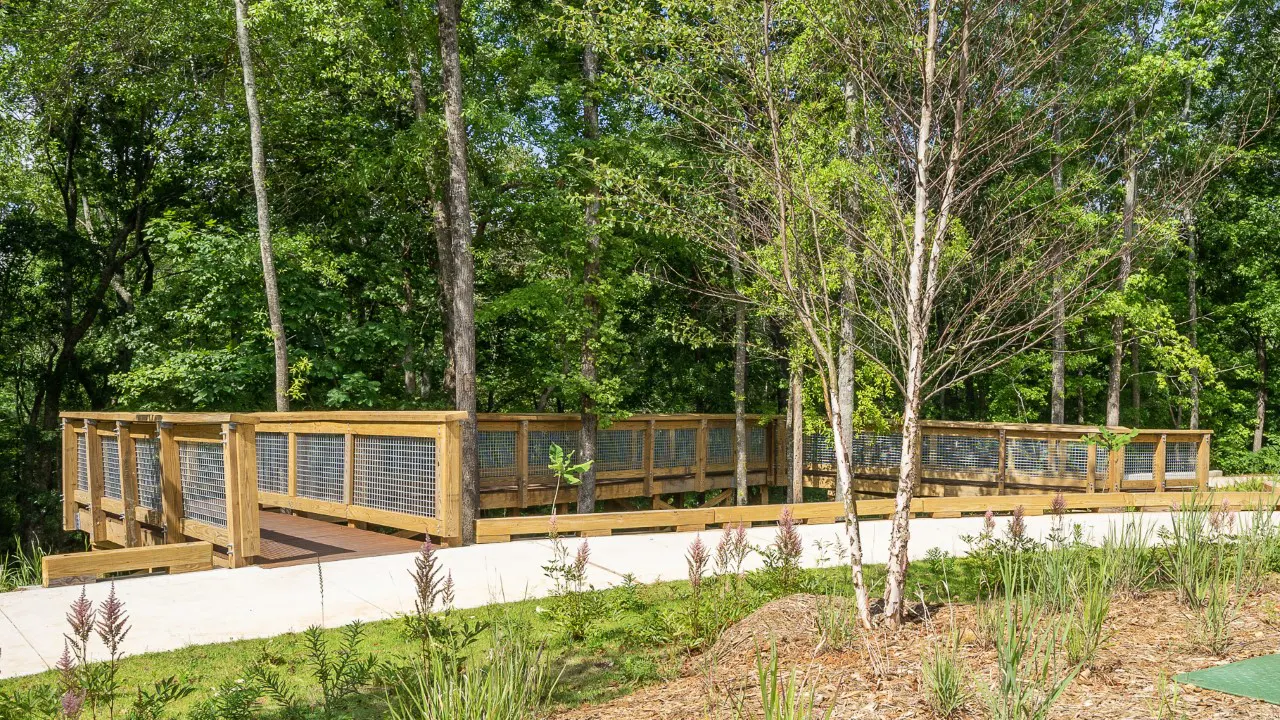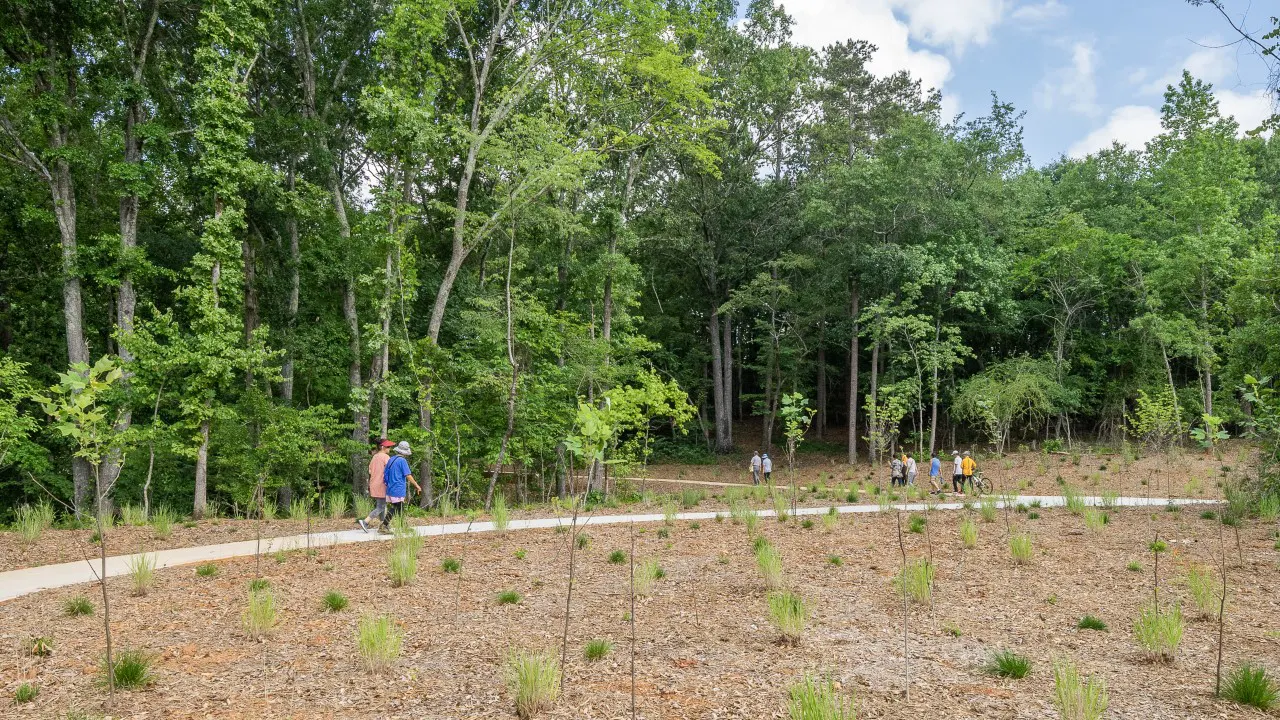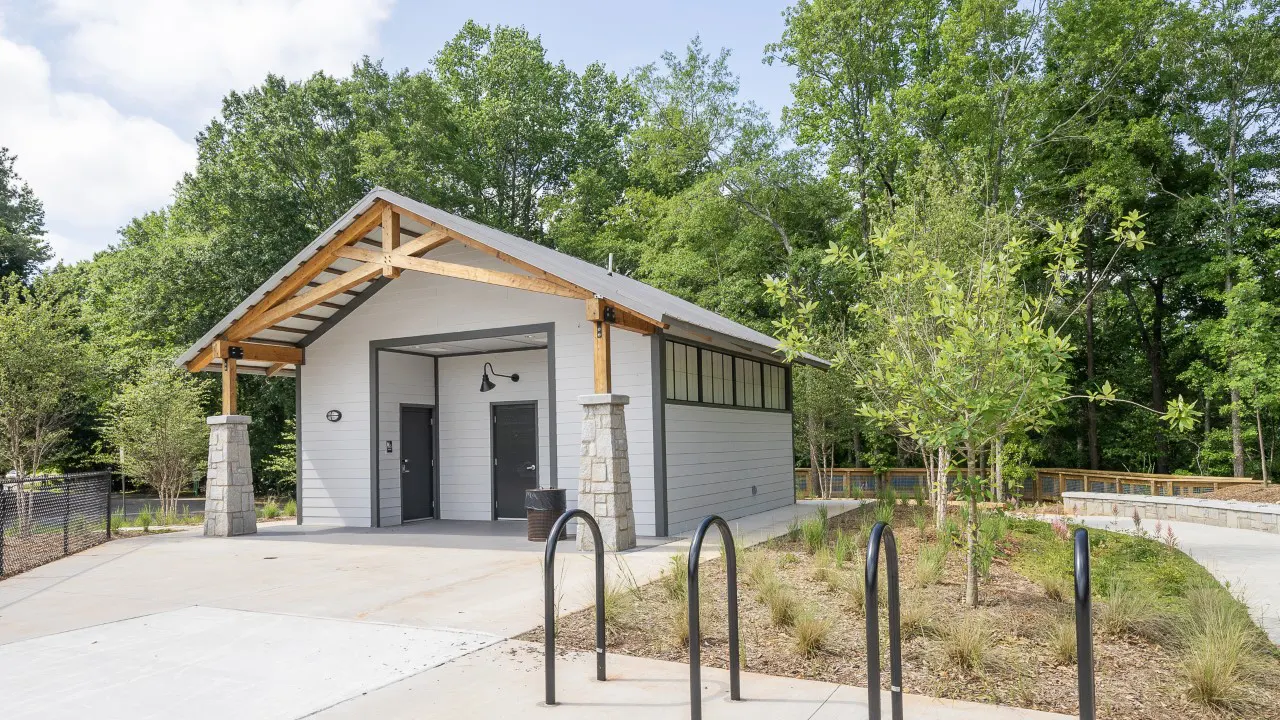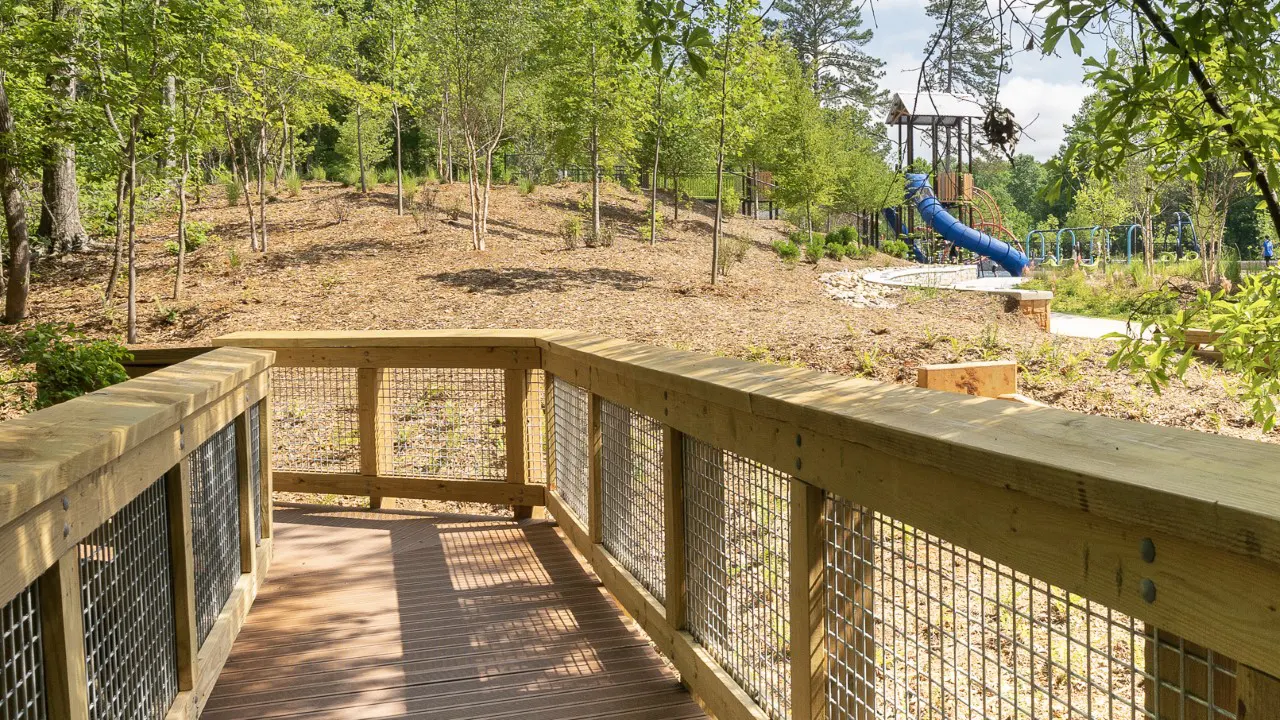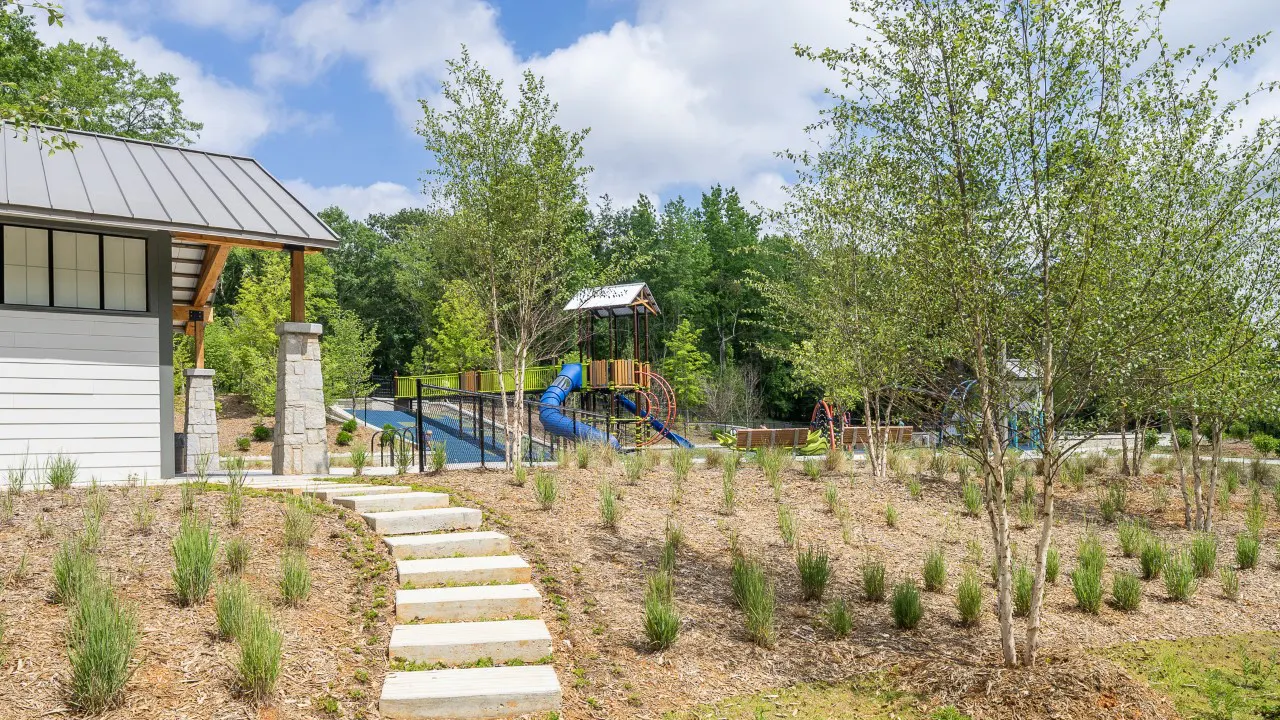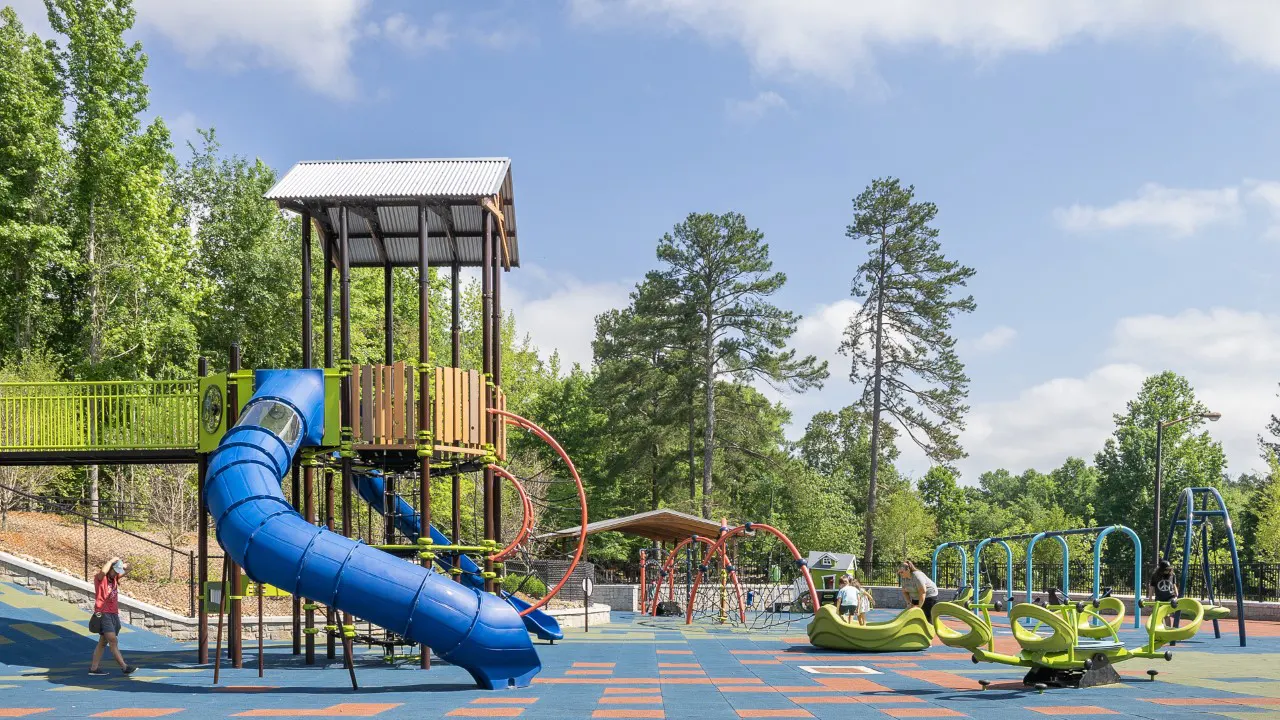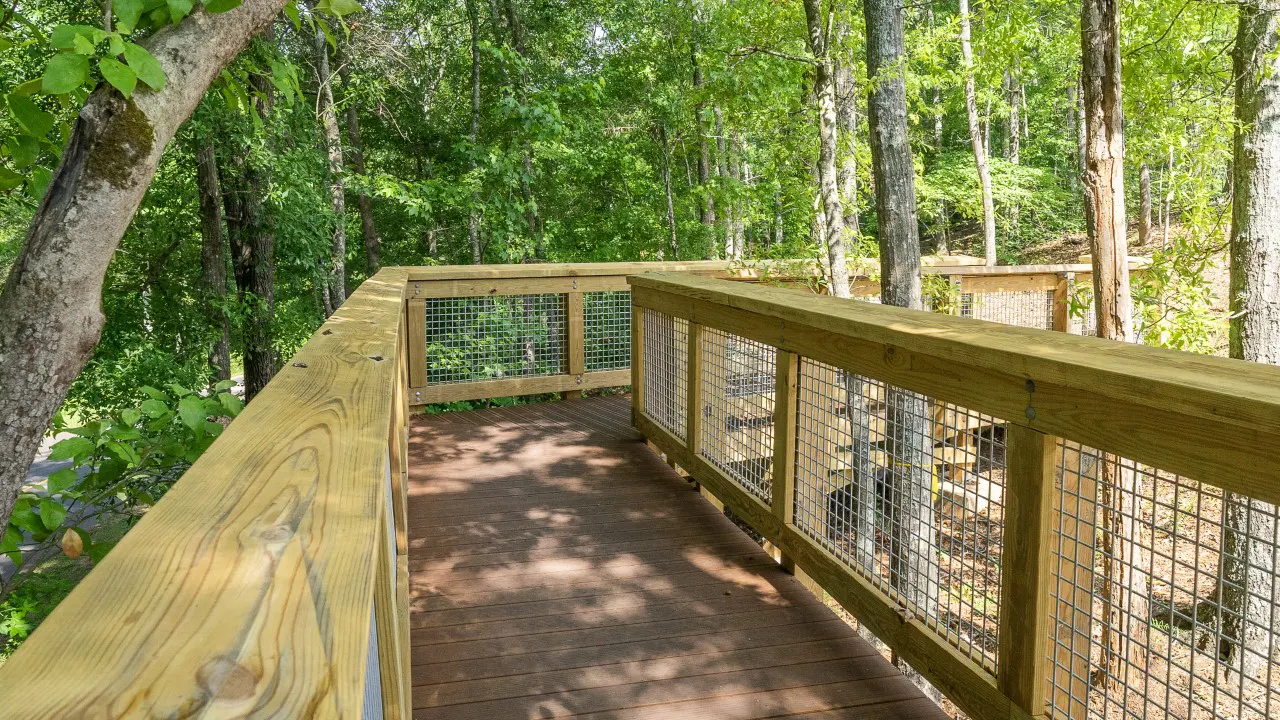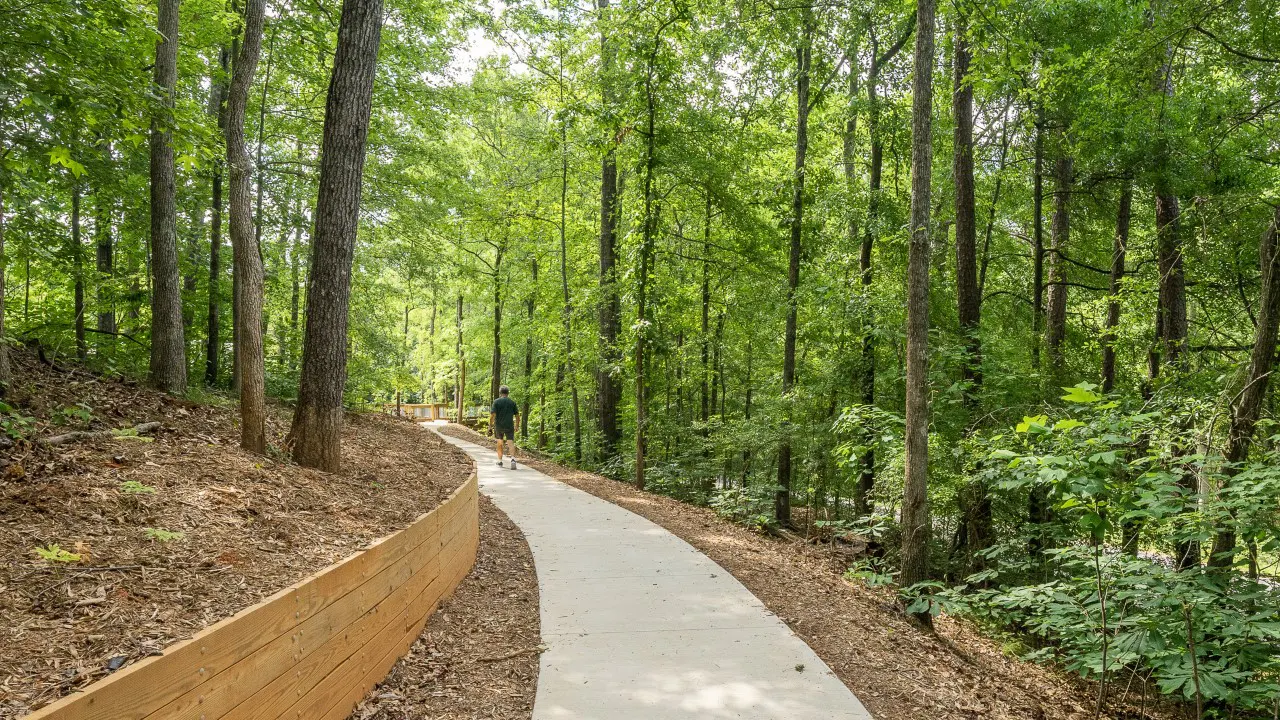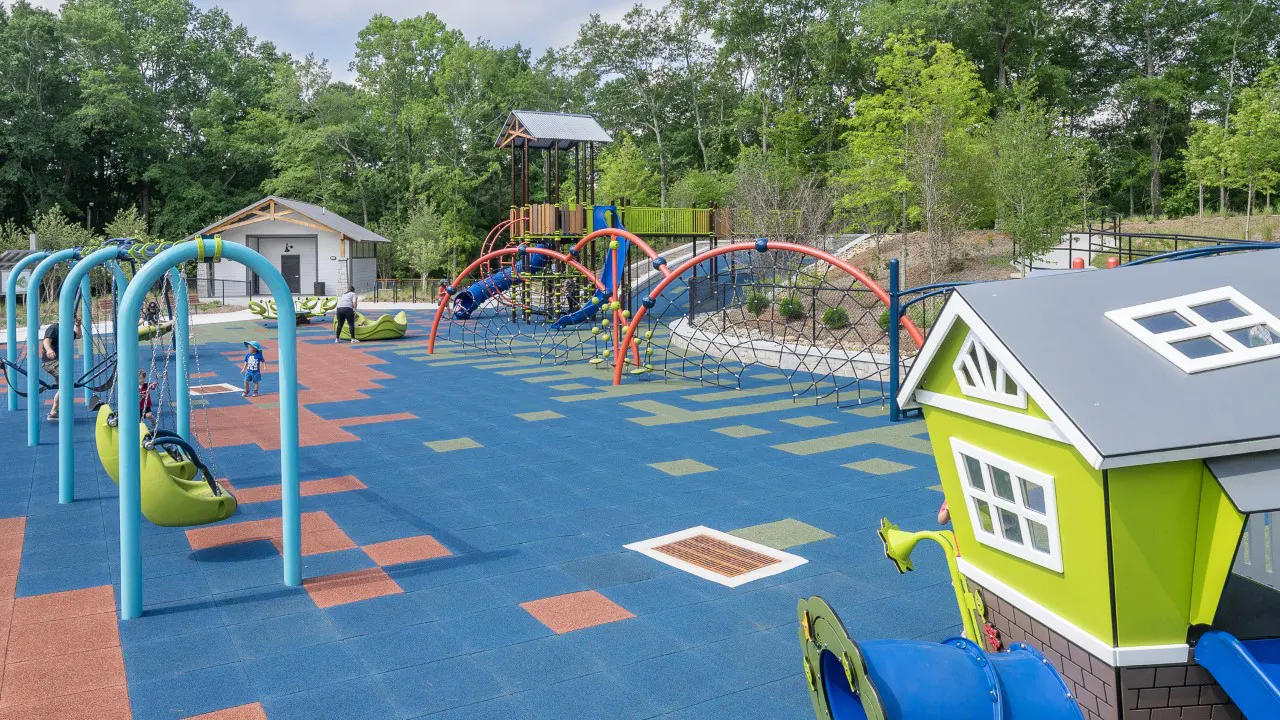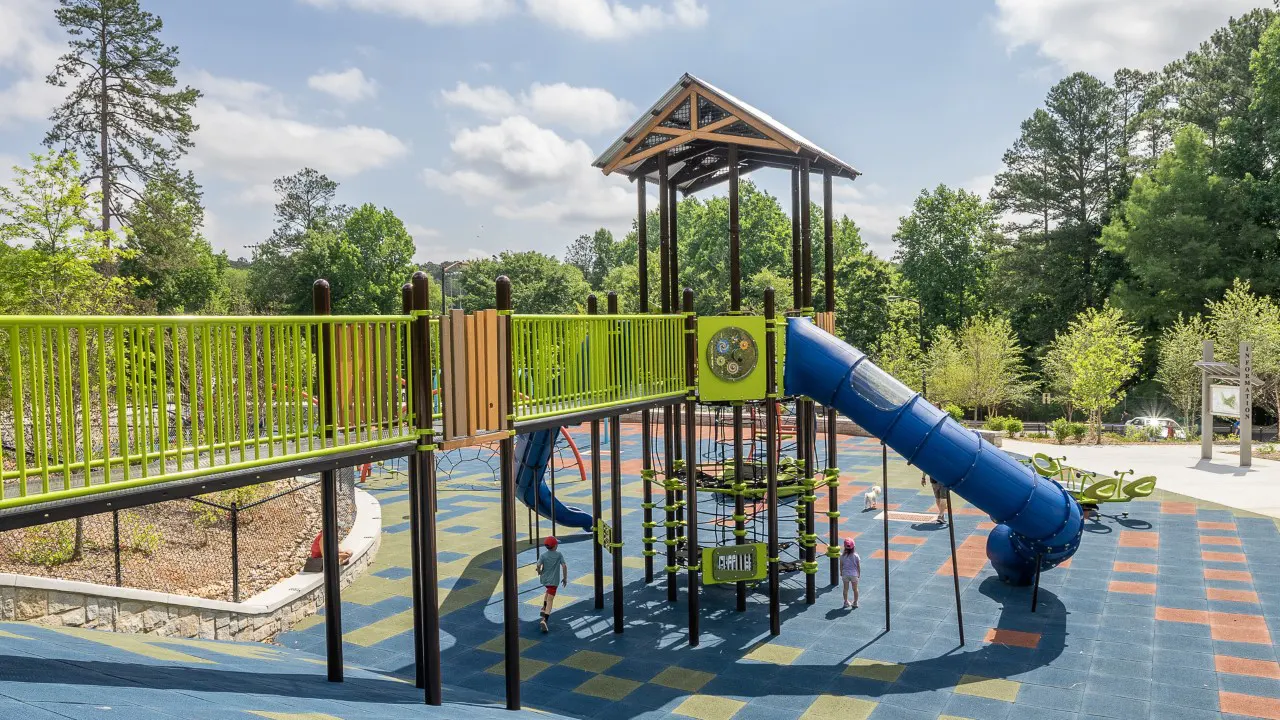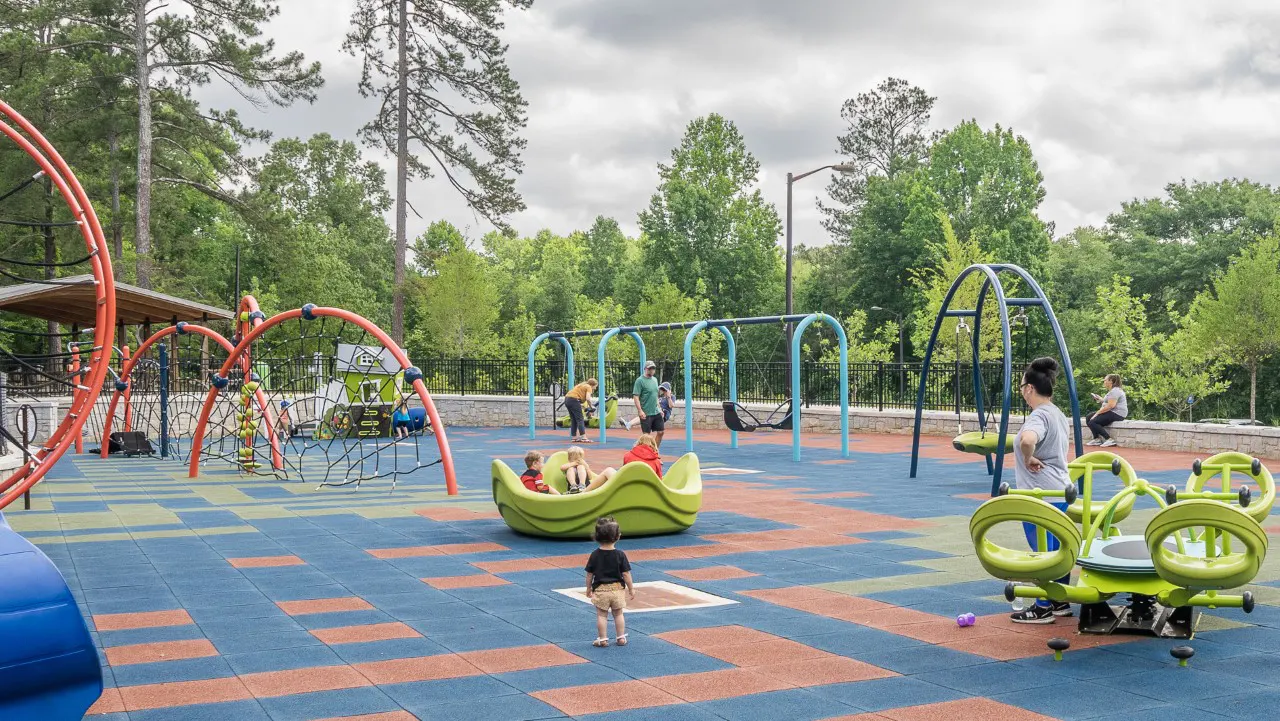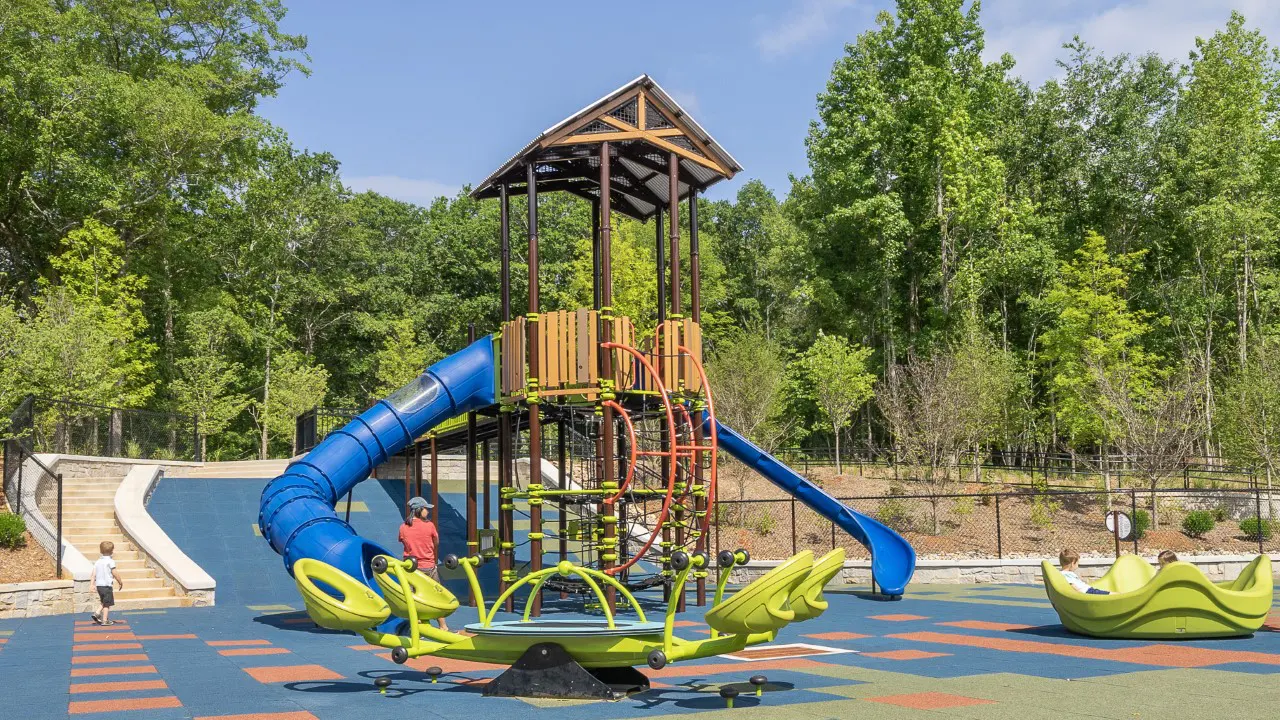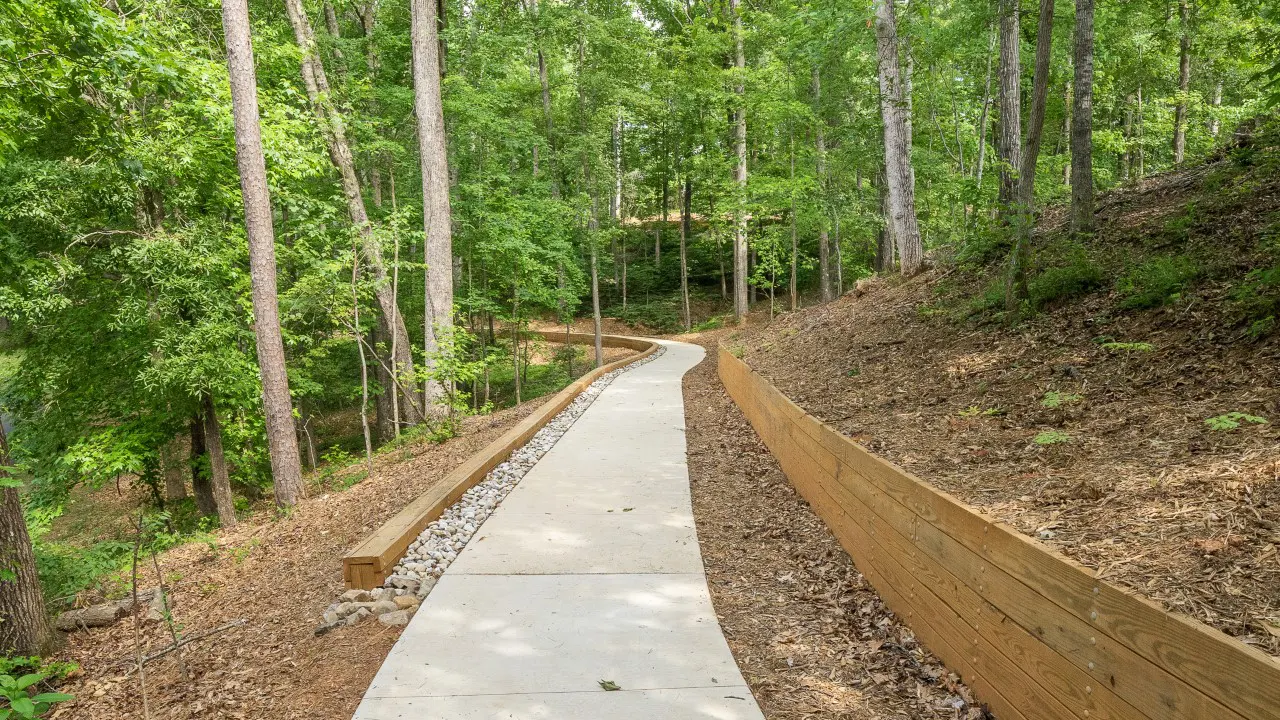 Location: Atlanta, Georgia
An accessible nature loop trail was designed to traverse the rugged forest

460 five-gallon trees, consisting of oaks, tulip poplars, hickories, and ironwoods

Universally accessible playground embracing features that remove both the physical and social barriers to equitable play
Description:
The George Pierce Park expansion is one of Gwinnett County's newest, intergenerational, universally accessible park projects. The 304-acre County Park is located in Suwanee, GA and is home to a community center, sports fields, the Ivy Creek Trail, and expanses of high-quality upland and lowland forest. The project has been funded by a combination of private and public sources, including the Georgia Outdoor Stewardship Program and the City of Suwanee. It is designed to provide a safe and inclusive space for all ages and abilities to enjoy outdoor recreation and nature-based activities.
TSW's Landscape Architecture Studio was tasked with designing the park expansion. The centerpiece of the plan is a universally accessible playground that embraces features that remove both physical and social barriers to equitable play. There are 7 unique playground pieces, with the focal point being a two-story lookout tower that has both slides and climbing nets integrated into its design. The playground rubber tile surfacing by sofSURFACES (https://www.sofsurfaces.com/) is permeable, provides stormwater infiltration, storage, fall safety performance, and pleasing playful color patterns that coordinate with the play features.
An accessible nature loop trail was also designed to traverse the rugged forest adjacent to the playground while maintaining slopes less than 5%. Designing the trail was challenging and required diligent focus before and during construction to minimize damage to the woodland floor and mature tree canopy. Prior to construction, an on-site review of the land disturbance yielded in-field changes to minimize the construction footprint. Low timber retaining walls were used to reduce grading and preserve trees, allowing the path to stay tight to the existing topography and better engage the native landscape. The result is a pathway that appears as though it has been there for years. In areas where grading could not be avoided, reforestation techniques were utilized. 460 five-gallon trees, consisting of oaks, tulip poplars, hickories, and ironwood trees were planted 6'0″ on center to help quickly bridge gaps in the forest canopy.
Overall, the George Pierce Park expansion is a shining example of how design can be used to create universally accessible and inclusive spaces for all members of the community. The playground and nature loop trail were designed with accessibility and the environment in mind. The playground includes ramps, wide pathways, and accessible play equipment, while the nature loop trail features railings, accessible benches, and interpretive signage that is both visually and audibly accessible. The vegetation was carefully chosen to ensure the park remains ecologically balanced and sustainable. The result is a park that is not only picturesque and functional, but also promotes healthy and active lifestyles for all.