TSW Lecture Series on Urban Design at Georgia Tech Update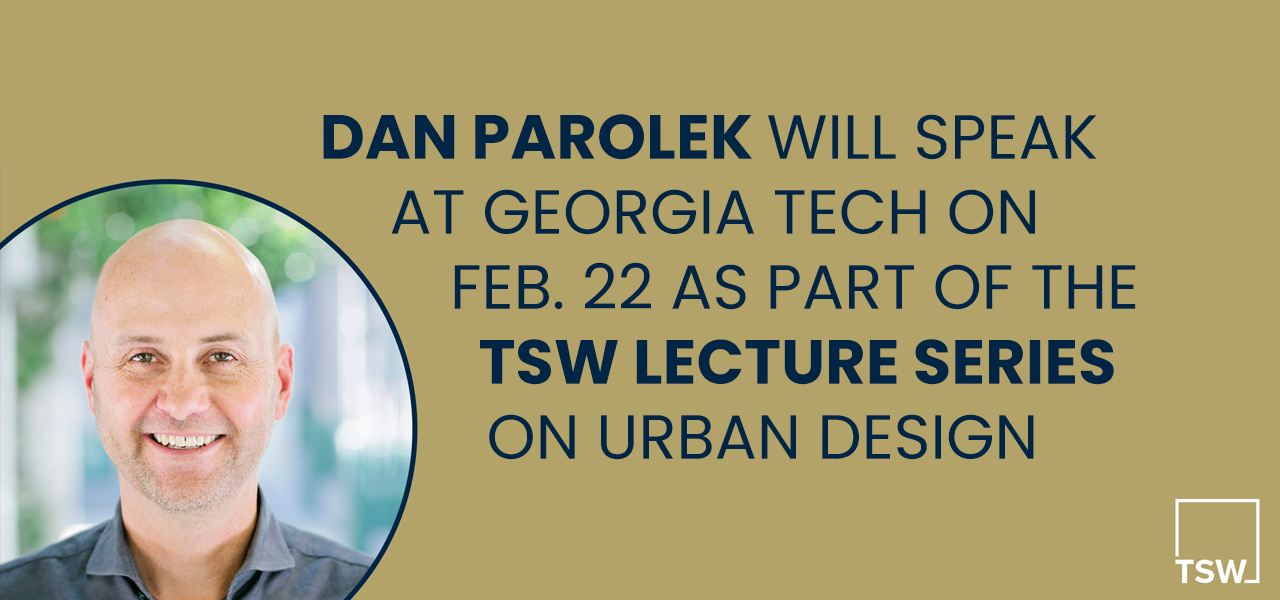 Georgia Tech's School of Architecture and TSW are pleased to announce that Daniel Parolek, urban designer, architect, and author, will be the 2023 speaker at the TSW Lecture Series on Urban Design Wednesday, February 22nd, at Georgia Tech. The public is welcome to attend for free at 6 p.m. in the Reinsch-Pierce Family auditorium, 245 4th Street, NW, room 123 on the Georgia Tech campus. The title of his talk is "Using Design Thinking to Deliver Big Solutions with Small Scale Housing", and a book signing will follow the presentation. A video of the talk, as well as a podcast interview by Professor Ellen Dunham-Jones, director of the Georgia Tech MS in Urban Design degree program, will be available for free online in early March and may be accessed at https://arch.gatech.edu/redesigning-cities.
Parolek is the founding principal of Opticos Design, a Berkeley, CA-based company focused on equitable urban placemaking, innovative housing design and policy, and zoning reform for walkable urbanism. He is the author of "Missing Middle Housing: Thinking Big and Building Small to Respond to Today's Housing Crisis". Among his many contributions to the study and practice of New Urbanism, Parolek developed the Master Plan, building type design and architecture for Culdesac Tempe, which is slated to become the largest car-free community built from scratch in the U.S.
"We are delighted to announce Dan Parolek as this year's TSW Lecture speaker," said Dunham-Jones. "I am sure our students will be inspired to learn how Dan and his team at Opticos are using 'design thinking' to tackle some of our communities' most significant challenges, including attainable housing, climate change, gentrification, ineffective and racist planning and zoning, and even public health. They are taking the lead in establishing new best practices in planning, zoning, housing design and development and impact-driven business models. Dan has also started a national movement for housing reform by reintroducing Missing Middle Housing to both new and established communities."
"Dan Parolek coined the term 'Missing Middle' to describe duplexes, fourplexes, cottage courts, courtyard buildings and accessory dwelling units that provide affordable housing options within a community," said Bill Tunnell TSW founding principal. "Modern growth patterns – particularly suburban sprawl – have mostly done away with these essential building types, which were once common across America. Community planners are rediscovering the many benefits of Missing Middle housing. In fact, the City of Decatur, Georgia is currently exploring bringing Missing Middle development back to the community, so Dan's presentation is particularly timely."
In addition to Culdesac Tempe, Parolek's presentation will cover Prairie Queen, the country's first 100 percent Missing Middle neighborhood and multi-generational and micro-unit courtyard housing designs. He'll also discuss his firm's citywide comprehensive plan for Memphis, TN (Memphis 3.0), a Missing Middle strategy for South Bent, IN, and one for Sacramento, CA that includes a Displacement Risk Analysis process.
TSW established the Lecture Series at Georgia Tech's School of Architecture in 2020 to commemorate the our firm's 30th Anniversary. The program brings prominent architects, planners, landscape architects and others to the university to speak to students and professionals about a variety of design topics, and is free for the public to access online.
About the Georgia Tech School of Architecture:
The Georgia Tech School of Architecture offers five distinct degree programs – a Bachelor of Science in Architecture, a Master of Architecture, a Master of Science in Architecture, a Master of Science in Urban Design and a Ph.D. in Architecture. Embedded in the heart of Atlanta and a part of a top-ranked research institution, the School of Architecture combines research, technology and design to form a well-rounded, interdisciplinary, future-focused education as students prepare to make an impact on the built environment.