TSW Open Studio Recap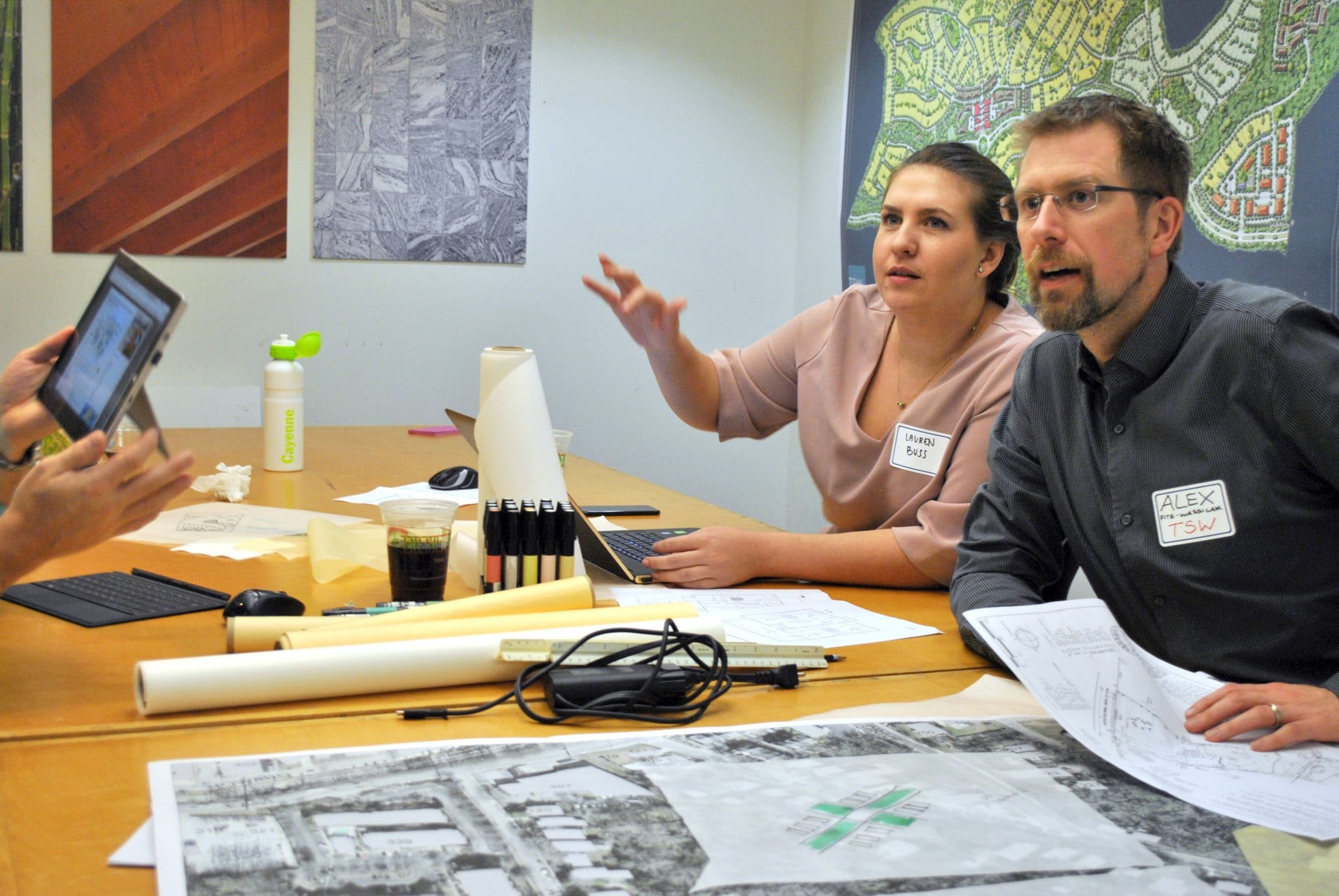 TSW recently invited five local organizations to participate in the firm's first-ever Open Studio design workshop. The firm divided its architects, planners, and landscape architects into multidisciplinary teams who worked in partnership with each of the organizations on a particular design/planning challenge during an intensive, full-day session.  The results were presented to all of the organizations pro-bono at the end of the day.
The organizations participating in this year's event were:
Central Atlanta Progress (Auburn Ave. programming and site design)
City of Decatur (Avary-Fulton House Historic renovation and site planning)
Georgia Tech (Rich Complex renovation and space planning)
Georgia Trust for Public Land (Chattahoochee River ecological project)
Newport US RE, L.P. (Broad Street design and placemaking)
Some of the ideas generated included:
Designing multiple points of access to the Chattahoochee River between I-285 and Mableton Parkway with parking, trails and handicap access.  Proposed structures, including a "statement pedestrian bridge" over the river would be designed with an industrial feel to complement the nearby structures.
Transforming the 1947-era Rich Building on Georgia Tech's campus into a state-of-the art robotics lab and creating a multi-purpose gathering place and robotics testing area outdoors.  The under-utilized rooftop plaza could be re-designed into a destination for social events.
Honoring the historical significance of Decatur's Avary-Fulton House by designing a small courtyard community of inter-generational small homes behind the historic house.  The new homes would bridge the site's former rural setting and the current emerging urban area and would strike a balance between what has been and what could be.
Establishing an urban edge for several blocks of Sweet Auburn Ave. through the temporary installation of art, structures, gathering places, retail and outdoor dining.  Vacant lots could be transformed into activity centers that will draw people in and create an identity for the area prior to new, permanent redevelopment.
Generating a number of short and long-term ideas to make Broad Street the new Main Street of South downtown Atlanta.
"Every year TSW focuses our time and talents on public service projects, and we were especially excited about the Open Studio idea," said Bryan Bays, RLA and senior principal of TSW.  "We spent a lot of time researching potential design and planning projects that will have a positive impact on our city and region before we extended invitations to the five participating organizations.  TSW is known for its interdisciplinary approach to creative design and planning, and we wanted to amplify that strength through the Open Studio.  We carefully created multidisciplinary project teams for each of the clients, making sure team members were positioned where their skill sets and passions could shine.  I think the format sparked a new kind of creative thinking and led to some exciting results for our participating organizations."
Sponsors for the Open Studio included ABC Imaging, Kompan Playground Solutions, Cherokee Brick, Forms+Surfaces, Sesco Lighting, ForeverLawn, Ameristar Fence Products, and USA Shades & Fabric Structures.