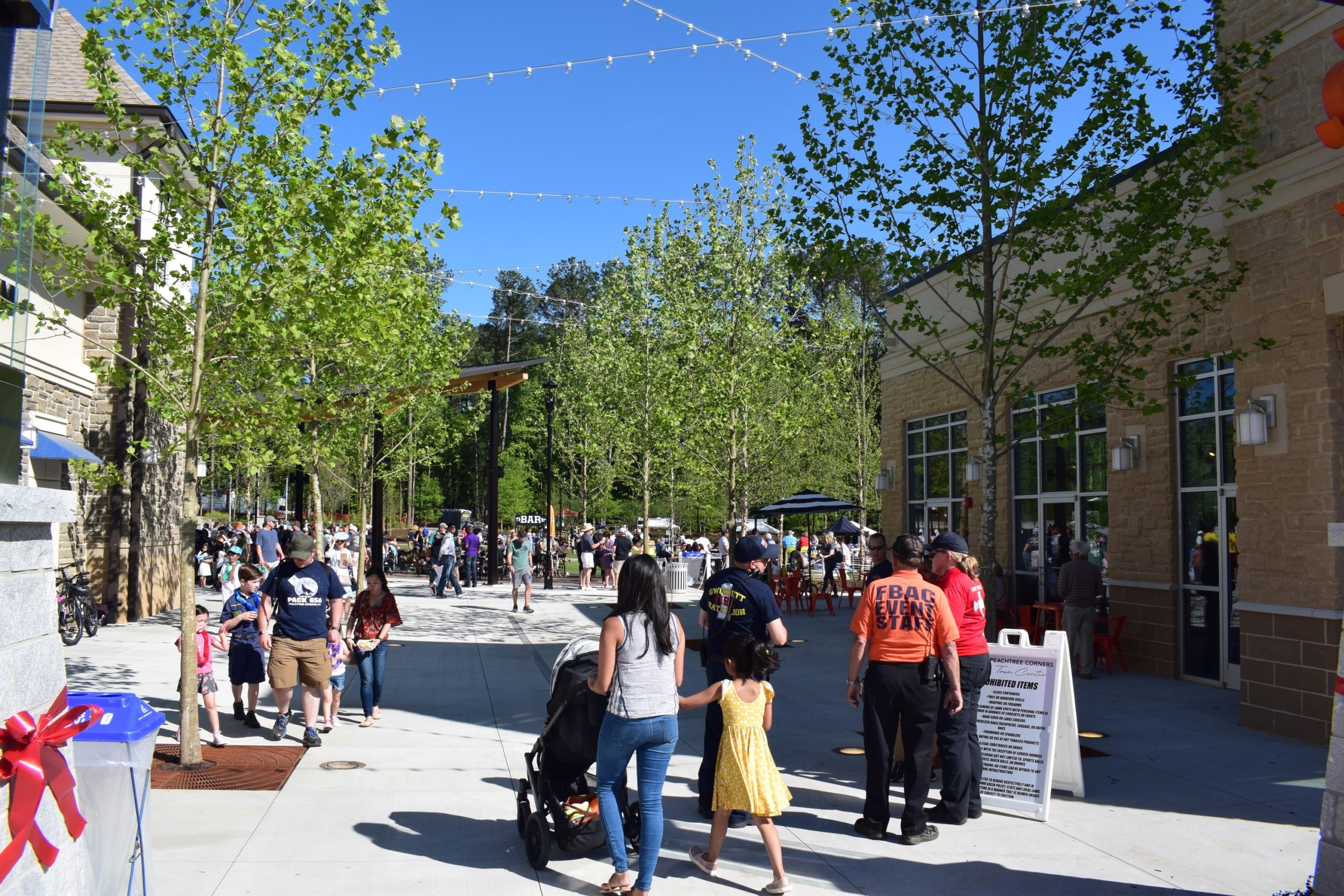 Last Saturday was the grand opening for the Peachtree Corners Town Green! Thousands attended the grand opening, which included a ribbon cutting ceremony, parade, and concert by Atlanta Rhythm Section.
TSW started conceptual design on the town green in 2015 and worked with the City of Peachtree Corners and Fuqua Development to develop a community gathering space at Peachtree Corners Town Center that includes a large oval amphitheater, open air pavilion, interactive water feature, playable art, turf berms, Veteran's Memorial, and walking paths.
For a recap of the day's events and comments from the community, check out the article from WSBTV here and pictures from the day below.
[fusion_slider hover_type="zoomin" width="" height="" hide_on_mobile="small-visibility,medium-visibility,large-visibility" class="" id=""][fusion_slide type="image" image_id="19708|full" link="" lightbox="no" linktarget="_self"]https://www.tsw-design.com/wp-content/uploads/DSC_0800_2.jpg[/fusion_slide][fusion_slide type="image" image_id="19702|full" link="" lightbox="no" linktarget="_self"]https://www.tsw-design.com/wp-content/uploads/DSC_0803-1.jpg[/fusion_slide][fusion_slide type="image" image_id="19688|full" link="" lightbox="no" linktarget="_self"]https://www.tsw-design.com/wp-content/uploads/20190427_163959.jpg[/fusion_slide][fusion_slide type="image" image_id="19705|full" link="" lightbox="no" linktarget="_self"]https://www.tsw-design.com/wp-content/uploads/20190427_164024_2.jpg[/fusion_slide][fusion_slide type="image" image_id="19690|full" link="" lightbox="no" linktarget="_self"]https://www.tsw-design.com/wp-content/uploads/20190427_164329.jpg[/fusion_slide][fusion_slide type="image" image_id="19709|thumbnail" link="" lightbox="no" linktarget="_self"]https://www.tsw-design.com/wp-content/uploads/DSC_0811_2.jpg[/fusion_slide][fusion_slide type="image" image_id="19703|full" link="" lightbox="no" linktarget="_self"]https://www.tsw-design.com/wp-content/uploads/DSC_0813-1.jpg[/fusion_slide][fusion_slide type="image" image_id="19706|full" link="" lightbox="no" linktarget="_self"]https://www.tsw-design.com/wp-content/uploads/20190427_164203_2.jpg[/fusion_slide][fusion_slide type="image" image_id="19707|full" link="" lightbox="no" linktarget="_self"]https://www.tsw-design.com/wp-content/uploads/20190427_164209_2.jpg[/fusion_slide][fusion_slide type="image" image_id="19704|full" link="" lightbox="no" linktarget="_self"]https://www.tsw-design.com/wp-content/uploads/DSC_0816-1.jpg[/fusion_slide][/fusion_slider]