TSW's Open Studio Recap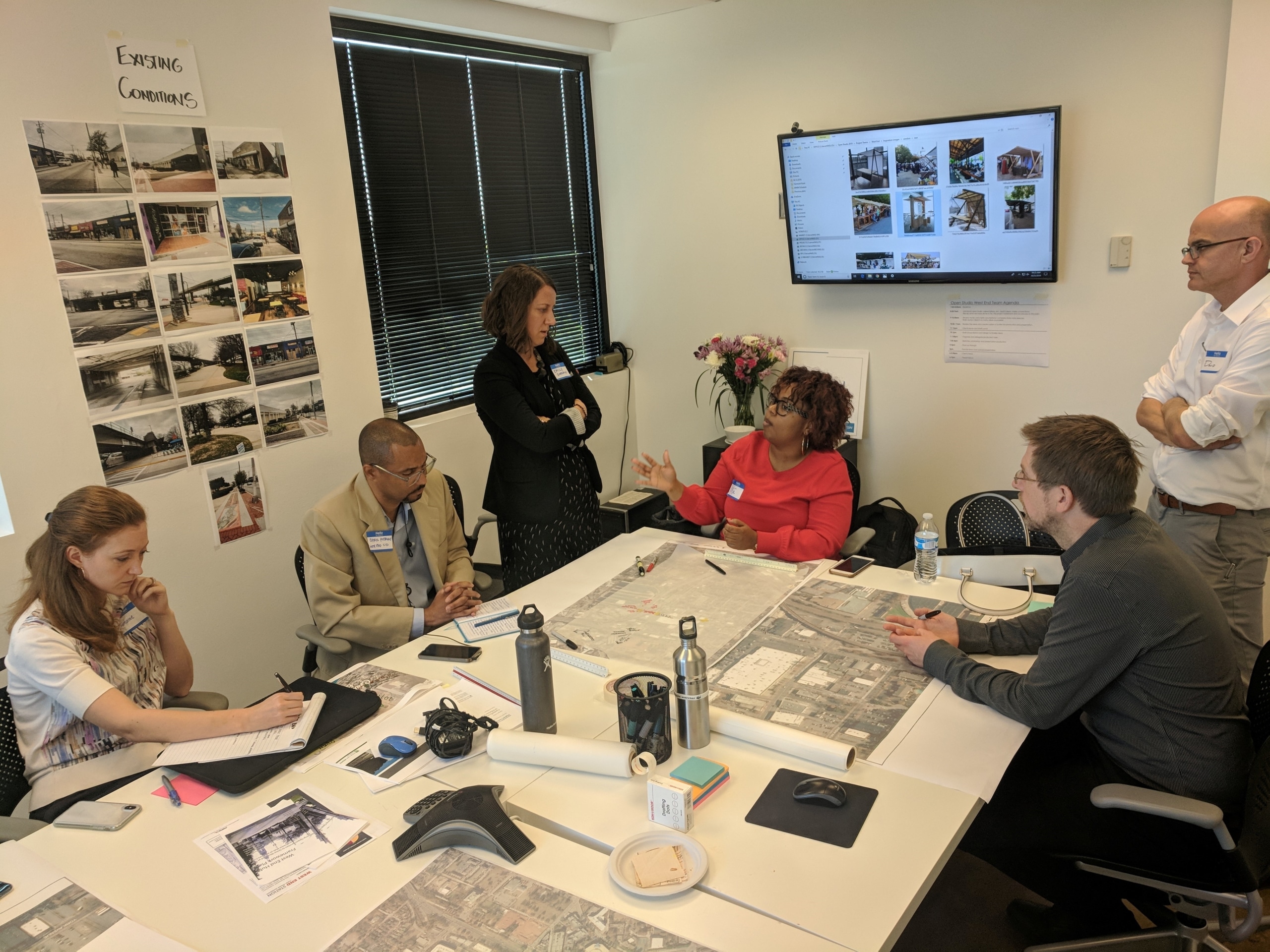 Open Studio Teams worked all day Tuesday developing and refining concepts and implementation strategies for their projects. Later in the afternoon, TSW hosted a cocktail event for clients and guests, followed by a Pecha Kucha style presentation format of concepts and recommendations for each of the projects.
Below is a quick recap of each project, links to the final presentations, a time lapse video of the cocktail event, and photos from the final presentations.
City of Clarkston Catalyst
Often called the most diverse square mile in America, Clarkston is a thriving city with several opportunities to create multipurpose spaces in their downtown area. The Clarkston Team focused on a 2-block area, developing a site plan that creates a signature greenspace, rehabilitates surrounding buildings to contain municipal, co-working, and incubator/maker's spaces, a market area/food stalls, and other uses, and enhances streetscapes with gateway elements, signage, and public art. The team focused on one signature building, examining programming options that separate out spaces by low and high traffic uses. Click the following link for the full presentation: Clarkston
West End – Bridging the Gap Between Culture & Planning
The West End Team wanted to build on the numerous planning studies that had already been done for the neighborhood and focus on gaps in implementation. The team focused on potential individual users, which helped shape their planning strategy of growing businesses in place and connecting people to the culture and experience of West End. Solutions included a vending concept, pedestrian enhancements for improved safety, murals at key locations for visual vibrancy and to foster a sense of identity, and public events to celebrate the history and culture of West End. Click the following link for the full presentation: West End
City Centre at Brookhaven
The City of Brookhaven lacks an active, walkable center that serves the entire community. The Brookhaven Team focused on establishing a City Centre through transit oriented development in and around the MARTA Station with an iconic City Hall/library/food hall, greenspace connections to tie development together, and realigning streets to provide better connectivity for pedestrians and vehicles. The team's planning process focused on designing a space for everyone by looking at specific potential users and their needs. The site plan centers on a City Hall/library/food hall over the existing MARTA station, which connects outward to two plaza areas and surrounding development that includes office, a hotel, restaurants, live-work, multifamily, a terraced amphitheater, and stormwater park. Click the following link for the full presentation: Brookhaven
If you have any questions about the projects, feel free to reach out to TSW staff members who were involved on a specific team by locating them on the TSW People page.
And another BIG THANK YOU to our sponsors…
Updated: Curbed Atlanta provided a great recap of the Open Studio event, which can be found here.
[fusion_slider hover_type="zoomin" width="" height="" hide_on_mobile="small-visibility,medium-visibility,large-visibility" class="" id=""][fusion_slide type="image" image_id="19647|full" link="" lightbox="no" linktarget="_self"]https://www.tsw-design.com/wp-content/uploads/IMG_7318.jpg[/fusion_slide][fusion_slide type="image" image_id="19648|full" link="" lightbox="no" linktarget="_self"]https://www.tsw-design.com/wp-content/uploads/IMG_7320.jpg[/fusion_slide][fusion_slide type="image" image_id="19649|full" link="" lightbox="no" linktarget="_self"]https://www.tsw-design.com/wp-content/uploads/IMG_7324.jpg[/fusion_slide][fusion_slide type="image" image_id="19650|full" link="" lightbox="no" linktarget="_self"]https://www.tsw-design.com/wp-content/uploads/IMG_7332.jpg[/fusion_slide][fusion_slide type="image" image_id="19651|full" link="" lightbox="no" linktarget="_self"]https://www.tsw-design.com/wp-content/uploads/IMG_7335.jpg[/fusion_slide][fusion_slide type="image" image_id="19652|full" link="" lightbox="no" linktarget="_self"]https://www.tsw-design.com/wp-content/uploads/IMG_7341.jpg[/fusion_slide][fusion_slide type="image" image_id="19653|full" link="" lightbox="no" linktarget="_self"]https://www.tsw-design.com/wp-content/uploads/IMG_7346.jpg[/fusion_slide][fusion_slide type="image" image_id="19654|full" link="" lightbox="no" linktarget="_self"]https://www.tsw-design.com/wp-content/uploads/IMG_7349.jpg[/fusion_slide][fusion_slide type="image" image_id="19655|full" link="" lightbox="no" linktarget="_self"]https://www.tsw-design.com/wp-content/uploads/IMG_7351.jpg[/fusion_slide][/fusion_slider]