Powder Springs Receives ARC Development of Excellence Award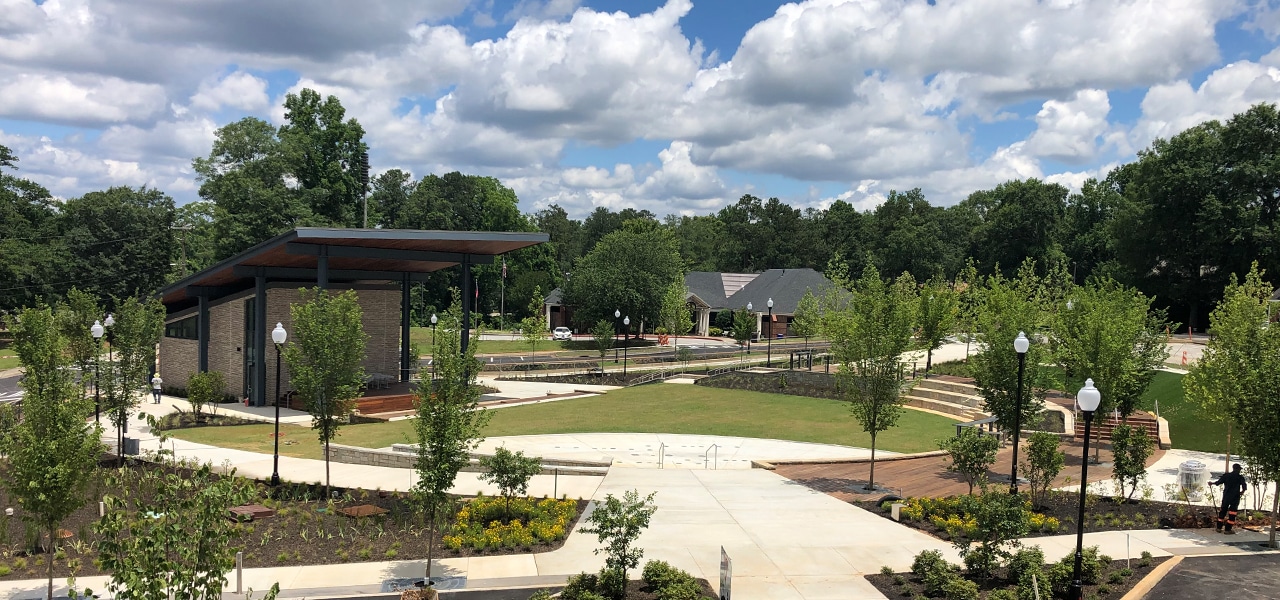 The Atlanta Regional Commission (ARC) recently announced the winners of the 2020 Developments of Excellence awards, which recognizes developments and places that are improving quality in communities across metro Atlanta. The City of Powder Springs and Powder Springs Downtown Development Authority were recognized with a Great Place award for the Powder Springs – LCI Implementation: Town Green and Historic Building Renovations.
The City of Powder Springs utilized a Livable Centers Initiative implementation grant to renovate and double the size of its Town Green area. Town Green is now a true anchor for the vibrant Powder Springs community, featuring a multi-use amphitheater, splash pad, play structure, seating areas, restrooms, and even a permanent ping-pong table.
The project also includes the rehabilitation of three nearby buildings for restaurant and retail uses. This Great Place also promotes walking and biking with a trailhead extension from Main Street along the park that will one day connect to the Silver Comet Trail.
TSW first worked with the City on the Livable Centers Initiative Study and later developed designs and construction documents for the Town Green. TSW's Architecture Studio was responsible for three of the historic building renovations that are adjacent or nearby to the Town Green.
TSW is honored to work with the City of Powder Springs to help transform their downtown area and excited that our projects received this recognition.
Congratulations to the other Development of Excellence award recipients, which include:
Visionary Planning – North Point Placemaking Plan
Innovative Development – Adamsville Place
Livable Center – Decatur East
Check out this link for more information on the other award winners and a short video.
Powder Springs Receives ARC Development of Excellence Award
[fusion_slider margin_top="" margin_right="" margin_bottom="" margin_left="" alignment="center" slideshow_autoplay="" slideshow_smooth_height="" slideshow_speed="" hover_type="none" width="" height="" hide_on_mobile="small-visibility,medium-visibility,large-visibility" class="" id=""][fusion_slide type="image" image_id="23739|full" link="" lightbox="no" linktarget="_self"]https://www.tsw-design.com/wp-content/uploads/PowderSprings_Images-scaled.jpg[/fusion_slide][fusion_slide type="image" image_id="23740|full" link="" lightbox="no" linktarget="_self"]https://www.tsw-design.com/wp-content/uploads/PowderSprings_Images2-scaled.jpg[/fusion_slide][fusion_slide type="image" image_id="23741|full" link="" lightbox="no" linktarget="_self"]https://www.tsw-design.com/wp-content/uploads/PowderSprings_Images3-scaled.jpg[/fusion_slide][fusion_slide type="image" image_id="23742|full" link="" lightbox="no" linktarget="_self"]https://www.tsw-design.com/wp-content/uploads/PowderSprings_Images4-scaled.jpg[/fusion_slide][fusion_slide type="image" image_id="23743|full" link="" lightbox="no" linktarget="_self"]https://www.tsw-design.com/wp-content/uploads/PowderSprings_Images5-scaled.jpg[/fusion_slide][fusion_slide type="image" image_id="23737″ link="" lightbox="no" linktarget="_self"]https://www.tsw-design.com/wp-content/uploads/PowderSprings_Images6-scaled.jpg[/fusion_slide][fusion_slide type="image" image_id="23744″ link="" lightbox="no" linktarget="_self"]https://www.tsw-design.com/wp-content/uploads/PowderSprings_Images7-scaled.jpg[/fusion_slide][fusion_slide type="image" image_id="23745″ link="" lightbox="no" linktarget="_self"]https://www.tsw-design.com/wp-content/uploads/PowderSprings_Images8-scaled.jpg[/fusion_slide][fusion_slide type="image" image_id="23746″ link="" lightbox="no" linktarget="_self"]https://www.tsw-design.com/wp-content/uploads/PowderSprings_Images9-scaled.jpg[/fusion_slide][fusion_slide type="image" image_id="23747″ link="" lightbox="no" linktarget="_self"]https://www.tsw-design.com/wp-content/uploads/PowderSprings_Images10-scaled.jpg[/fusion_slide][/fusion_slider]