Stockbridge Amphitheater Groundbreaking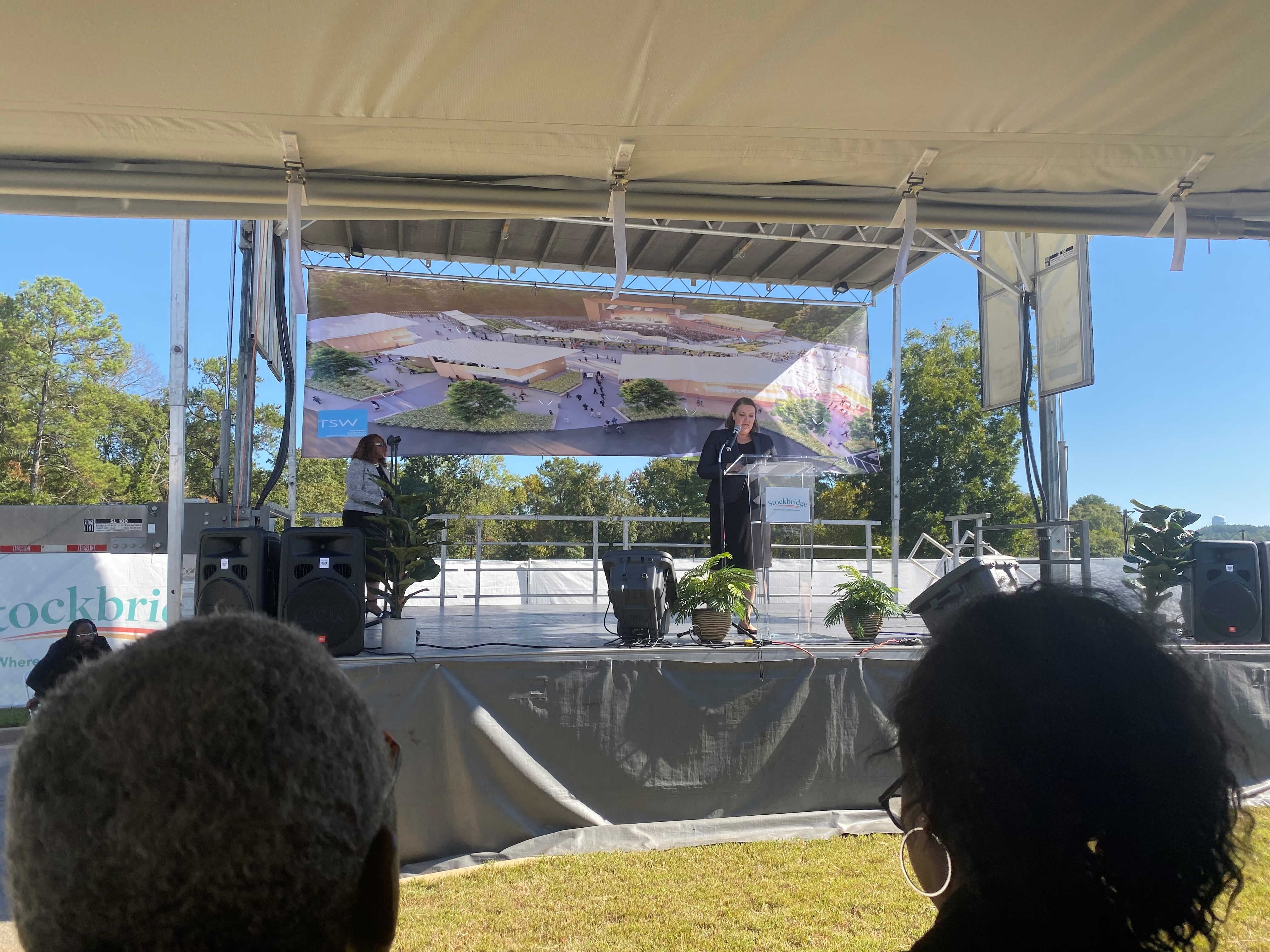 TSW recently attended the groundbreaking for the new City of Stockbridge Amphitheater. Below are remarks from Heather Hubble, Principal-in-Charge, at the groundbreaking ceremony:
In 2012, TSW completed a Livable Centers Initiative Study for the City of Stockbridge. This study planned for a vibrant infill mixed-use town center on the site we are standing on today. At the heart of that town center was a public greenspace with a city amphitheater. In November of 2017, the City of Stockbridge reengaged TSW to provide design services for the City. From the moment TSW was reengaged, the strong sense of vision from Mayor Ford, City Council, Mr. Randy Knighton, and Ms. Camilla Moore was evident in wanting to bring forth the realization of the civic components of the Town Center. TSW is pleased to have been a partner to the City to ensure the design of the amphitheater moves this vision forward.
The amphitheater has been designed to be an extension of the public space around City Hall with the goal of providing a space to accommodate events such as community theater, ticketed national shows, community celebrations, festivals, and opportunities for food trunks. The amphitheater will seat approximately 3,200 people in a variety of seating options, including table, lawn, and stadium seating. Unique elements of the amphitheater include VIP boxes, perimeter ribbon buildings containing concessions, ticketing office, will call, and restrooms. The stage support functions are contained in a linear foreground building that complements the angular stage roof forms, and provides a second story view of events and performances. The materials and forms of the amphitheater create a unique and striking space that fits comfortably with the traditional design of the adjacent City Hall and public spaces.
We would like to thank the Design Team Members:
Geotechnical engineers – Kevin Burnette and Bob Whitfield with Piedmont Geotechnical
Environmental engineers – Kyle McKinney and Jeff Petersohn with Piedmont Geotechnical
Civil engineers – Jeremiah Phillips, Mike Wright, and Dominic Serra with Eberly & Associates
Structural engineers – Allen Morris and Matthew Smith with Stability Engineering
Mechanical & plumbing engineer – Patrick Wilkes with Covalent Consulting
Electrical engineer – Christian Aybar with Covalent Consulting
Low voltage, security, and audio visual engineer – Jorge Gomez with J&A Engineering
Production consultant – Stephen Moore with RCS Productions
Cost consultant – Dan Ergle with ADE Construction Consultants
Landscape architects – Bryan Bays and Peyton Peterson with TSW
Architects – Jared Christensen and John Hand with TSW