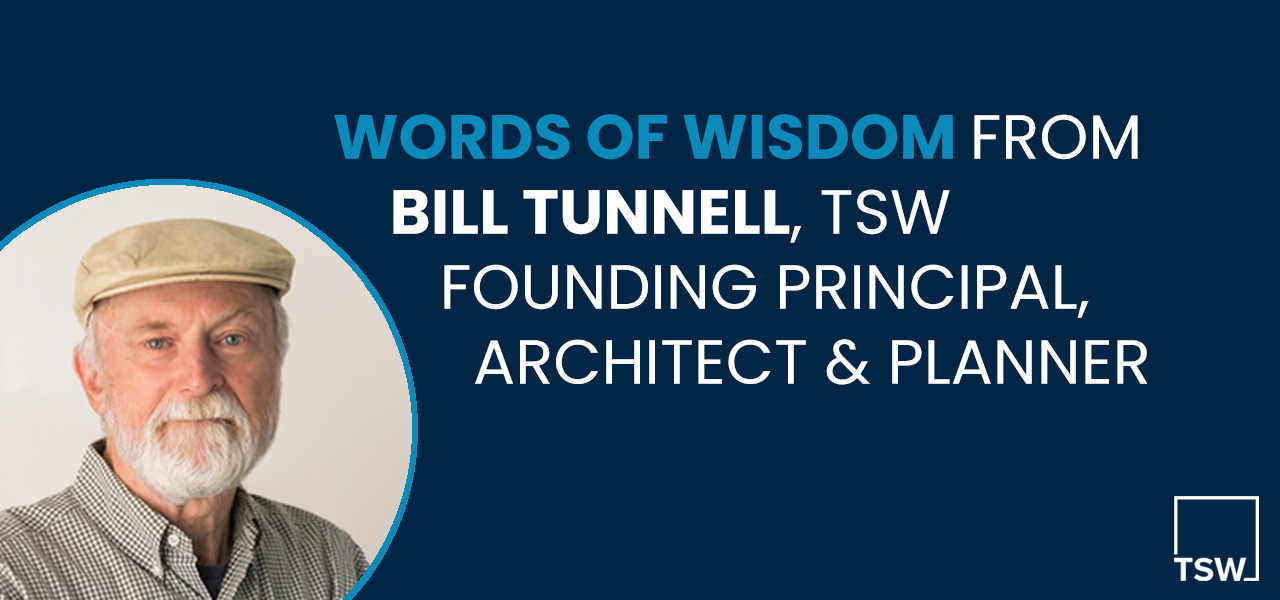 Words of Wisdom from Bill Tunnell
As Founding Principal Bill Tunnell prepares to step back from a full-time work schedule, we asked him to take a look back – and forward – as he moves into this next phase of life.
When you and Jerry Spangler began your business partnership, what did you hope to achieve?
Jerry and I had gone to architecture school together, and we both wanted to spend our careers focusing on the creative side of the business.  We felt strongly that a holistic approach – integrating architecture, planning, and the landscape – would be the most beneficial for our clients and the most rewarding for us.  Not many firms were taking this approach back then.  I am so proud that we stayed faithful to our aspirations and grew TSW from just a few of us to a more than 40-person firm that is highly regarded in all three disciplines.
What is the project/design you're most proud of?  
Since 2006, I have the privilege of working on Las Catalinas, a coastal town in Guanacaste, Costa Rica, founded by Atlanta's Charles Brewer.  I've served as the town's Master Planner and Site Designer, as well as Architect for some of its buildings.  This has been one of my most gratifying projects, as well as one of the projects I'm most proud of.  There's more work to do as the town continues to be built out, and I am happily continuing my role as Master Planner for the town's untimate completion.
What advice would you give your younger self?
Educate yourself on how to run a business!  Jerry and I were focused initially on being architects, but we had to quickly learn the business side of our careers, such as hiring the right people, making payrolls, paying taxes, etc.  I'm happy to say our firm's current leadership team takes the business side of TSW very seriously and they are extremely competent in running and growing the company.
How have you seen the industry change in your 40+ years?
When I started my career in 1980, most U.S. design was just a big, one-size-fits-all, suburban sprawl template.  Back then, it seemed to me that the resort sector offered the most opportunity for creativity, so that's where I focused my efforts during the first decade or more of my career.  Then, thankfully, New Urbanism came along, turning the old auto-centric model upside down and producing a new set of principals and expectations in the marketplace.  As a New Urbanist, I believe I have been able to design spaces and places that transform the built environment from something that is car-focused into something that is people-focused, and therefore, much more delightful.
What's the next chapter looking like for you?
I'm still wondering about that myself!  I am currently finishing out my home office in the house my wife, Karen, and I have built.  We're moving from our Midtown condo to a more rural farm setting close to our grown children and grandchildren.  In addition to working on more of a part-time basis, I'm excited to dive into all kinds of exciting creative projects like playing music, grandparenting and perhaps even barn-building.  I'll have to work hard to keep up with my artist wife, but that's a challenge I'm looking forward to.
What words of wisdom would you like to leave for the current and future TSW staff? 
Doing what we do can either feel like just a job or it can be your passion.  Find the thing or things in our work that you are passionate about and live that every day.  If you do, that passion will give you 40+ years of fulfillment (or longer) as planning and architecture have done for me.  I am so thankful for our wonderful clients and the amazing group of talented people who make up TSW.  My career has been a real joy for me and I have tried to create joy for others.  That's what it's all about.
Words of Wisdom from Bill Tunnell