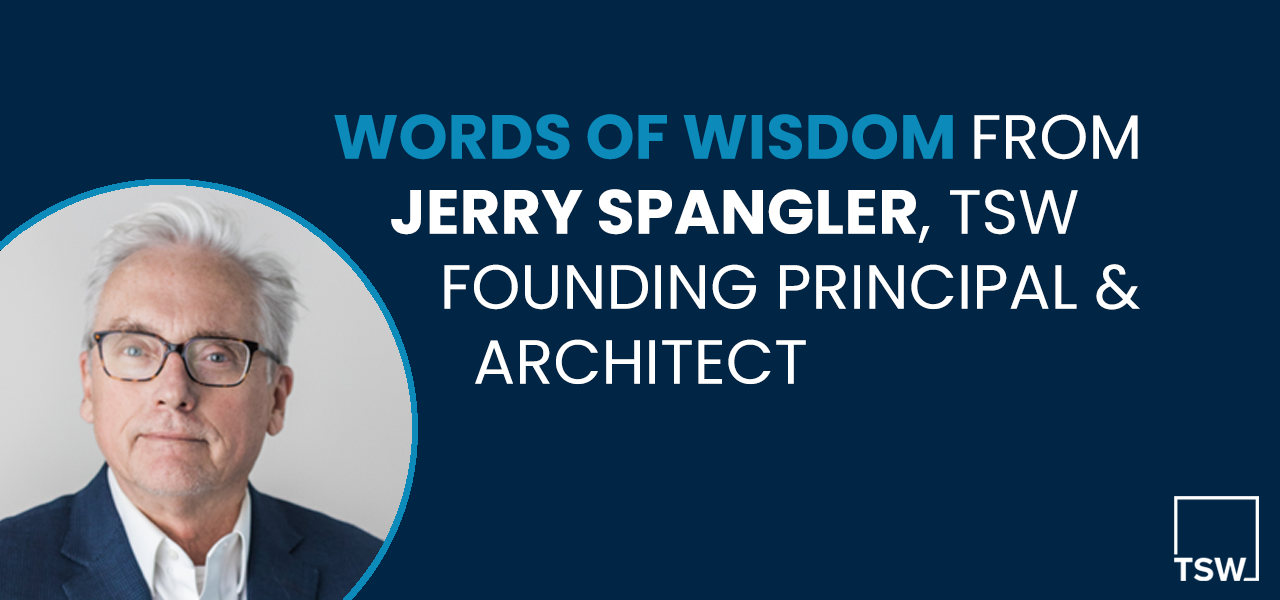 Words of Wisdom from Jerry Spangler
As Founding Principal Jerry Spangler prepares to reduce his work schedule, we asked him to take a look back – and forward – as he moves into this next chapter.
When you first started TSW with Bill, what did you hope to achieve?
Bill and I were classmates and friends at the University of Tennessee. A few years after we graduated, Bill invited me to come work with him in Atlanta. I was ready to bring my architecture skills to a larger market and was excited to see the work Bill was doing in the planning arena. I saw the move as an opportunity to broaden my knowledge, grow professionally and have the chance to travel and work in exotic places. We knew each other's skills and abilities, and both had the sense that this would be a strong partnership – which it has been for decades.
What is the project/design you're most proud of?
I can't give you just one. In my early career, I designed a number of golf clubhouses, and I'm especially proud of The Ridge at Back Brook near Princeton, New Jersey. I also really like the clean, modern design of Woodstock Community Church in Woodstock, Georgia. More recently, one of my building designs that still happily surprises me is 975 Piedmont, a townhouse project in Midtown Atlanta. It embodies contextual qualities that I think need to be in all good architecture, and serves as a transition from the Victorian residential neighborhood to the corner retail. To this day, I still like the building's architecture and materials. I'm working with historic Mt. Zion Baptist Church in Albany, Georgia, to create a mixed-use development in the Harlem District that includes architecture for residences, a clinic, common areas, restaurants, and more. Finally, when IST Management Services chose Atlanta for its new International Headquarters, I had the pleasure of designing the signature 50,000 square-foot, Class-A office building in East Atlanta.
What advice would you give your younger self?
Be more patient (but just a little more). If you're a designer at heart, you have to push hard, work hard, and have that fire in your belly, but you can still do that and be a little more patient with yourself and with the people around you.
How have you seen the industry change in your 40+ years?
Architects use a process called "critical mining" to review buildings for inspiration. In my early years, I had architectural books I relied on. Now, there is an unlimited number of items online that can provide ideas and inspiration. Technology has changed the design process, too. Back when everything had to be drawn by hand, you put a lot of thought into the design before the laborious process of putting pencil to paper. Today, you can think as you work, since it's so easy to make online changes, and computer lines are so clean. But even so, it's important to stay focused on what the design challenge is and what the building wants to be. I don't want to design a building that doesn't have any soul.
What's the next chapter looking like?
I want to continue designing with a select group of clients who enjoy collaborative work and appreciate the way I approach a project. I plan to travel with my wife, Elizabeth, and spend family time at our lake cabin with our almost-grown kids. I love the outdoors and hope to spend more time fishing, camping, and relaxing. I'm also ready to explore the American West, which has always inspired me. I've always considered myself to be a strong family man, and I've worked hard to balance work and family life. Now that I'm reducing my work schedule and the kids are older, I want to take advantage of the time we have to spend together.
What words of wisdom would you like to leave for the current and future TSW team?
Wrap your arms around your projects and clients and shepherd each project from concept to completion. Connect with your clients and call them – don't just rely on email and texts. They need to know you are focused on their projects and can be counted on. As a designer, know that it's OK to use simplicity in your work. Simplicity can be very bold and can create a sense of timelessness in your work. Finally, enjoy the thrill of creating. It's a blessing to be part of the world of design and creating something beautiful.
Words of wisdom from Jerry Spangler