TSW Celebrates 30 Years and Announces Establishment of TSW Lecture Series at Georgia Tech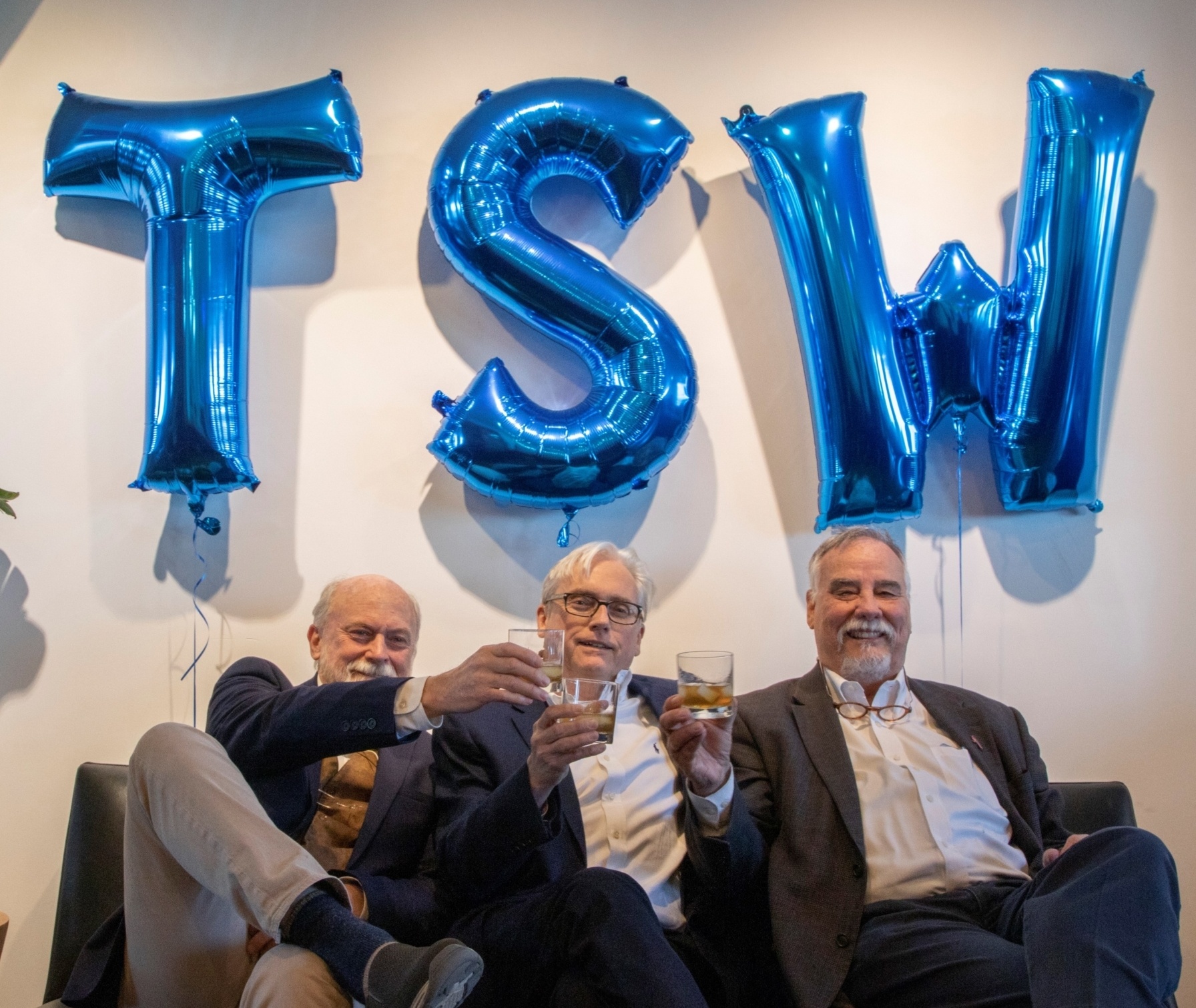 In January 1990, architects and former University of Tennessee classmates William Tunnell (Bill) and Jerry Spangler joined forces to create an architecture firm in Atlanta, Ga. The firm's name was changed to Tunnell-Spangler-Walsh & Associates in September of 2002 when Landscape Architect Thomas Walsh became a partner in the firm, and shortened to TSW in 2013. Today, TSW consists of 33 professionals, who work in the firm's three studios: architecture, planning and landscape architecture. The staff works collaboratively, ensuring each design project flows cohesively from concept to completion, with buildings, landscapes, roads, public spaces and more seamlessly integrated into the whole.
To commemorate TSW's 30th Anniversary, the firm's Founding Principals have established the TSW Lecture Series at Georgia Institute of Technology's School of Architecture. This annual public lecture will bring prominent architects, planners, landscape architects and others to the university to speak to students and professionals about a variety of design topics. The TSW Lecture Series at Georgia Tech was announced at a recent reception honoring the firm's anniversary, with the first lecture planned for the fall of 2020.
Early on, the firm's principals and associates espoused the ideals of New Urbanism, a design philosophy that seeks to counteract suburban sprawl by creating mixed-use, walkable urban spaces that limit reliance on automobiles and bring people together. Most of TSW's work has been done throughout the Southeast and Caribbean, and along the way, the firm has picked up numerous awards for its commitment to community-based, sustainable design.
"The growth of 'New Urbanism' as a design ideal and the growth of TSW really happened together," said Tunnell. "Jerry, Tom and I used to spend a lot of time explaining to clients and municipalities the benefits of creating sustainable, mixed-use, walkable communities versus spread-out, automobile-oriented suburbs. As 'New Urbanism' became more well-known, thanks to the success of communities like Seaside, Florida, and more recently, Glenwood Park in East Atlanta, which we had the pleasure of working on, we had less convincing to do and more opportunities to design places and spaces that we believe will enhance the lives of residents and visitors for generations."
Throughout the past three decades, the firm has won numerous awards and professional accolades. Projects have ranged from planning coastal resort towns to reinvigorating small town centers (including Woodstock, Decatur, Duluth, Lawrenceville and Alpharetta, Ga.) to designing inspiring worship spaces and even creating Olympic venues. The firm also provides zoning and coding expertise to help communities define and direct future growth.
"We have a number of clients who have worked with us repeatedly on a variety of projects, and we have built strong business relationships with these individuals and firms," said Jerry Spangler. "It's extremely rewarding to shepherd a project from an idea to a design to completion. And, even after 30 years, I still get a thrill when I walk through a church, commercial building, town center, home, resort or park that our firm designed and people are enjoying."
"Bill, Jerry and I are so proud of what TSW has accomplished so far and very excited about the company's future," said Tom Walsh. "And, while the projects we've worked on have been exciting and professionally fulfilling, I think we are most proud of the men and women who have joined us in this venture – some of whom have been with us for 5, 10 and even 20 years so far. They are the reason TSW has survived and thrived for so long and they are well positioned to continue the firm's outstanding work for what I hope will be at least another 30 years."
To read more about the 30th celebration open house, click here.