TSW Projects Receive Two GPA Awards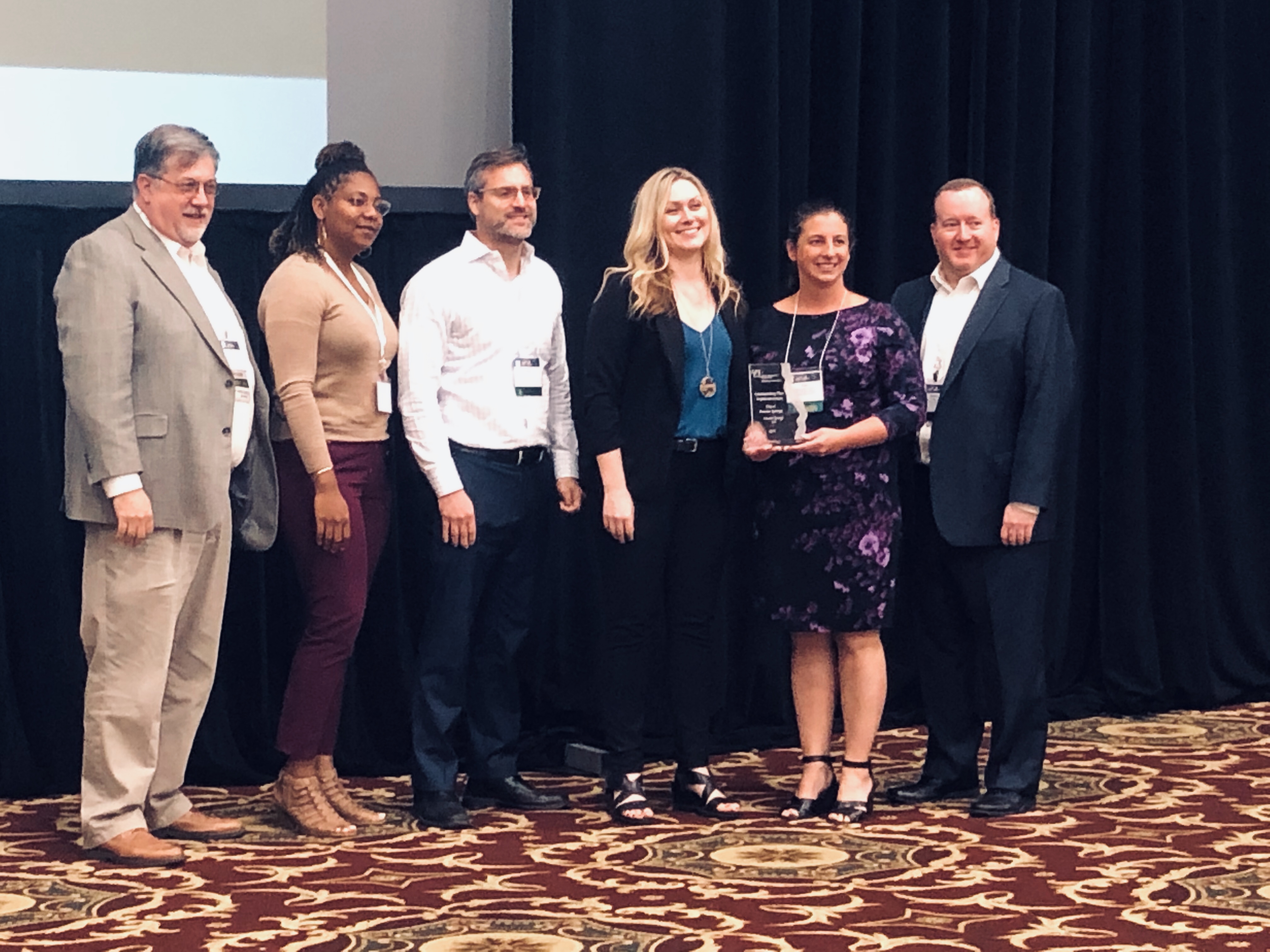 Pictured at the Georgia Planning Association awards ceremony are (L-R) Jim Summerbell, GPA president, Shauna Edwards, City of Powder Springs, Adam Williamson and Laura Richter, both of TSW, Tina Garver, City of Powder Springs, and Daniel Studdard, GPA president-elect.
Two TSW projects received
Georgia Planning Association
(GPA) awards at their Fall Conference in Athens, Georgia, earlier this month. TSW's work for the phased-in implementation of the Powder Springs Livable Centers Initiative (LCI) was recognized with an Outstanding Planning Implementation Award and the Gwinnett County 2040 Unified Plan, which TSW was a subconsultant to Pond & Company, received an Outstanding Planning Document Award. For quick recaps and videos of all of the award winners, check out GPA's award page
here
.
About Powder Springs…
"We are extremely proud of the work we have done in partnership with the leadership of Powder Springs, and pleased to have this work recognized by the GPA," said Adam Williamson, senior principal of TSW.  "Our firm began working with the city in 2015, when we orchestrated a multi-faceted planning process in partnership with the LCI program, facilitated by the Atlanta Regional Commission.  Like many small towns, Powder Springs was struggling with an outdated town center lacking energy and adequate public spaces for people to gather.  Town leaders wanted to transform that historic core into a vibrant, walkable district with shops, restaurants, entertainment and passive recreation.  Once the plan was approved, we then began to outline a multi-phase implementation process to turn the vision into reality."
The implementation plan is focused on several key components:
Creating a multi-purpose Town Green for concerts, farmers markets and festivals
Developing a community-based process for historic downtown redevelopment and land acquisition through the Downtown Development Authority to attract restaurants and brewing companies
Rehabbing existing structures and proposing sites for new development to accommodate all population sectors
Strengthening physical connections through existing and new public spaces and expanding the bicycle/pedestrian network to the Silver Comet Trail.
The creation of a new Town Green was identified as the first priority of the implementation plan, since it will serve as a catalyst for new development once it opens in April 2020.  Its design includes a multi-use amphitheater/flex lawn, signature splash pad, permanent outdoor ping pong tables and public restrooms.
"The new Town Green will draw current and new residents, visitors and businesses into a walkable, mixed-use environment designed for people of all ages," said Laura Richter, TSW associate.  "The Milner Building, which faces the Town Green, has already been purchased, and RailCat Brewing has also purchased a building downtown with plans to open in 2020.  In the future, the Town Green will directly connect to the existing Silver Comet multi-use trail via a new pathway.  Additional implementation priorities include historic building renovation and rehab, along with the design and construction of three new buildings designed by TSW to house a photography studio, local market and future bar space.  We also have recommended new downtown housing to add to the energy of the town center."
About Gwinnett County 2040 Unified Plan…
Gwinnett County is embracing change as its diverse population reaches 1 million citizens and matures beyond being just another suburban community. The County's 2040 Unified Plan casts a bold vision for the future, builds upon and continues the long-term vision for Gwinnett County, and identifies short term, incremental steps that can be used to achieve the vision. Page 4 of the document asks the question: "How do we unify the policies of land use, transportation, parks, economic development, housing, water & sewer to ensure that Gwinnett remains a "preferred place" to live and work?" As a result of its innovative approach, the plan has been described by the Atlanta Regional Commission as "one of the best plans in Georgia".
TSW Projects Receive Two GPA Awards