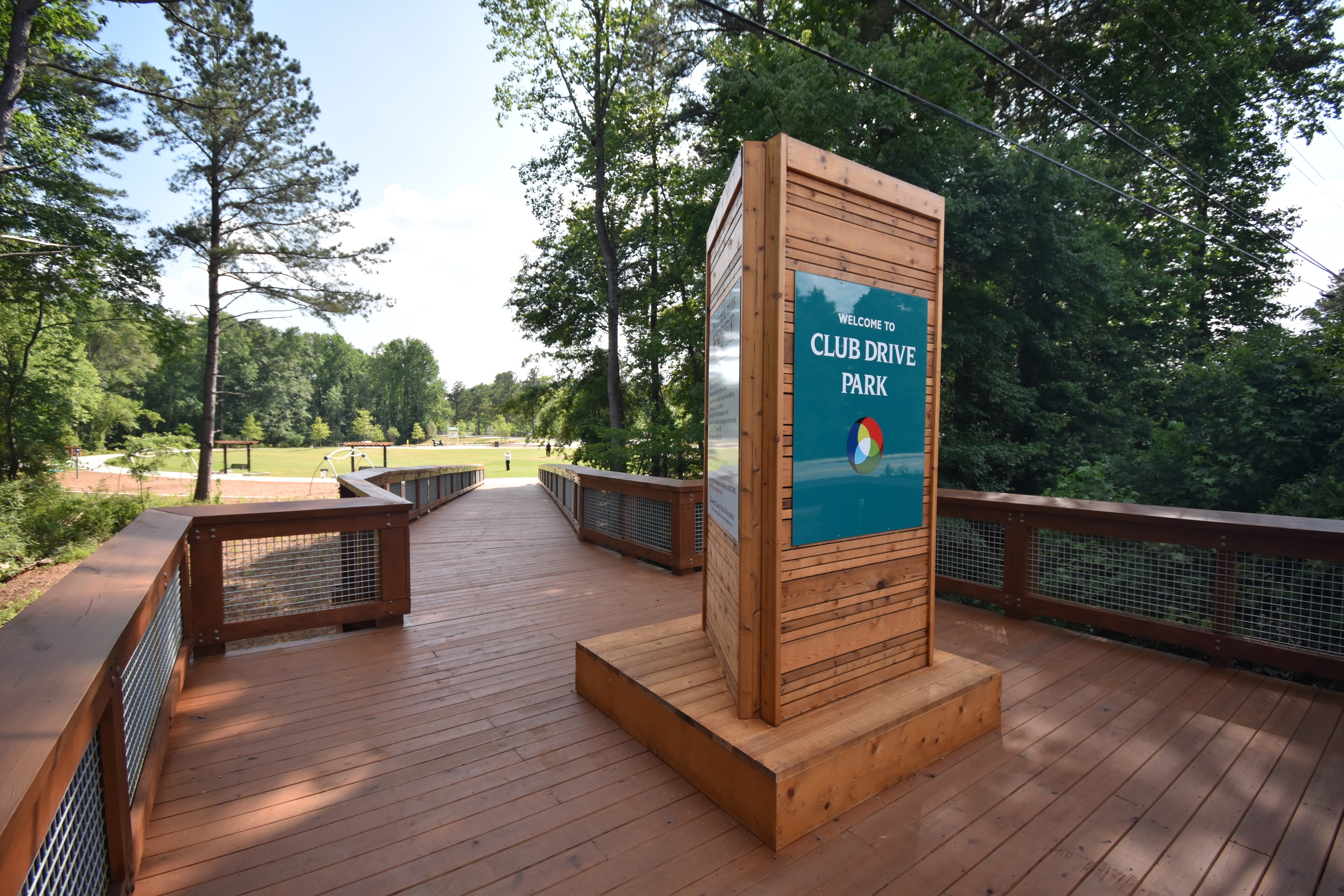 TSW was glad to be part of the celebration for the grand opening of Phase 2 of Gwinnett County's Club Drive Park on May 21, 2019. It is the culmination of the park's development which started in 2007. Phase 2 of the park focuses on providing passive recreation enhancements and access to the Sweetwater Creek Greenway. TSW started work on Phase 2 in 2015, beginning with the park master plan update, and moving into construction documents. Construction of the $1.2 million project began in the fall of 2017.
The park includes 30 parking spaces, a trailhead for the Sweetwater Creek Greenway, universally accessible play equipment, a lowland overlook platform, a wetland boardwalk, and park identification signage and information kiosks. The project is a test bed for a new all steel parks signage kiosk standard and Accoya® Acetylated Wood, a responsibly treated sustainable wood product.
The lowland overlook is a key feature of the park. Immersed in the flood plain, the overlook is a steel framed structure with substantial wood decking and rails erected atop 42' deep concrete piers. The Accoya® wood benches are integral to the decking, folding up and returning to create a number of elegant seating surfaces.
The Sweetwater Creek Greenway connects to the park across Club Drive via a signaled mid block crossing. The pedestrian gateway to the park is a 200 foot long, 10 foot wide heavy timber bridge structure that crosses the Sweetwater Creek flood plain. The park, which serves as a trailhead for the greenway, is the starting point of a future 1.5 mile phase of the greenway that will continue along Sweetwater Creek to Cruse Road Northwest.
Click through the images below for photos from the event and park details.
[fusion_slider margin_top="" margin_right="" margin_bottom="" margin_left="" alignment="" slideshow_autoplay="" slideshow_smooth_height="" slideshow_speed="" hover_type="zoomin" width="" height="" hide_on_mobile="small-visibility,medium-visibility,large-visibility" class="" id=""][fusion_slide type="image" image_id="20394|fusion-1200″ link="" lightbox="no" linktarget="_self"]https://www.tsw-design.com/wp-content/uploads/DSC_0092-1200×800.jpg[/fusion_slide][fusion_slide type="image" image_id="20393|fusion-1200″ link="" lightbox="no" linktarget="_self"]https://www.tsw-design.com/wp-content/uploads/DSC_0093-1200×800.jpg[/fusion_slide][fusion_slide type="image" image_id="20395|fusion-1200″ link="" lightbox="no" linktarget="_self"]https://www.tsw-design.com/wp-content/uploads/DSC_0089-1200×800.jpg[/fusion_slide][fusion_slide type="image" image_id="20390|fusion-1200″ link="" lightbox="no" linktarget="_self"]https://www.tsw-design.com/wp-content/uploads/DSC_0256-1200×800.jpg[/fusion_slide][fusion_slide type="image" image_id="20391|full" link="" lightbox="no" linktarget="_self"]https://www.tsw-design.com/wp-content/uploads/DSC_0243.jpg[/fusion_slide][fusion_slide type="image" image_id="20387|fusion-1200″ link="" lightbox="no" linktarget="_self"]https://www.tsw-design.com/wp-content/uploads/DSC_0276-1200×800.jpg[/fusion_slide][fusion_slide type="image" image_id="20389|fusion-1200″ link="" lightbox="no" linktarget="_self"]https://www.tsw-design.com/wp-content/uploads/DSC_0267-1200×800.jpg[/fusion_slide][fusion_slide type="image" image_id="20388|full" link="" lightbox="no" linktarget="_self"]https://www.tsw-design.com/wp-content/uploads/DSC_0274.jpg[/fusion_slide][fusion_slide type="image" image_id="20386|fusion-1200″ link="" lightbox="no" linktarget="_self"]https://www.tsw-design.com/wp-content/uploads/DSC_0278-1200×800.jpg[/fusion_slide][fusion_slide type="image" image_id="20385|full" link="" lightbox="no" linktarget="_self"]https://www.tsw-design.com/wp-content/uploads/DSC_0283.jpg[/fusion_slide][fusion_slide type="image" image_id="20384|full" link="" lightbox="no" linktarget="_self"]https://www.tsw-design.com/wp-content/uploads/DSC_0292.jpg[/fusion_slide][/fusion_slider]