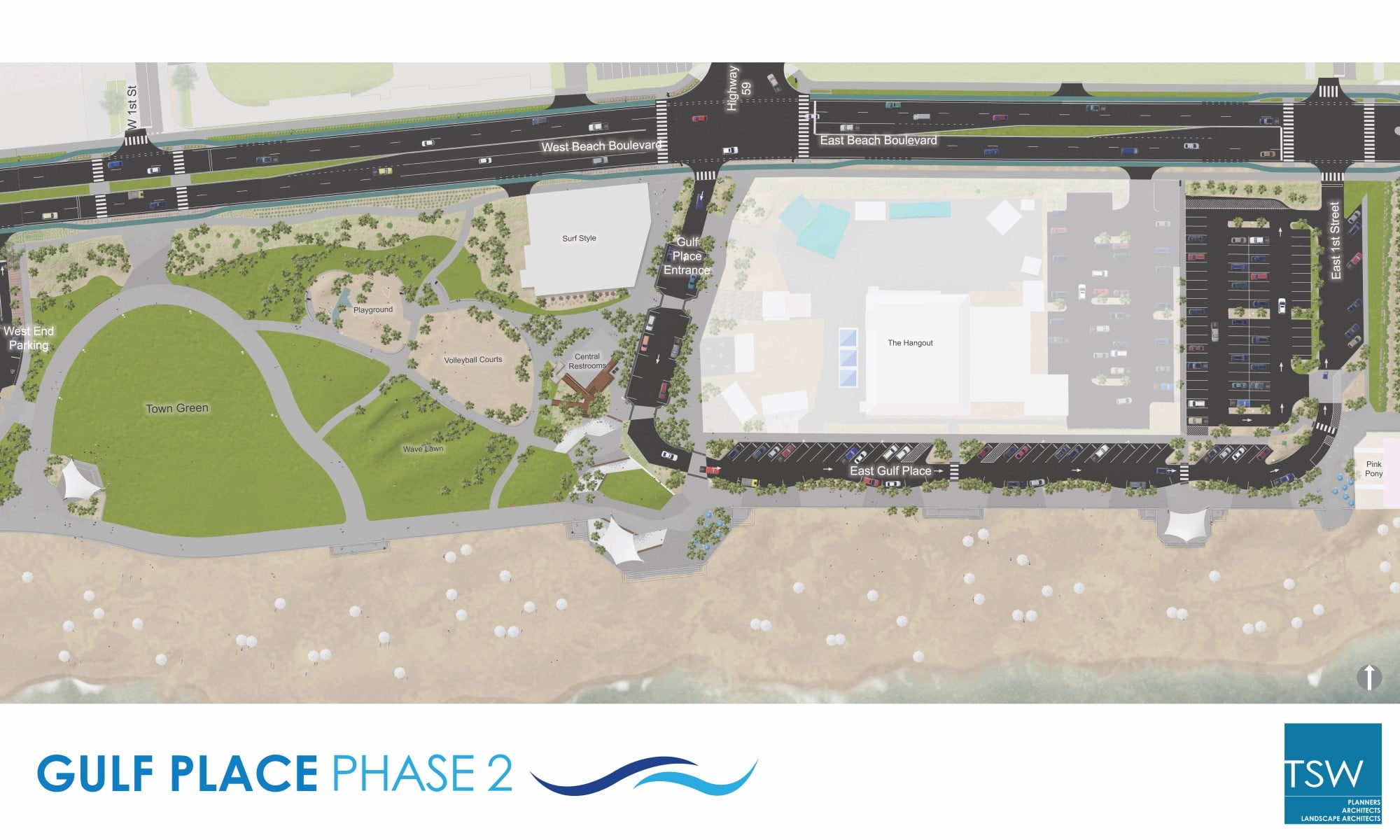 With the successful completion of Phase I of its $15 million public beach revitalization, the City of Gulf Shores, Alabama, has begun Phase II of Gulf Place. Master planned and designed by TSW, the project's design focus is to strengthen the beachfront public park's connection to the coastal downtown walking district, enhance pedestrian and bicycle safety, and offer new family-friendly recreation facilities designed to protect the environment and wildlife habitat. www.tsw-design.com/gulf-place-master-plan-moving-forward/
Phase I addressed the western end of Gulf Place and included a new pervious parking lot and festival event space, public safety building, renovated public restrooms, 20' wide beach promenade, dune restoration, shade pavilion, and formal palm court. Phase II calls for an extension of the beach promenade, a waterfront town green with an amphitheater, children's playground, shade structures, improved traffic flow, a new restroom building, and turtle-friendly lighting. When completed, Gulf Place will be linked by over 6,000 linear feet of new multi-use bike and walking paths with gateways highlighting beach access and beautiful Gulf views.
To protect against future storm surge or other weather-related damage, TSW's plan focuses on resilient ecosystems and includes improvements to the waterfront development to preserve and enhance the Gulf's protective dune system, robust pile supported paving designed to withstand storm surge without impeding flow, and buildings built to coastal fortified standards.
A concurrent phase of the design focuses on traffic calming, and pedestrian and bicycle friendly upgrades for the adjacent Beach Road. Roadway lane widths will be reduced and pedestrian refuge islands with upgraded crosswalks at intersections will provide refuge islands for pedestrians and cyclists. A protected bicycle lane and multi-use trail further improve safety by providing options for users with different levels of experience.
Phase II work will be completed by summer 2018 making way for the final phase of work to begin in fall 2018. Phase III will complete the transformation of Gulf Place into a beautiful, accessible, and walkable beachfront park and entertainment venue where families can enjoy a variety of outdoor activities and events and is expected to spur small-scale urban redevelopment and create opportunities for public-private partnership.
For more information please click on the following links.