IST International Headquarters Grand Opening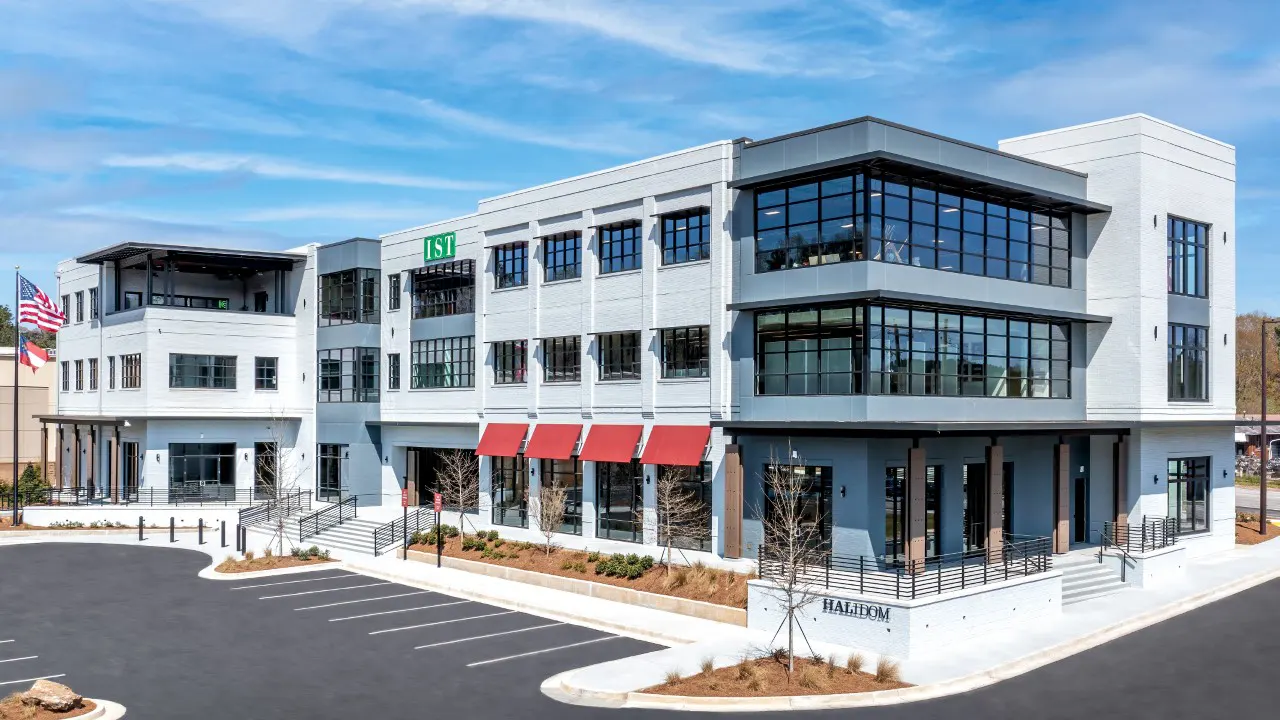 IST Management Services officials, local dignitaries, business leaders and politicians recently joined the design and development team for IST's new International Headquarters as the 50,000+ square-foot building was officially opened. The building and surrounding Halidom mixed-use development are expected to be transformational for the Moreland Avenue corridor. The IST building is located at 1341 Moreland Avenue in East Atlanta and is part of what will be an 8-acre, mixed-use development with over 21,000 square feet of retail and restaurant space and over 34,000 square feet of office space, with onsite parking. The development will also include IST Apartments, an 89-unit apartment complex overlooking the newly restored creek area, with a sky lounge as well as an extensive patio and pool area. It is expected to break ground later this year.
TSW's Jerry Spangler was the lead architect for the project. The development team also included Freese Johnson LLC, general contractors, and BA Barrett Construction, owner's representative.
"We are extremely proud to see the completion of this beautiful new building, and believe it will generate a sense of place for what has been – up until now – an underutilized area," said Spangler. "We designed it to have a modern industrial look, which is appropriate for the neighborhood, but still meets the goals of IST Management Services CEO Hal Blackman who wanted the structure to make a strong visual statement. The retail and restaurant spaces on the ground floor will create excitement and activity at the street level, and the beautiful, two-acre nature park and Greenway along Intrenchment Creek are sure to become a popular amenity for IST employees, Halidom businesses, retail and restaurant patrons, and future apartment residents."
The development team faced and overcame a number of unexpected challenges during the past two years, making the grand opening that much more satisfying for everyone involved. "The team really pulled together to figure out how we could safely continue to design and build this headquarters, once the pandemic hit," said Spangler. "We persevered despite the challenges, including what felt like almost constant supply chain disruptions. The completion of any building project is always satisfying, but the grand opening of IST's headquarters feels especially rewarding."
Pictured below (L-R): Patrick Freese, CEO, Freese Johnson LLC (general contractors); Brad Burgess, VP of Marketing, IST Management Services; Hal Blackman, CEO, IST Management Services; Jerry Spangler, Founding Principal & Architecture Design Manager, TSW; and David Barrett, President, BA Barrett Construction (owner's representative).