TSW Tulsa Tapped to Help Transform Iconic Evans-Fintube Site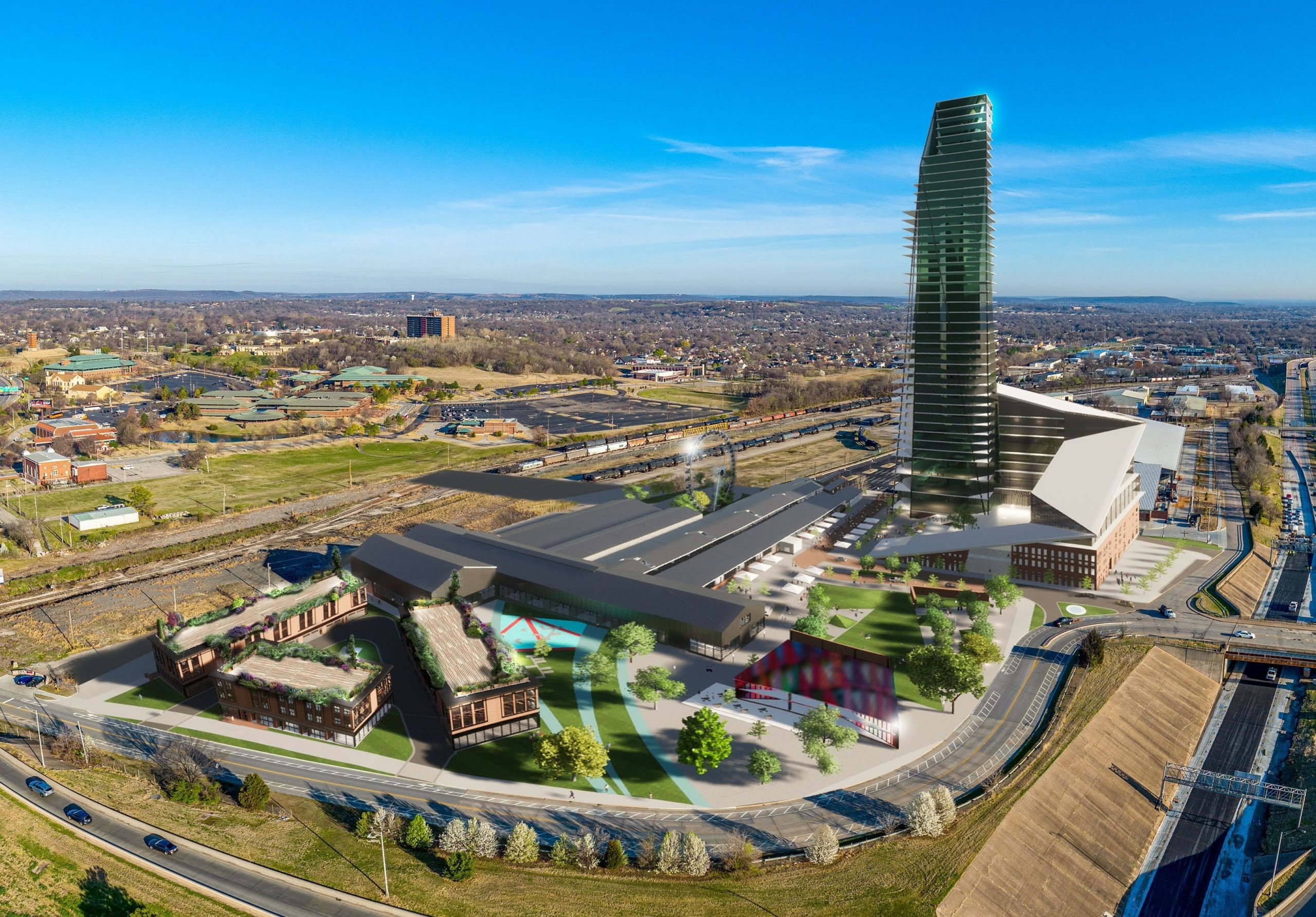 TSW's Tulsa, Oklahoma, office has been selected as Project Planner and Landscape Architect for a massive redevelopment project expected to transform the Evans-Fintube site at the edge of Tulsa's historic Greenwood District into a thriving mixed-use community. TSW is part of "Team Alchemy", which was selected for the project after a year-long, community-driven process. The team is led by Be Good Development Partners and JE Dunn/JE Dunn Capital Partners, and includes local, state, and national architects, engineers, and preservation specialists, including TSW Tulsa.
The centerpiece of the 22-acre Evans-Fintube property is the historic Oklahoma Iron Works Building, where much of the steel used to construct Tulsa's early skyscrapers was made. According to the City of Tulsa: "Over the course of this (selection) process, hundreds of north Tulsa residents and proponents vowed their desire for the redevelopment of the Evans-Fintube site to be one that generates wealth for Black Tulsa, honors and celebrates the history and legacy of Greenwood, and creates a place where residents can come together. Team Alchemy's proposed historic renovation of the Iron Works Building will bring much-needed goods and services to the area … to support the growth of the next generation of entrepreneurs and businesses that will rebuild Black Wall Street."
"We are thrilled to be part of this unprecedented redevelopment project," said Katy O'Meilia, senior associate and director of TSW Tulsa. "Rather than demolish an iconic structure, the renovation of the Iron Works Building will create a unique community gathering space that can accommodate a food hall, retail space, brewery, art gallery and studios, offices, and more. It will bring activity and commerce back to Greenwood and celebrate the area's history and resilience, while sparking additional quality redevelopment and growth."
Phase One will include renovation of the Iron Works Building, construction of work-play-stay units on the south end of the property and most of the site design, including parks and community gathering spaces. Phase Two will consist of designing and building The Beacon, a 42-story, mixed-use structure, which could include rooftop dining, a hotel, performance theater, studio space, ground-level retail, and mixed-income, multifamily housing.
"Years from now, Tulsans are going to look back at the community-led process that went into creating a vision for this site and realize this created a new norm for developments all across our city," said Tulsa Mayor G.T. Bynum.
TSW is proud to be part of this transformational project.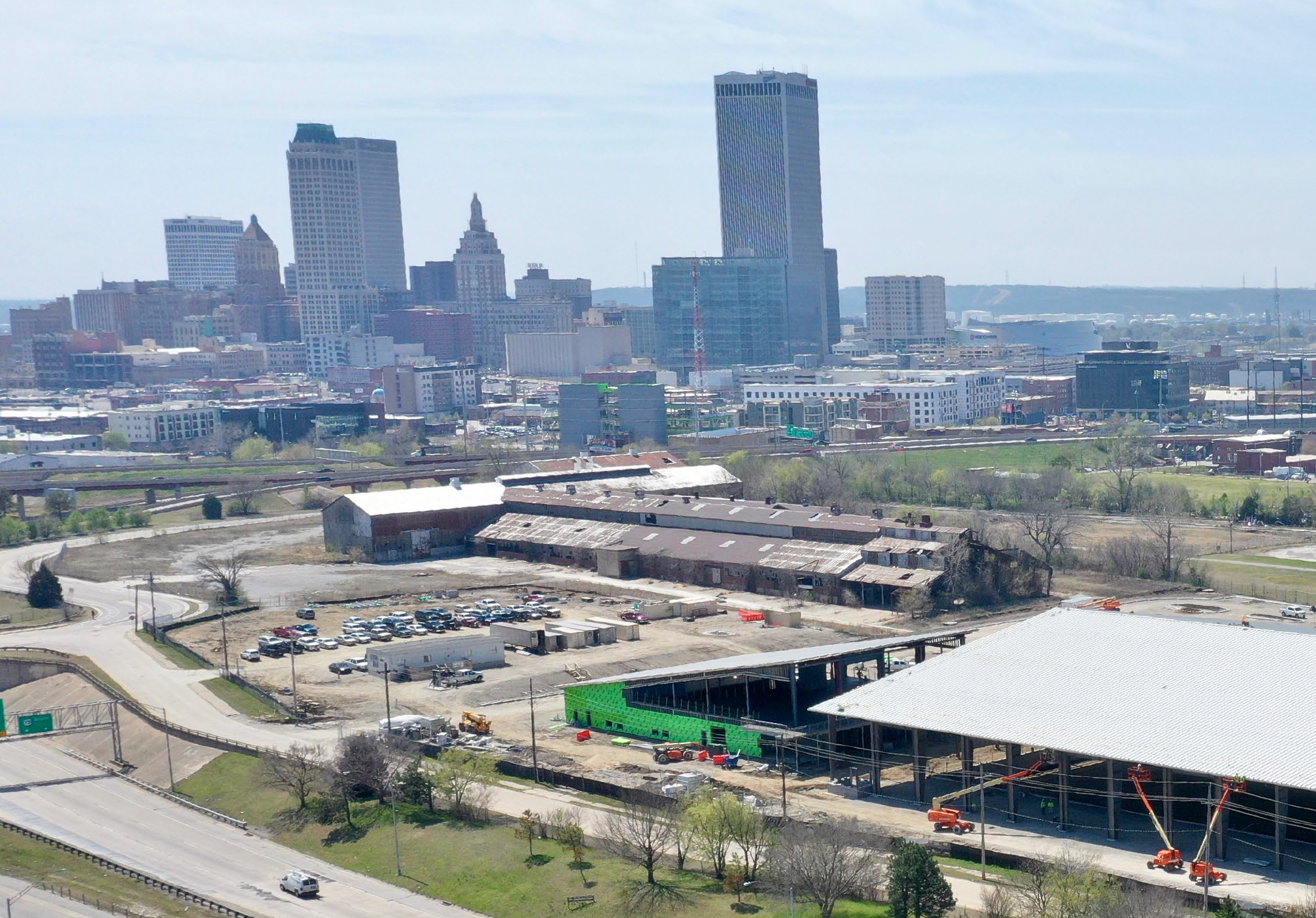 Evans-Fintube Site – Existing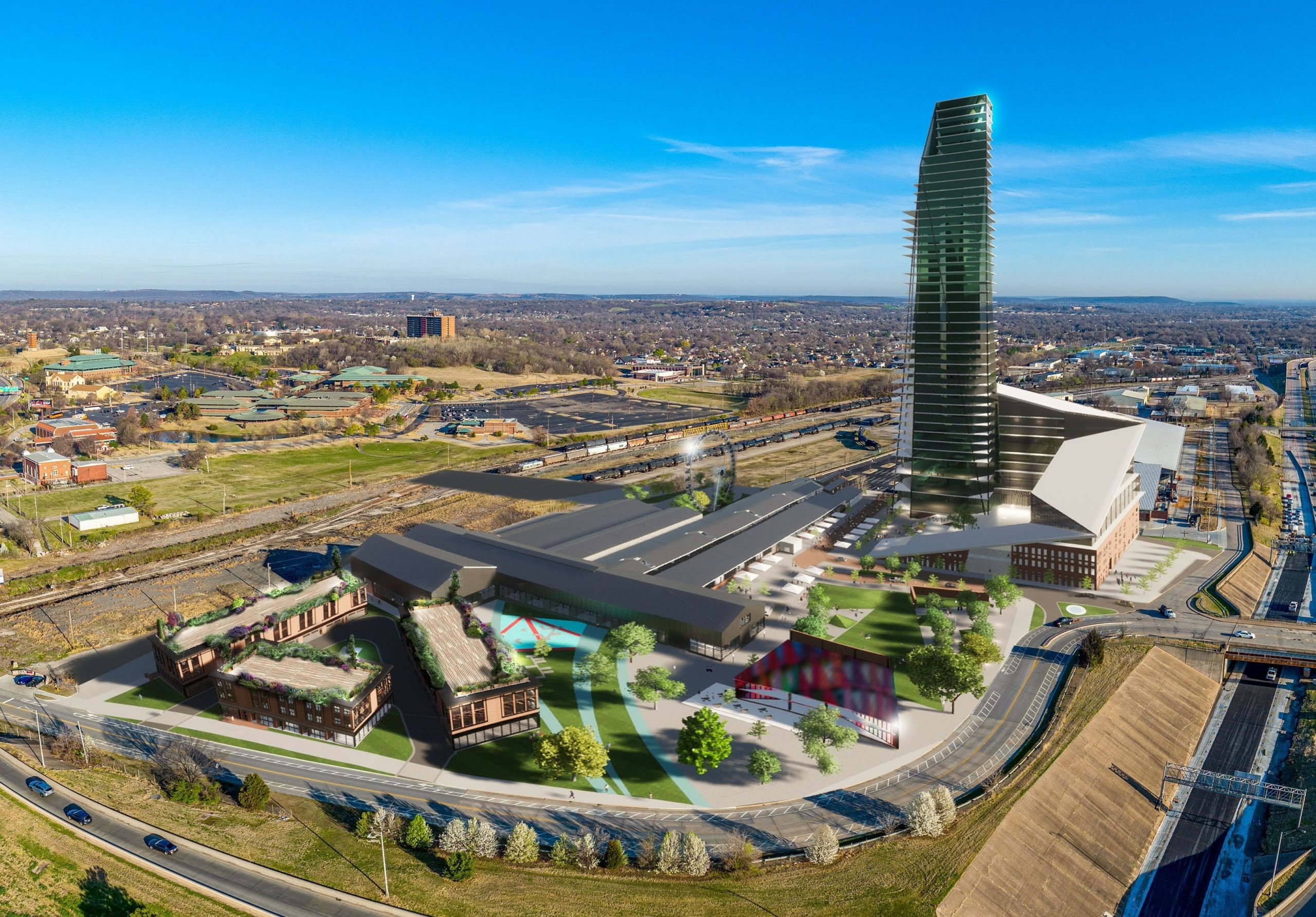 Evans-Fintube Site – Proposed