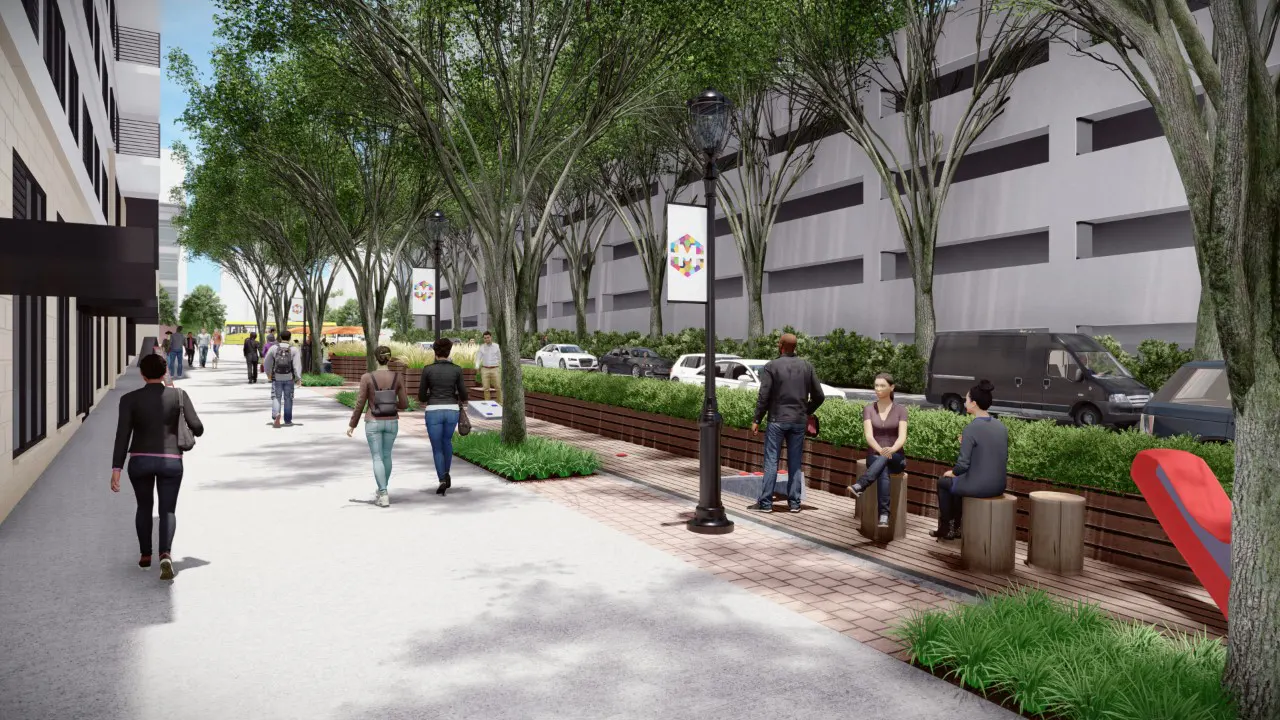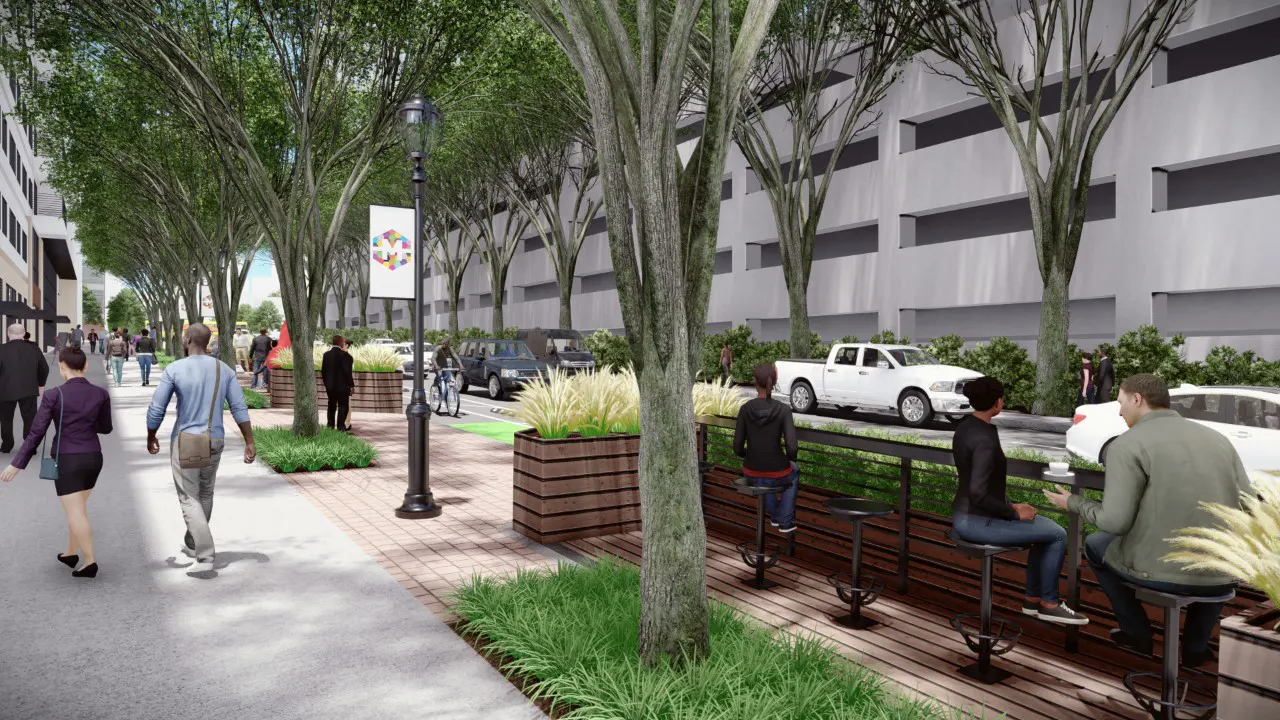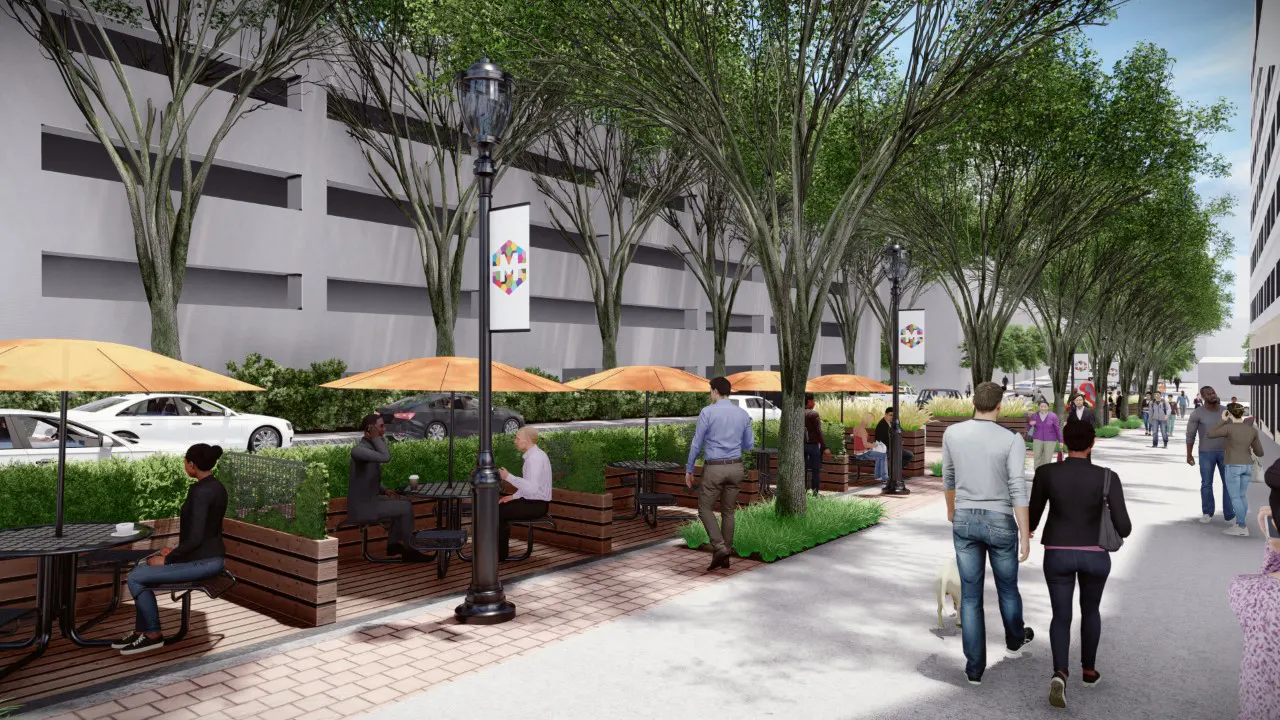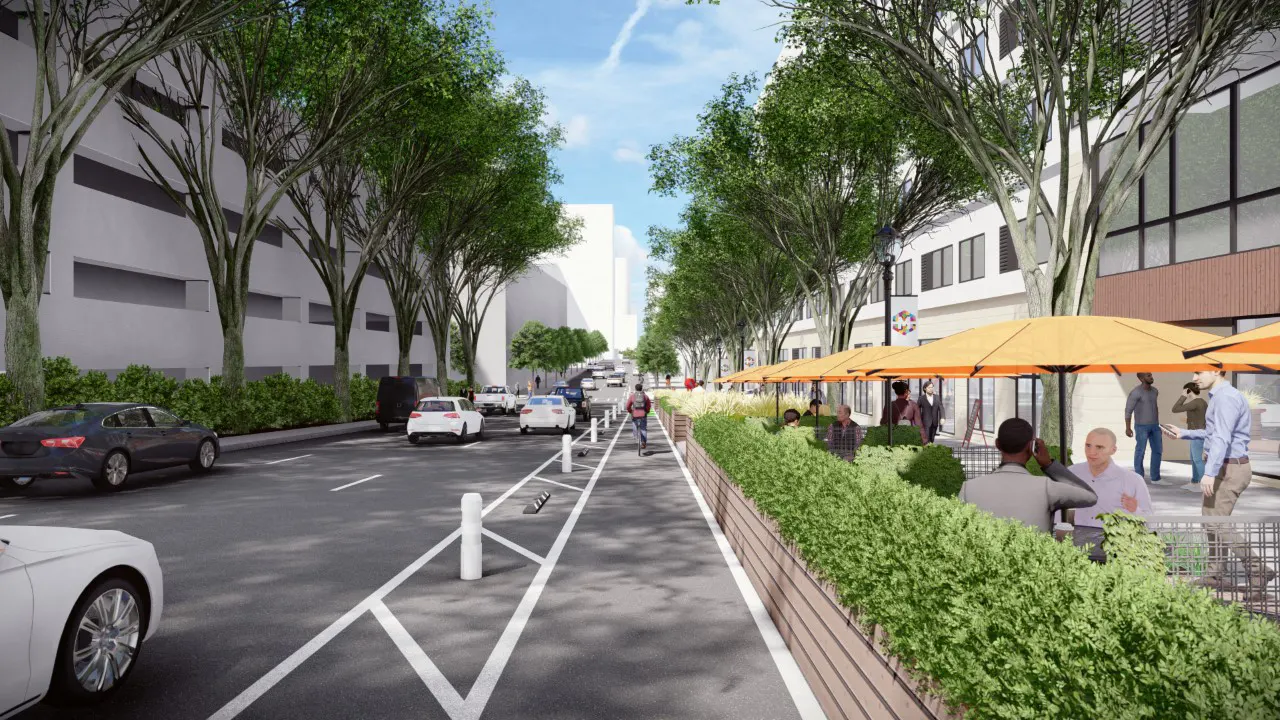 Spring Street and West Peachtree Parklet Design
Location: Atlanta, Georgia
Status: Design Development
The design comprises of almost 1,200 square feet of custom designed deck that is flush with the adjacent sidewalk

Includes a 260 square foot street-level space for bike parking and repair

The enhanced spaces will improve the overall street experience
Description:
TSW's Landscape Architecture Studio worked with Midtown Alliance to envision urban parklets that will function as a pilot project for the leftover space created by some of ATL DOT's quick-build bike lane projects. These parklets will reclaim the on-street parking spaces that are now separated from traffic by the buffered bike lanes and transform them into attractive, usable spaces for people. Midtown Alliance conducted community surveys and TSW worked with the group to conceptualize spaces that combined greenery, shade, seating, games, art, and bike parking. TSW created conceptual designs for the more than 20 parallel parking spots and over 5,500 square feet of area that was orphaned by the new bike lanes along Spring Street and West Peachtree Street. These enhanced spaces will improve the overall street experience and be a valuable amenity for visitors to nearby businesses and restaurants.
From the conceptual plans, one site was selected for the initial round of construction. It is located on Spring St between 8th and Peachtree Place, west side adjacent to University House. This particular stretch of the design comprises almost 1,200 square feet of custom-designed deck area that is flush with the adjacent sidewalk and includes café seating with umbrellas, bar-rail seating, a shade trellis, a public corn-hole set, and enhanced lighting. Other improvements include a 260-square-foot street-level space for bike parking and repair. This location also has the capacity to accommodate future art installations by local artists. The space is expected to be complete by mid-2022.
As a concept, parklets began with Park(ing) Day as a form of tactical urbanism, seeking to temporarily extend the sidewalk and create more public space that provides passive recreation opportunities. These early experiments were also an important place for activism and cultural and individual expression. Since the early 2000s, parklets and Park(ing) day have grown into a movement seen in many countries around the world. It is a unique, yet familiar zone for the landscape architecture profession, and one we look forward to exploring more often. This pilot project is hopefully one of many to come in Atlanta that will revitalize the street design and provide an overall more pleasant street-level experience for pedestrians.
These locations were also studied by TSW and Midtown Alliance and may accommodate space for parklets in the future:
Spring St between 3rd and 4th, west side adjacent to The Standard
West Peachtree St between 3rd and 4th, east side adjacent to AT&T
West Peachtree St at 13th St, east side adjacent to McCray's Tavern
Click here to see more information about the Spring Street and West Peachtree Parklet Design