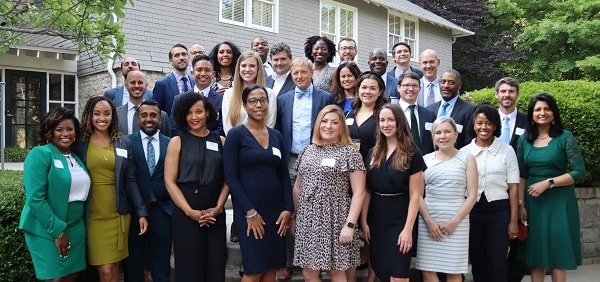 Photo courtesy of ULI Atlanta
Congratulations to David Lintott and the ULI Atlanta Leadership Class of 2021!
ULI Atlanta Leadership Class of 2021 Faced, Persevered Through Unique Challenges
"Coming together is a beginning, staying together is progress, and working together is success." This famous quote from Henry Ford, founder of the Ford Motor Company, could easily be attributed to the ULI Atlanta Leadership Class of 2021. Each year, ULI Atlanta, the local chapter of the national multidisciplinary real estate research and education organization, announces a Leadership Class of professionals encompassing architecture, urban planning, government, finance, engineering, and more to work together for nine months on a variety of local real estate challenges. The projects provide an unprecedented opportunity for the leadership class members to flex their creative muscles and work collaboratively to solve "real world" challenges faced by local communities.
"It's an honor to be selected," says David Lintott, senior associate at TSW, who works in the firm's Landscape Architecture and Planning studios. "Several of my colleagues at TSW were chosen for previous leadership classes, and I knew it would be a valuable experience for me, too. Each ULI team member brings different skills and experiences to the table and it's exciting to see how we can draw on these strengths to devise solutions to development issues facing our community. It's a nine-month commitment, but absolutely worth the time and effort. And, at the end of the program, the municipalities and organizations that submitted challenges end up with realistic solutions that address their specific needs, and can be implemented immediately or down the road."
This year's leadership teams faced unexpected obstacles requiring flexibility, resiliency, and patience. Just as the groups were beginning to work together, the pandemic required everything to shift to a virtual platform. All aspects of the project were impacted, from site visits to client meetings to collaborative sessions.
"Real estate professionals are, by nature, creative, out-of-the-box thinkers," said Lintott. "However, our creativity was really tested as we figured out how to accomplish our goals when we couldn't meet face-to-face with our clients or each other. In a way, I think the challenges helped this year's leadership class form especially strong bonds. Even though we've completed our leadership program, now that pandemic restrictions have been lifted, our leadership class members are enjoying getting together in person to continue the relationships, share ideas, and even collaborate on our work projects. This program has been extremely beneficial to me in terms of stretching myself professionally, making valuable contacts, and persevering through some extremely challenging circumstances. I am grateful to have had the opportunity to participate in ULI Atlanta's leadership program and highly recommend it to other real estate professionals."
About ULI Atlanta
ULI Atlanta is a District Council of the Urban Land Institute (ULI). As the preeminent, multidisciplinary real estate forum, ULI is a nonprofit education and research group supported by its diverse, expert membership base. Its mission is to "Shape the future of the built environment for transformative impact in communities worldwide." ULI Atlanta has over 1,400 members throughout the Greater Atlanta region, the state of Georgia, Alabama and eastern Tennessee. ULI Atlanta is one of the largest and ost active District Councils in the U.S.