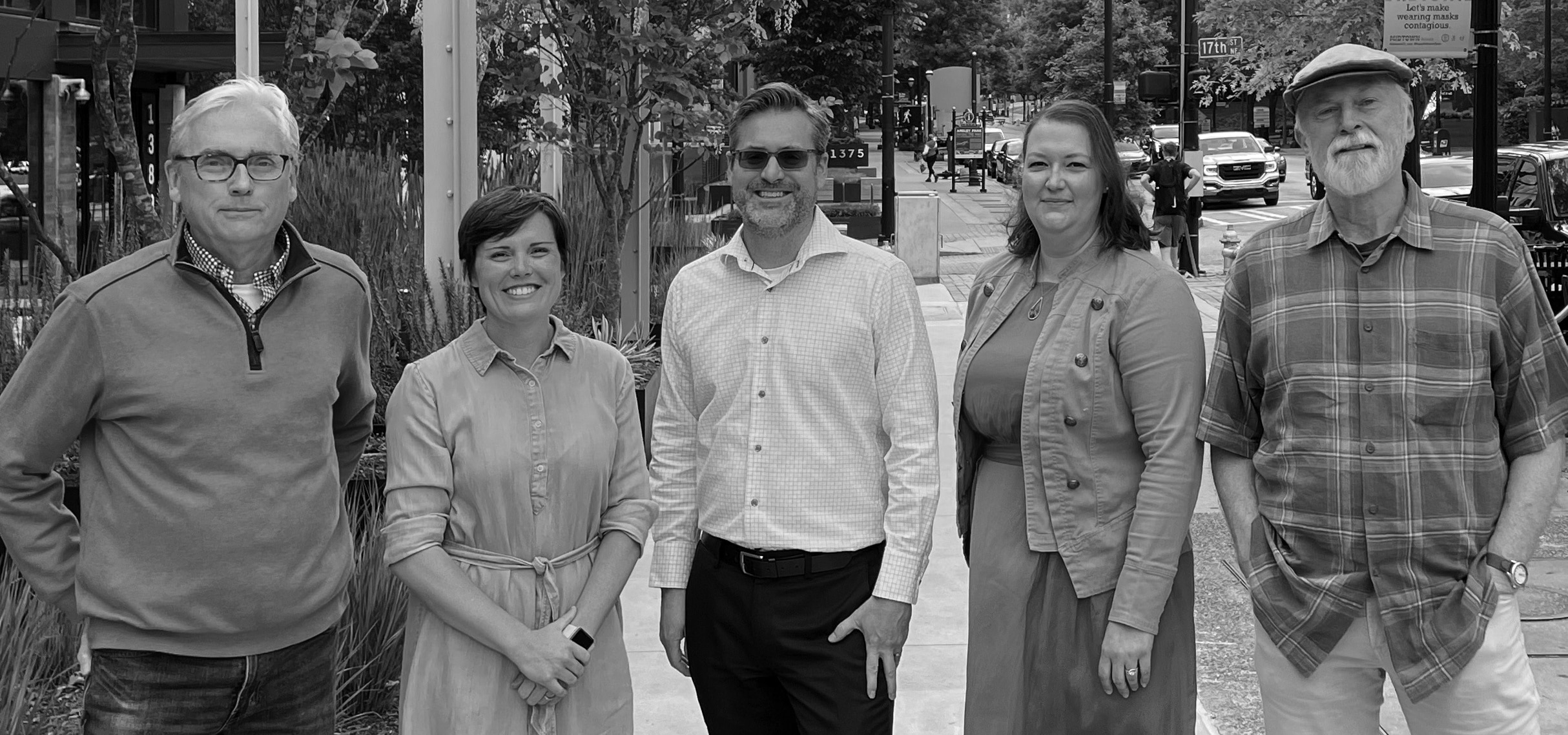 TSW Establishes Tulsa Office
(L-R): TSW Founding Principal Jerry Spangler, Senior Associate Katy O'Meilia, Senior Principal Adam Williamson, Senior Principal Heather Hubble, and Founding Principal Bill Tunnell of TSW.
TSW, a leading architecture, planning, and landscape architecture firm based in Atlanta, has recently welcomed Katy O'Meilia, PLA, LEED AP, as a Senior Associate. Based in Tulsa, Oklahoma, Katy will help TSW expand its presence in the central region of the United States, building on established client relationships in Arkansas, Oklahoma, Texas, and other neighboring states. She will work primarily in TSW's Planning and Landscape Architecture studios, offering her expertise in urban design, long-range planning, design code development, and site design.
Adam Williamson, TSW senior principal, expressed his excitement about Katy joining the team. He said that Katy's experience in Oklahoma and neighboring states, along with her contacts, will be extremely valuable to TSW as the firm grows its business in the central part of the country. Katy has a wealth of experience working as a landscape architect and urban planner in Oklahoma, Utah, and Texas. She is well-versed in long-range master planning, urban design and redevelopment, site development, and design standards.
For the past four years, Katy has served as a senior planner and project manager for a planning and design firm in Tulsa. Her background in landscape architecture and city and metropolitan planning, combined with her LEED Accreditation and licensure in Texas and Oklahoma, makes her an invaluable asset to the TSW team. Katy earned a Bachelor's Degree in Landscape Architecture from Oklahoma State University and a Master's Degree in City and Metropolitan Planning from the University of Utah.
The addition of Katy to the TSW team reinforces the firm's commitment to delivering the highest quality planning and landscape architecture services to its clients. With her expertise, TSW is well-positioned to help its clients achieve their goals and create vibrant, livable communities. Katy's passion for urban planning and design, along with her commitment to sustainability, will make her an invaluable resource for TSW and its clients.