Checking in with Gulf Place during Hurricane Sally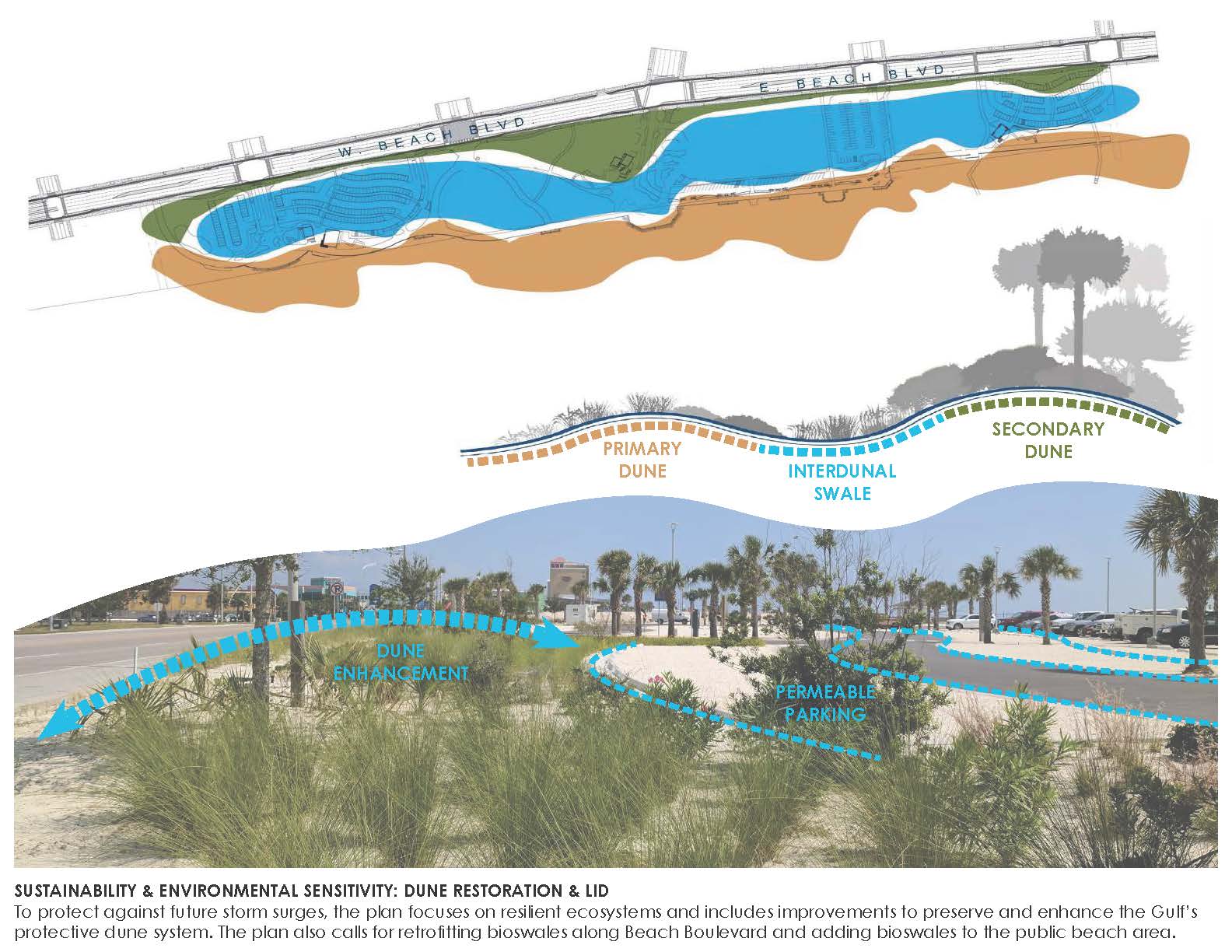 Gulf Place, Gulf Shores Public Beach is a project that showcases the importance of designing for resilience. As a coastal park, it was designed to withstand the harsh conditions of the ocean and provide a comfortable and enjoyable experience for visitors. The project was designed to respond to the challenges posed by large storms, such as hurricanes, and to reduce maintenance costs, while maximizing the park's lifespan.
One of the key features of the design is the wide pile-supported concrete boardwalks. These boardwalks are not only durable and long-lasting, but they are also resilient to the violence of storms, providing a comfortable and safe experience for those who walk, bike, skate or use wheelchairs along the beach. The boardwalks are also designed to be low-maintenance, reducing costs and allowing the park to be more sustainable in the long term.
Another important aspect of the design is the dune restoration, which not only protects coastal wildlife habitat, but also serves as a natural buffer between the street and the park. The dunes are a crucial part of the park's design, providing a natural barrier that helps to protect against the forces of the ocean and minimize damage from storms.
The three new buildings at Gulf Place were also designed with resilience in mind. Built to fortified construction standards, they are designed to capture filtered natural light and air flow, creating a comfortable and sustainable environment for visitors. Additionally, certain features were designed to break away safely in the event of a large storm, protecting the larger elements from becoming a hazard.
The impact of a large storm on a project can be humbling, but it is also a testament to the importance of designing for resilience. The design of Gulf Place, Gulf Shores Public Beach demonstrates the value of considering the challenges posed by harsh conditions and taking proactive steps to minimize the impact of such conditions. By designing with resilience in mind, we can create spaces that are not only beautiful and functional, but also durable and sustainable over the long term.
Check out Stability Engineer's Facebook page here for a post on structural engineering for the project and keep up with the City Gulf Shores on their Facebook page here.
We are thinking about everyone along the Gulf Coast who are dealing with the storm. Stay safe!
Click here to see some of the other projects designed by the TSW Landscape Architecture Studio.